Držáky a nabíječky do auta zajistí fixaci mobilních telefonů, tabletů, GPS a dalšího příslušenství. Některé umožňují i dobíjení vloženého přístroje pomocí integrovaného dobíjecího kabelu s 12V koncovkou.
Continue
Držák do auta vybírejte podle zařízení, které do něj chcete vkládat
Univerzální, nebo specializovaný držák?
Univerzální držáky
Jsou ideální, pokud máte více telefonů či tabletů nebo se v automobilu střídáte s dalším řidičem. Bývají vhodné pro zařízení v rámci určitého velikostního rozpětí (např. mobily s úhlopříčkou od 4 do 6 palců). Oproti specializovaným držákům mohou zakrývat některé konektory, případně tlačítka mobilu, tabletu nebo GPS navigace. Doporučujeme proto nejdříve na základě obrázků vizuálně zkontrolovat konstrukci držáku a porovnat ji s umístěním konektorů a tlačítek na vašem zařízení.
Specializované držáky
Výhodou specializovaných držáků, tedy držáků určených pro jedno konkrétní zařízení, případně modelovou řadu je, že v drtivé většině případů nezakrývají konektory nebo tlačítka vašeho zařízení. Zároveň do nich mobil, tablet či GPS navigace přesně zapadne. Ve srovnání s kvalitativně podobnými univerzálními držáky bývají o něco dražší.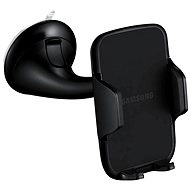 Na sklo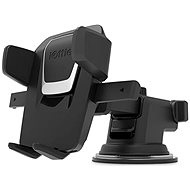 Na palubní desku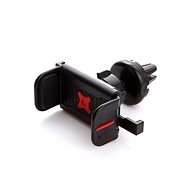 Do ventilace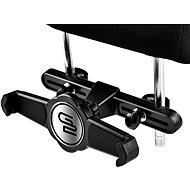 Na opěrku hlavy
Připevnění držáku vybírejte podle osobních preferencí
Jednoznačně nelze říci, který typ připevnění drží nejlépe, případně který je lepší. Záleží spíše na vašich osobních preferencích a možnostech automobilu.
Na čelní sklo
Uchycení držáku zajišťuje přísavka. Doporučujeme vybírat spíše dražší modely (od 500–600 Kč), u kterých bývá přísavka vyrobená z tvrdšího materiálu. Díky tomu dokáže vytvořit větší podtlak, a tak nehrozí téměř žádné riziko, že držák spadne. Drobnou nevýhodou držáků na čelní sklo je, že přísavka na čelním skle částečně omezuje výhled z vozidla.
Na palubní desku
Držák se připevňuje pomocí specializované přísavky nebo v kombinaci se samolepicí podložkou, která změní povrch palubní desky na srovnatelný s čelním sklem. Při odstranění podložky však na palubní desce mohou zůstat těžko odstranitelné zbytky lepidla.
Do otvorů ventilace
Jedná se o praktické řešení, kdy máte telefon nebo tablet stále po ruce. Mějte ale na paměti, že u designových výdechů, zejména u těch s příliš širokými rameny mřížky, nemusí jít držák upevnit.
Na opěrku hlavy
Používá se v souvislosti s tablety. Tento typ držáků umožní na zadních sedačkách pohodlně sledovat filmy nebo seriály. Hodí se, pokud máte děti, nebo na zpříjemnění dlouhých cest.
Na co dalšího se při výběru držáku do auta zaměřit
Spojení přísavky s držákem
Kloubové – spolehlivé a stabilní uchycení bez houpání, které zachovává bezproblémové polohování.
Husí krk – ideální pro dodávky a nákladní automobily, kde potřebujete překonat větší vzdálenost od čelního skla. Tento způsob sice umožňuje velký rozsah nastavení polohy přístroje. Na méně kvalitních silnicích však hrozí, že se přístroj na husím krku bude neustále pohupovat.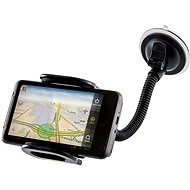 Husí krk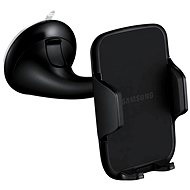 Kloub
Mechanismus uchycení přístroje v držáku
Svorky – nejspolehlivější. Doporučujeme vaničky, kde se zařízení vkládá zepředu. Zasouvání shora může být složitější.
Nano přísavka – obtížně udržovatelné a spíše krátkodobé řešení: pokud se na přísavku nachytají nečistoty, může vám telefon nebo tablet spadnout.
Magnet – velmi jednoduchý a praktický systém, při dostatečné síle magnetu rovněž velmi spolehlivý. Počítejte však s tím, že přímo na zadní stranu mobilu nebo do pouzdra je nutné nalepit kovový plíšek, který zajistí spojení s magnetem.

Držák se svorkami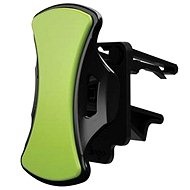 Držák s přísavkou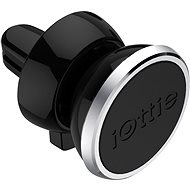 Magnetický držák
Nabíjení mobilů a tabletů v autě
Některé držáky jsou vybavené integrovaným dobíjecím kabelem s 12V adaptérem, jiné se dodávají bez příslušenství k dobíjení. Před koupí držáku si ověřte, zda držák v důsledku nevhodného tvarování nezakrývá dobíjecí konektor vašeho přístroje.
Nabíječky do auta slouží k dobíjení elektroniky prostřednictvím zásuvky zapalovače. Mohou mít doplňující funkce, například ukládání polohy pro lokalizaci zaparkovaného vozidla pomocí smartphonu nebo sledování napětí autobaterie.
Hide description
Was this information useful?
This form is for collecting Feedback Only. If you have any other inquiries, please our Customer Care team here.
Is something missing or displayed incorrectly? Let us know your suggestions so we can improve the website and customer experience.
Best Deals
1.
Universal Mount , attachment type: for ventilation
2.
Car Holder , attachment type: on glass, on dashboard and stand on flat surfaces
3.
Car Holder , attachment type: for ventilation
Držáky a nabíječky do auta
Existuje několik možností, jak v autě poslouchat hudbu v MP3 formátu. První z nich je...
Reflexní prvky jsou někdy podceňovanou výbavou, za snížené viditelnosti jsou však pro chodce i cyklisty...
Autem na lyže do Beskyd
V dnešním díle navštívíme malebné Beskydy. Vyzdvihneme nejenom ta nejlepší lyžařská střediska, ale také...
Kamery do auta jsou tu vždy pro vás. V případě nehody poskytnou důkaz ve váš prospěch a v běžném provozu...
Jak se co nejlépe dostat do Jeseníků a Orlických hor? Prozradíme nejenom nejpohodlnější cestu, ale i ta...
Držáky a nabíječky do auta
In the category Držáky a nabíječky do auta on Alza.cz, we currently have a total of 297 products, which you can easily buy online and get quickly delivered. See all of your purchases and make orders on our easy-to-use app.
Enter product name
Note (link, Part number etc.):
Check out products sorted by price starting with the lowest price in the category cheap držáky a nabíječky do auta
Check out products sorted by price starting with the highest price in the category best sellers, best držáky a nabíječky do auta
You'll find products sorted by reviews starting from the highest ranked in držáky a nabíječky do auta reviews