Helma na skútr je povinnou výbavou řidiče skútru nebo mopedu bez ohledu na kubaturu stroje. Mezi přilby na skútr řadíme primárně otevřené helmy, ideální do města a pro nižší rychlosti. Pro výkonnější skútry je ale určitě vhodnější výklopná přilba. Jak vybrat tu pravou helmu na skútr?
Continue
Jakou helmu na skútr vybrat?
Při výběru helmy na skútr je důležité věnovat pozornost materiálu skořepiny, typu ochrany spodní části obličeje a ochrany očí. Přilba na skútr musí také být příjemná na nošení a dobře sedět. To zajistí vhodný typ polstrování a přezky. V neposlední řadě o výběru rozhoduje i další výbava a líbivý design.
Materiál helmy na skútr
Termoplastová skořepina – helma na skútr s termoplastovou skořepinou bývá vyrobena z polykarbonátu nebo ABS (akrylonitrilbutadienstyren). Hlavní výhodou materiálu je nižší cena. Vyznačuje se ale vyšší hmotností a nižší odolností.
Kompozitová skořepina – nespornou výhodou kompozitové přilby na skútr je vysoká odolnost a nízká hmotnost. Nevýhodou pak může být vyšší cena. Kompozitová skořepina se vyrábí z laminátů obsahujících skelná nebo karbonová vlákna.
Ochrana bradové části u helmy na skútr
Otevřená helma na skútr – z důvodu chybějící ochrany bradové části se hodí především pro rekreační vyjížďky nebo cesty po městě. Otevřená přilba na skútr nabízí větší pohodlí při nasazování a snímání a je také lehčí než výklopná přilba.
Výklopná helma na skútr – představuje ideální kompromis mezi integrální a otevřenou helmou. Kromě uživatelského komfortu nabízí výklopná přilba na skútr vyšší bezpečnost, ovšem za cenu vyšší hmotnosti.
Ochrana očí u přilby na skútr
Otevřená helma může být vybavena vnějším plexi kryjícím oči nebo celý obličej. Retro helma na skútr ale často nedisponuje žádnou ochranou očí, a řidič tak musí používat ochranné brýle na motorku. Kompromis představuje malé výsuvné plexi zabudované do konstrukce přilby na skútr.
Výklopné a integrální helmy jsou z drtivé většiny vybaveny ochranným plexi přímo z výroby. Hledí tvoří nedílnou součást konstrukce a může být čiré i barevné, běžné doplněné o sluneční clonu.
i
Velikost helmy na skútr volte vždy tak, aby helma na hlavě seděla pevně a nebyla volná. Přilba však zároveň nesmí nikde tlačit!
Typ přezky u helmy na skútr
Rychlospony a mikrometrické přezky – vyznačují se jednoduchým a rychlým zapínáním a rozepínáním. To oceníte v případě častého nasazování a snímání helmy, např. při jízdě po městě.
Dvojité D-kroužky – jsou stále považovány za jedno z nejbezpečnějších upínání, a to nejen pro přilby na skútr, ale i pro sportovní a závodní přilby na motorku. Hlavní výhodou DD kroužků je jednoduchá konstrukce a bezporuchovost. Rozepínání a zapínání je ale náročnější než u rychlospon a vyžaduje cvik.
Polstrování helmy na skútr
Polstrování zajišťuje potřebný komfort a ochranu před povětrnostními vlivy i hlukem. Udržuje přilbu ve správné poloze a může být doplněno nafukovacími lícnicemi. U většiny moderních helem lze celé polstrování vyjmout a vyprat jej.
Design přilby na skútr
Není sice zásadní pro funkčnost, ale kdo by se nechtěl v helmě cítit dobře. V současnosti se výrazné oblibě těší retro helmy na skútr, které nemusí nabízet takovou výbavu jako moderní přilby na skútr. Samostatnou kategorií tvoří dámské helmy na skútr. Liší se však pouze barvou či aplikovanou grafikou.
Hide description
Was this information useful?
This form is for collecting Feedback Only. If you have any other inquiries, please our Customer Care team here.
Is something missing or displayed incorrectly? Let us know your suggestions so we can improve the website and customer experience.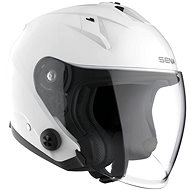 Econo, SENA (glossy white)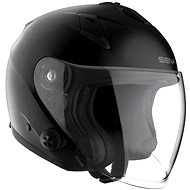 Econo, SENA (matt black)
Helmy na skútr
In the category Helmy na skútr on Alza.cz, we currently have a total of 25 products, which you can easily buy online and get quickly delivered. See all of your purchases and make orders on our easy-to-use app.
Helmy na skútr – proved brands
Enter product name
Note (link, Part number etc.):
Check out products sorted by price starting with the lowest price in the category cheap helmy na skútr
Check out products sorted by price starting with the highest price in the category best sellers, best helmy na skútr
You'll find products sorted by reviews starting from the highest ranked in helmy na skútr reviews