Helma na motocykl je nezbytný ochranný prostředek a její nošení je nařízeno zákonem – vztahuje se jak na řidiče motorky, tak i na spolujezdce. Přilba na motorku tak slouží hlavně k ochraně života a zdraví při pádu, ale rovněž poskytuje ochranu před povětrnostními vlivy a prachem. V naší nabídce najdete integrální helmy, motocrossové helmy, výklopné helmy i otevřené helmy. Jaké jsou mezi nimi rozdíly, výhody a nevýhody a jak vybrat tu nejvhodnější?
Continue
Jak vybrat správnou velikost helmy na motorku
Aby přilba na motocykl zajišťovala opravdu dobrou ochranu, musí mít správnou velikost. To znamená, že nesmí tlačit na spáncích a temeni hlavy, ale zároveň nesmí být volná.Obvod hlavy měříme těsně nad obočím a ušima a následně z tabulky níže zjistíme potřebnou velikost helmy.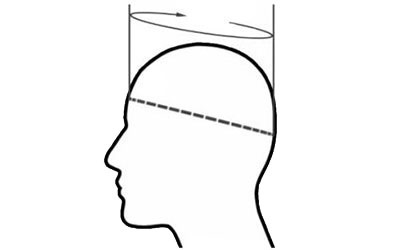 | | | | | | | | | |
| --- | --- | --- | --- | --- | --- | --- | --- | --- |
| Obvod hlavy (cm) | 49-50 | 51-52 | 53-54 | 55-56 | 57-58 | 59-60 | 61-62 | 63-64 |
| Velikost přilby | XXXS | XXS | XS | S | M | L | XL | XXL |
Helmy na motorku podle účelu použití
Integrální helmy
Integrální přilby jsou určeny hlavně pro vyšší rychlosti, poskytují vysokou ochranu celé hlavy, mají nejlepší aerodynamické vlastnosti a nejmenší hlučnost. Skládají se z pevné skořepiny a hledí.
Výklopné helmy
Výklopné přilby poskytují ochranu celé hlavy, ale na rozdíl od integrálních přileb je možné celou obličejovou část přilby, včetně ochrany brady vyklopit nahoru. Hlavní výhodou výklopné přilby je snadné nasazení, či sejmutí přilby a možnost použití dioptrických brýlí.
Motocrossové helmy
Motocrossové přilby jsou určeny pro jízdu v náročném terénu. Motokros a enduro přilby poskytují vysokou ochranu hlavy. Tyto helmy se skládají ze skořepiny chránící celou hlavu, včetně brady. Zpravidla ale nejsou vybaven hledím, a proto je třeba použít vhodné brýle. Motokrosové přilby mají lepší odvětrání, horší aerodynamické vlastnosti a při vyšších rychlostech jsou hlučné.
Otevřené helmy
Otevřené přilby jsou vhodné pro menší motocykly a skútry. Otevřenou přilbu tvoří skořepina, která nechrání bradu. Většina otevřených přileb nemá obličejový štít a proto je nutné použít vhodné brýle.Tyto přilby chrání méně než ostatní typy přileb a jsou určeny pro nižší rychlosti.
i
Každá přilba musí být homologována, tedy schválená pro použití v provozu. Homologační značku najdete na polstrování nebo na upínacím řemínku a je uvedena například v tomto tvaru: ECE22-05.
Hide description
Was this information useful?
This form is for collecting Feedback Only. If you have any other inquiries, please our Customer Care team here.
Is something missing or displayed incorrectly? Let us know your suggestions so we can improve the website and customer experience.
Best Deals
1.
Scooter helmet open without plexi, red matt / black
2.
Scooter helmet open without plexi
3.
Scooter helmet open with plexi
Helmy na motorku
Je zde zimní sezona, období, kdy většina motocyklistů na svých motorkách nejezdí, ale ukládá je k ...
Pokud uvažujete nad koupí ojeté motorky, čekají na vás četná úskalí a nemalá rizika. V našem článku...
Pro jízdu na motorce nestačí obyčejné oblečení. Ať už jezdíte na silnici nebo v terénu, jenom po...
Helmy na motorku
In the category Helmy na motorku on Alza.cz, we currently have a total of 48 products, which you can easily buy online and get quickly delivered. See all of your purchases and make orders on our easy-to-use app.
Enter product name
Note (link, Part number etc.):
Check out products sorted by price starting with the lowest price in the category cheap helmy na motorku
Check out products sorted by price starting with the highest price in the category best sellers, best helmy na motorku
You'll find products sorted by reviews starting from the highest ranked in helmy na motorku reviews