Chladiče na procesor mají za úkol odvádět ztrátové teplo a průběžně tím snižovat teplotu procesoru. Ačkoliv se většina procesorů dodává se základním chladičem, jeho výkon je omezený a nákup chladiče třetí strany bude vždy znamenat snížení teplot i hluku. Nižší teploty procesoru znamenají jeho delší životnost a potenciál pro přetaktování.
Continue
Typ procesorových chladičů
Vzduchové chladiče CPU
Hledáte-li výkonnější alternativu k boxovanému chladiči za rozumné peníze, vzduchové chladiče procesorů jsou pro vás tím pravým. Obvykle se pouze o jednoduchou kombinaci velké pasivní části a ventilátoru.
Vzduchové chladiče mají řadu výhod. Mezi hlavní patří nízká cena, spolehlivost a snadná instalace. Jsou ale zpravidla velké a někdy mohou kolidovat s dalšími komponentami, typicky s moduly operační paměti. Pasivní bloky vzduchových chladičů často váží i kilogram a větší z nemusí být kompatibilní s řadou běžných skříní. Rozměry je často vyřazují také z kompaktnch sestav nejen kvůli rozměrům. Vzduchové chladiče ke své správné funkci potřebují silný proud vzduchu, který obvykle v miniaturních sestavách není.
Vodní chladiče CPU
Pokud se bavíme o vodních chladičích na procesor, poukazujeme především na řešení All-in-One, která nabízí kompletní chladicí systém připravený k okamžitému použití. Taková chlazení mají výhodu v rozměrech. Celkově sice nejsou nijak kompaktní, místo, ve kterém se kapalina ochlazuje, takzvaný radiátor, se však nenachází v místě procesoru, nýbrž ho lze umístit na různé pozice ve skříni, kam teplo dopravuje kapalina. Díky tomu je chlazení flexibilní a můžeme ho umístit i do stísněných prostor.
Vodní chlazení však nelze namontovat do všech skříní, nýbrž pouze do modelů, které jsou pro jeho montáž uzpůsobeny. Je jich značné množství a můžete si je v odpovídající kategorii vyfiltrovat podle parametru "Podpora vodního chlazení". Vodní okruhy jsou konstrukčně mnohem složitější a křehčí, proto se s jejich použitím pojí více rizik, než kterým budete vystaveni s chladičem vzduchovým, odměnou vám ale bude efektnější i efektivnější systém chlazení.
Parametry
Max. rychlost – maximální rychlost ventilátoru chlazení udává nejvyšší množství otáček, které je ventilátor schopen vykonat za jednu minutu. Vyšší rychlost zpravidla znamená lepší chladící schopnosti, také ale vyšší hlučnost, proto má jako samostatně stojící parametr jen omezenou vypovídající hodnotu.
Max. hlučnost – hodnoty hlučnosti chlazení měříme v decibelech (dB) a maximální hodnota platí při maximální rychlosti.
Průtok vzduchu – průtok vzduchu definuje reálné schopnosti ventilátoru, když přijde na protlačení vzduchu. Používají se dvě hlavní jednotky, kubické stopy za minutu (CFM) a krychlové metry za hodinu (m3/h). Optimální ventilátor je takový, který dosahuje co nejvyššího průtoku vzduchu při co nejnižší hlučnosti.
Automatická regulace otáček – procesorové chladiče s automatickou regulací otáček mění rychlosti ventilátorů sami na základě aktuálních teplot komponent.
Manuální regulace otáček – rychlost ventilátorů chladičů CPU s manuální regulací lze měnit ručně. K tomu obvykle slouží posuvný přepínač na samotném ventilátoru. I přesto však lze regulovat rychlost většiny těchto chladičů pomocí PWM.
Bez regulace otáček – ventilátory chladičů bez regulace otáček se točí konstantní rychlostí, kterou nelze měnit.
Socket – v tomto kontextu se bavíme o socketu procesoru, na který se chladič CPU montuje. Chladiče jsou často univerzální, není to však pravidlem, proto raději využijte filtr, ve kterém můžete vybrat konkrétní socket vašeho procesoru.
Hide description
Was this information useful?
This form is for collecting Feedback Only. If you have any other inquiries, please our Customer Care team here.
Is something missing or displayed incorrectly? Let us know your suggestions so we can improve the website and customer experience.
Chladiče CPU
Silentium PC Fortis 3 RGB HE1425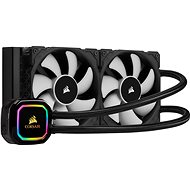 Corsair iCUE H100 RGB PRO XT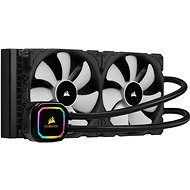 Corsair iCUE H115 RGB PRO XT
Chladiče CPU
In the category Chladiče CPU on Alza.cz, we currently have a total of 152 products, which you can easily buy online and get quickly delivered. See all of your purchases and make orders on our easy-to-use app.
Enter product name
Note (link, Part number etc.):
Check out products sorted by price starting with the lowest price in the category cheap chladiče CPU
Check out products sorted by price starting with the highest price in the category best sellers, best chladiče CPU
You'll find products sorted by reviews starting from the highest ranked in chladiče CPU reviews