Účelem produktů SmartCar nebo také Connected car je především zvýšení bezpečnosti, získání přehledu o stavu vozidla, dosažení vyššího komfortu při řízení, zjištění polohy vozidla přes GPS nebo zajištění rychlé diagnostiky v případě poruchy i bez návštěvy servisu.
Continue
Chytré kamery do auta
Chytré kamery do auta vás zvukovým signálem upozorní na nenadálé situace na vozovce a plní tak především bezpečnostní funkci. Kromě záznamu videa jsou pro ně charakteristické tyto funkce:
Varování při opuštění jízdního pruhu.
Rozpoznávání chodců a dopravního značení.
Upozornění na přiblížení se k vozidlu jedoucího před vámi.
Automatické vytočení předem nadefinovaného telefonního čísla v případě kolize.
Možnost připojení přes Bluetooth, Wi-Fi nebo aplikaci pro chytrý telefon.
Projektory do auta
Promítají obraz na čelní sklo a zobrazují důležité informace pro vaši jízdu. Pokročilejší modely využívají pro komunikaci s vozidlem konektor OBD II, prostřednictvím kterého načítají informace z jeho palubního počítače. Mezi nejčastější funkce patří zejména:
Zobrazení rychlosti a otáček na displeji.
Informuje o překročení povolené rychlosti.
Možnost propojení s navigací.
Upozornění a možnost příjmu hovorů.
Zobrazení notifikací z telefonu.
GPS lokátory
Nejčastěji se vyznačují těmito vlastnostmi a funkcemi:
Přesná GPS lokalizace vašeho vozidla.
Hlášení o překročení rychlosti.
Upozornění při opuštění předem nadefinované zóny.
Slot na SIM kartu pro vzdálené ovládání SMS příkazy.
Vhodné i pro případ odcizení vozidla.
Historie polohy.
Zařízení pro kontrolu a diagnostiku
Mějte přehled o stavu vašeho vozidla s pokročilými diagnostickými nástroji. Ty většinou podporují operační systém Windows i mobilní platformy Android, iOS či Windows Phone.
Podpora nejrůznějších značek automobilů.
Zobrazení informací o vozidle.
Hlášení chyb a závad na vozidle.
Možnost mazání chybových kódů.
Reset servisních intervalů.
Načítání informací ze senzorů automobilu.
Kontrola tlaku v pneumatikách.
Příslušenství
Propojovací a prodlužovací kabely formou samostatně dokoupitelného příslušenství.
Hide description
Was this information useful?
This form is for collecting Feedback Only. If you have any other inquiries, please our Customer Care team here.
Is something missing or displayed incorrectly? Let us know your suggestions so we can improve the website and customer experience.
Best Deals
1.
LAMAX C9
Last 39 pcs and in store Praha - Holešovice
Car video recorder - up to 2K resolution, 2.7" LCD, 150° angle, up to 64GB support MicroSDHC, GPS, WDR function, LDWS, G-Sensor, Motion Detection, Time Loop, Night Vision, locking the record
2.
Car video recorder - FULL HD 1080p, 1.5" display, WiFi, G-Sensor, magnetic holder, lane departure warning, parking mode, smartphone app
+ FREE Memory Card Kingston worth 187,-
3.
Diagnostics - car diagnostic unit for OBD-II, Bluetooth, for Android and Windows Phone, for reading diagnostic error codes
Connected car
The largest consumer electronics trade fair in the world, CES 2018, is behind us. Many companies have...
Neskutečné se stalo skutkem a nyní si můžete objednat sportovně laděné SUV čistě s elektrickým pohonem...
Zájem o elektromobily a hybridní auta v evropských zemích vytrvale roste. Jsou šetrné k životnímu...
Chytré auto od společnosti T-Mobile posune váš vůz do 21. století. Budete vždy vědět, kde se vaše auto...
Garmin Dash Cam 56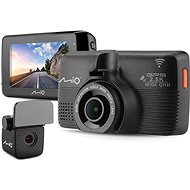 Mio MiVue 798 WIFI 2.5K QHD Dual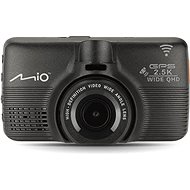 Mio MiVue 798 WIFI 2.5K QHD
Connected car
In the category Connected car on Alza.cz, we currently have a total of 62 products, which you can easily buy online and get quickly delivered. See all of your purchases and make orders on our easy-to-use app.
Enter product name
Note (link, Part number etc.):