Classic cooking utensils include all kinds of pots, casserole dishes, saucepans, frying pans and kitchen tools. Do you know how to tell a stock pot from a casserole dish and what is the best way to choose one? We're here to help you navigate through the world of classic kitchenware.
Continue
Pots—The Foundation of Every Kitchen
Pots come in all shapes and volumes and can be designed for different jobs in the kitchen. Alongside classic pots, you can also find pasta pots, juice steamers, preserving pots, steam or pressure pots, plus top-quality gastro equipment that every professional will appreciate. Don't forget a pot lid and other kitchen utensils.
Casserole Pots—Ideal for Preparing Large Quantities of Food
Casseroles differ from other pots and pans by being more shallow but wider. They cook food quickly and, above all, evenly on a larger hob. You can also use most of them in the oven.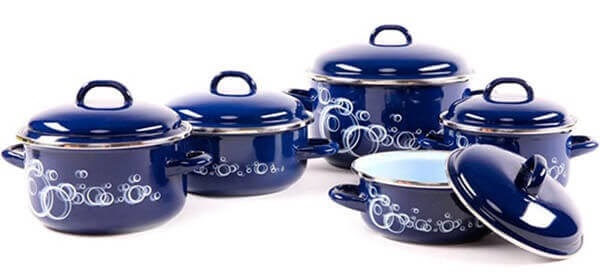 Saucepans—Perfect for Preparing Tasty Treats
Saucepans are smaller pots with a handle. They can score extra points if the handle is removable. Use a saucepan to heat water, milk, prepare porridge, boil eggs and other straightforward dishes.
Pans
As pans are the most important type of cookware, it's worth spending a bit more on them. With a bit of care, a quality pan will serve you for many years. The important thing is to choose the right one. Again, material and shape are key.
A temperature indicator tells you when the cookware is ready to use.
Milk Boilers—the Easiest Way to Prepare Milk
Thanks to their double-walled design, milk boilers heat milk without burning it. You'll be forever grateful that you no longer have to clean stubborn scorch marks. Milk boilers are ideal for home use and also suitable for professional food and beverage preparation in restaurants and cafes.
Don't Forget Microwave Cookware
Microwave-safe dishes can save you from disaster. Traditional cookware may not be suitable for the microwave and can be dangerous to use. However, specially adapted microwave-safe bowls and cooking vessels make sure this is never a problem.
Which Kitchen Utensils to Choose?
Choose kitchen utensils according to how you cook. Some are designed for gas and electric cookers, while others are more suitable for ceramic hobs and induction cookers. Check to see if the product is dishwasher safe. For microwave cookware, the material is vital—glass and plastic are best.
You can recognise induction cookware by the coil symbol on the bottom of the vessel.
Hide description
Was this information useful?
This form is used only for evaluating the information in the description above.
If you have any question about our products, services, transport or any other request, please contact our customer support.
What should be improved? Is anything missing here? Is anything wrong? Share it with us.
Best Sellers
1.
Rice Cooker - power consumption: 500 W, total volume: 3l with a usable capacity of 1 litre, aluminium container with non-stick Teflon surface, temperature maintenance function, automatic shut-off, removable container, steamer for heating vegetables, glass lid, rice spoon, measuring container
2.
Pressure Cooker - with a volume of 6l
3.
Rice Cooker - power: 300W, volume: 0,6 l, stainless steel, temperature maintaining
Cookware
S pánvemi Tefal zvládnete připravit kterýkoliv pokrm. Na své si přijdou jak zastánci zdravého životního...
Někdo rád zpívá, jiný rád cvičí. Vy ve volném čase často a rádi vaříte. Díky internetu a vašemu PC můžete...
Electric pots allow for the simple preparation of healthy food. You can choose from a wide range of...
Cookware
In the category Cookware on Alza.cz, we currently have a total of 1969 products, which you can easily buy online and get quickly delivered. See all of your purchases and make orders on our easy-to-use app.
Enter product name
Note (link, Part number etc.):