Ebook čtečky jsou určeny k pohodlnému čtení elektronických knih. Jsou většinou vybaveny displejem s elektronickým inkoustem, který dosahuje podobných parametrů jako tištěná kniha a neunavuje oči.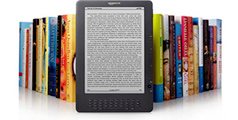 Šetří místo. Až tisíce titulů v jedné čtečce
Dlouhá výdrž baterií, změna velikosti písma
Continue
V drtivé většině případů jsou elektronické knihy vybaveny pokročilými displeji, které vůbec nekazí oči, obrazem velice připomínají text na běžném papíře a mají minimální spotřebu elektrické energie. Všechno to je způsobeno použitím speciální technologie elektronického inkoustu (tzv. E-Ink). Díky ní displeje odebírají energii jen ve chvíli, kdy překreslují jednu stránku knížky na druhou. Statický obraz s textem je pak energeticky nenáročný, neboť speciální krystaly v displeji nemění svou polohu a zůstávají stále na stejném místě (což je ideální pro statický text, který se tím pádem i lépe čte).

Tip: Elektronická kniha je samozřejmě ideální pro každého, kdo rád čte a nechce s sebou neustále tahat těžkou, několika set stránkovou bichli. Obzvláště ji však ocení ti, kteří často cestují a chtějí mít po ruce hned několik svých oblíbených titulů.
Was this information useful?
This form is for collecting Feedback Only. If you have any other inquiries, please our Customer Care team here.
Is something missing or displayed incorrectly? Let us know your suggestions so we can improve the website and customer experience.
Best Deals
1.
E-book Reader - ebook reader, 6" backlit touchscreen E Ink HD Carta display, 1072x1448, 300DPI, WiFi, 8GB + microSD, Li-pol 1500mAh, micro USB, jack 3.5mm, colour temperature of backlight
2.
E-book Reader - Ebook reader, 6" touchscreen 167ppi (800x600), 4GB memory, WiFi, with advertising
3.
E-book Reader - 6" backlit touch screen, E-Ink 300ppi, 4GB memory, Wi-Fi
Ebook čtečky
Enter product name
Note (link, Part number etc.):