Get the Xbox Series X - the most powerful game console in the world. You can play next-generation games on it in up to 4K resolution at 60 frames per second, but thanks to its backward compatibility, classic titles from older consoles will stay available to you. The convenient Xbox Game Pass subscription will then give you access to hundreds of great games at an affordable monthly price. Want a universal next-gen home console? Then the Xbox Series is an obvious choice.
What Is Inside the Xbox Series X?
The Xbox Series X definitely brings a lot of new features. In order to be able to run games in 4K at 60 or 120 frames per second, it needs really powerful hardware. Which exactly?
| | | |
| --- | --- | --- |
| Parameter | Xbox Series X | Xbox One |
| Processor cores | 8 cores (16 threads) AMD Zen 2 | 8 cores AMD Jaguar |
| Processor frequency | 3.8GHz | 1.75GHz |
| Theoretical GPU Performance | 12 TFLOPs | 1.23 TFLOPs |
| GPU Frequency | 1.825GHz | 853MHz |
| Compute Units | 52 | 12 |
| Memory | 16GB GDDR6 | 8GB DDR3/32MB ESRAM |
| Interal Storage | SSD – 1TB (2.4 GB/s) | HDD – 500GB–2TB |
Processor (CPU) - AMD's number of cores, multithreading and Zen 2 architecture reveal that the Xbox Series X processor will have a lot in common with the AMD Ryzen third-generation processors, which is a good thing because they are one of the best on today's market.
Graphics Processing Unit (GPU) - Theoretical performance of 12 TFLOPs - what a huge leap forward from the previous generation of consoles. Nearly ten times the computing power reveals that next-generation games can be really challenging, and therefore incredibly detailed and sophisticated.
SSD Storage - With this very fast SSD storage, we say goodbye to endless loading. It will be significantly reduced by the performance of the new drive, which is more than 20 times faster than the HDD found in the Xbox One.
What Does the New Xbox Series X Hardware Allow?
4K Gaming - 4K gaming becomes a standard with the Xbox Series X, even at 60 fps.
Up to 120 Frames per Second - Some, especially multiplayer, competitive games are going to run on the Xbox Series X at up to 120 frames per second.
Ray Tracing - Ray tracing technology is able to represent light in the game as it is perceived in real life. This greatly improves game visuals, but in terms of performance it does not come for free. However, the Xbox Series X is powerful enough to support ray tracing in many games.
8K Resolution Support - If you intend to use the Xbox Series X with an 8K TV, the console comes equipped with a connector that can transmit up to 8K resolution at 120 frames per second.
Was this information useful?
This form is used only for evaluating the information in the description above.
If you have any question about our products, services, transport or any other request, please contact our customer support.
What should be improved? Is anything missing here? Is anything wrong? Share it with us.
Best Sellers
1.
Game Console - home, SSD 1024GB, Blu-ray (4K), possibility to play in 4K, 1 × game controller, colour: black
2.
Game Console - home, SSD 512GB, no drive (does not play physical discs), 1 × game controller, colour: white
+ FREE Comics Scratch Wars - Comics worth 229,-
Xbox Consoles
Online část pro Red Dead Redemption již za pár dní obdrží obsahový update, který představí nový typ misí a...
Microsoft v rámci E3 2021 na včera naplánoval ještě jednu prezentaci Xboxu a Bethesdy (první proběhla 13...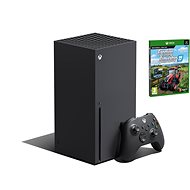 Xbox Series X + Farming Simulator 22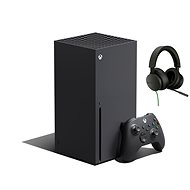 Xbox Series X + Xbox Stereo Headset
Xbox Consoles
In the category Xbox Consoles on Alza.cz, we currently have a total of 13 products, which you can easily buy online and get quickly delivered. See all of your purchases and make orders on our easy-to-use app.
Xbox Consoles – proved brands
Enter product name
Note (link, Part number etc.):