Vybíráte vhodný gril na zahradu, terasu, balkon či do kuchyně? Vsaďte na naši širokou nabídku – máme pro vás grily na dřevěné uhlí, plynové i elektrické. Při výběru se zaměřte především na typ paliva, velikost grilu a účel jeho využití. Váháte nad něčím? Potřebujete více informací? Poradíme vám.
Continue
Grily podle paliva – uhlí, plyn, nebo, elektřina?
Grilování je oblíbená činnost, kterou můžete provozovat venku na zahradě, ale i doma. V závislosti na tom je důležité vybrat vhodný gril.
Plynový gril se hodí na zahradu i na terasu
Plynové grily jsou ihned připraveny k provozu, neprodukují žádný kouř a mají vysoký výkon. Zpravidla nechybí ani plynulá regulace, takže jsou vhodné i pro méně zdatné kuchaře. O ní si můžete nechat u grilu na dřevěné uhlí zdát. Plynový gril není závislý na elektřině ani tuhém palivu a není navíc potřeba z něj likvidovat žádný odpad.
Plynový gril využívá k ohřevu plyn z propan butanové lahve, kterou pořídíte na každé dobře vybavené čerpací stanici. Pokud si pořídíte cestovní gril, ohřev je obvykle zajištěn plynovou kartuší. Ta se nedá plnit – je na jedno použití.
Elektrický gril využijete všude, ale ...
Elektrické grily jsou všestranné. Zatímco na zahradu jsou určeny větší venkovní elektrické grily, na balkon či do kuchyně se hodí malé grily. Výhodou je rychlá, jednoduchá a bezpečná obsluha. Nevýhodou potom zůstává fakt, že požitek ze samotného grilování i z chuti masa je oproti grilu na dřevo nebo na plyn nejhorší.
Zahradní grily na dřevěné uhlí – to pravé ořechové
Grily na dřevěné uhlí jsou oblíbené pro nezaměnitelnou chuť grilovaných pokrmů i pro cenovou dostupnost. Grilování je oproti plynovým i elektrickým grilům sice nejnáročnější, ale pokud jste zdatný kuchař, stojí to rozhodně za to. Počítejte ale s delší časovou náročností při přípravě topeniště i následné údržbě a čistění grilu.
i
Malý gril na dřevěné uhlí využijete i na terase. Musíte mít ale velmi shovívavé sousedy a dávat pozor na odletující jiskry – hrozí nebezpečí požáru. Pokud máte rádi adrenalin, můžete zkusit gril na dřevěné uhlí rozpálit i na balkoně, důrazně to ale nedoporučujeme.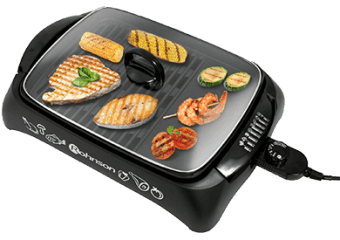 Domácí elektrický gril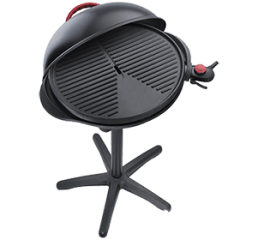 Balkonový gril

Přenosný gril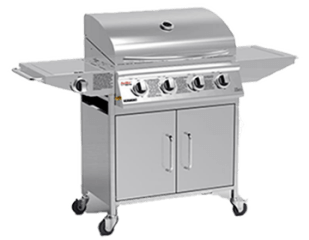 Zahradní plynový gril
Grily podle typu a velikosti – druhý úhel pohledu při výběru
Zahradní grily
Zahradní grily oceníte na každé venkovní party a zahradní sešlosti. Typickým zástupcem je zde gril na dřevěné uhlí. Pokud si však na kouř až tak nepotrpíte, zvolte raději gril plynový. Oba typy grilů jsou k dispozici v různých velikostech – seženete jak mini gril, tak i velký zahradní gril, který obslouží i početný zástup strávníků.
i
Zahradní gril s udírnou pro náročné fajnšmekry
Zahradní grily s udírnou můžeme doporučit všem milovníkům uzeného masa. Kombinací grilu a udírny totiž získáte širokou variabilitu při grilování. Pokud upřednosňujete zdravější přípravu pokrmů, zvolte vodní grily, které při grilování a uzení pohlcují odkapávající tuk.
Přenosný gril, malý gril a mini gril – grilujte vždy a všude
Přenosné grily mají nízkou hmotnost a konstrukci přizpůsobenou pro snadné přenášení. Camping, piknik v parku, grilování na cestách i v přírodě – pro tyto situace existuje mini gril na dřevěné uhlí a gril na plynovou kartuši. Pokud budete mít v dosahu elektřinu, připadá v úvahu i elektrický mini gril, často označovaný jako balkonový gril.
Jednorázové grily
Jednorázové grily jsou zajímavou alternativou přenosných variant. Jsou plně roztopené do 20 minut a hořet vydrží podle velikosti zhruba 2 hodiny. Výhodou také je, že vám na zpáteční cestě z dovolené či výletu ušetří místo.
Rádi byste si doma připravili celé kuře nebo gyros? Vyzkoušejte grily na kuře.
Příslušenství pro čistý gril i pohodlné grilování
Příslušenství ke grilu oceníte pro pohodlnější a rychlejší grilování. Kvalitní grilovací nářadí, opékací rošty nebo pánve jsou skvělým pomocníkem a ušetří vám čas i vložené úsilí. Udržet gril v čistotě vám pomohou šetrné čisticí prostředky spolu s univerzálním kartáčem nebo robotickým čističem.
i
Více tipů a praktických informací k výběru vám prozradí průvodce: Jak vybrat gril.
Hide description
Was this information useful?
This form is for collecting Feedback Only. If you have any other inquiries, please our Customer Care team here.
Is something missing or displayed incorrectly? Let us know your suggestions so we can improve the website and customer experience.
Best Deals
1.
Grill wood charcoal, barbecue area 25cm, chrome grill
2.
Grill - charcoal, 55 x 4cm grilling area, 2 enamelled cooking grids, 1 stainless steel heating grid, top lid with a thermometer, 2 shelves, black heat-resistant surface finish, wheels, 104 x 100 x 67cm
3.
Grill - gas, mobile, 4 burners with piezo ignition, side stove, grilling area 64x38cm, Flame Tamer system, hinged lid, includes connecting tubes and gas regulator
Grily
Vánoce jsou svátkem klidu, odpočinku a dobrého jídla. Ale kdo by chtěl strávit celý štědrovečerní den v...
Grilování nemusí být jen sezónní záležitostí, ale v létě je to rozhodně jedna z velmi oblíbených...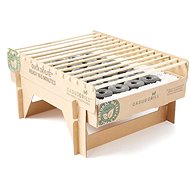 CasusGrill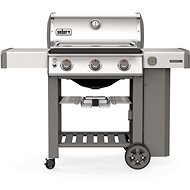 WEBER Genesis II S-310 GBS Stainless steel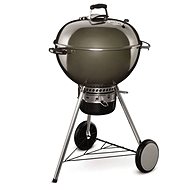 WEBER Master-Touch GBS Smoke Grey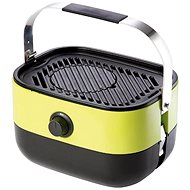 MEVA Piknik párty gril GP18002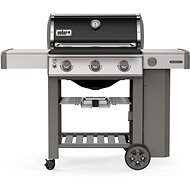 WEBER Genesis II E-310 GBS Black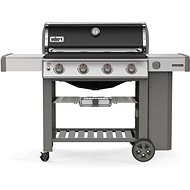 WEBER Genesis II E-410 GBS Black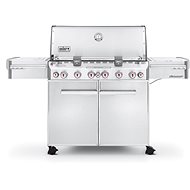 WEBER Summit S-670 GBS Stainless steel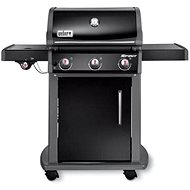 WEBER Spirit E-320 Original Black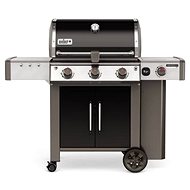 WEBER Genesis II LX E-340 GBS Black
Grily
In the category Grily on Alza.cz, we currently have a total of 133 products, which you can easily buy online and get quickly delivered. See all of your purchases and make orders on our easy-to-use app.
Enter product name
Note (link, Part number etc.):
Check out products sorted by price starting with the lowest price in the category cheap grily
Check out products sorted by price starting with the highest price in the category best sellers, best grily
You'll find products sorted by reviews starting from the highest ranked in grily reviews