Šroubováky se zpravidla prodávají v sadách a liší zejména typem a provedením. Na co se zaměřit při jejich výběru?
Continue
Základní typy šroubováků
Ráčnové šroubováky – zabírají vždy na jednu stranu. Na druhou stranu přeskakují přes zuby. Směr záběru lze přepínat. Díky tomuto systému nemusíte při šroubování přehmatávat. Díky tomu je šroubování s nimi rychlejší a pohodlnější než s klasickými šroubováky. Ve srovnání s nimi však bývají dražší.
Klasické šroubováky – běžné šroubováky pro použití v domácnosti, dílně apod. Jsou levnější než řáčnové modely, při šroubování se musí přehmatávat (šroubování s nimi je pomalejší a méně pohodlné).
Úderové šroubováky – zajistí utažení připevňovacích šroubů a uvolnění zadřených šroubů. Lze na ně klepat kladivem. Při úderech se síla z kladiva přenese vnitřním mechanismem tak, aby pomohla šroub povolit nebo utáhnout. Své využití naleznou v těžkých průmyslových a provozních podmínkách.
Provedení sad šroubováků
Šroubováky – každý šroubovák má nástavec pevně připojený s bitem. Jednotlivé bity tudíž nemusíte vyměňovat.
Šroubovací nástavec a sada bitů – v sadě je jeden nástavec, do kterého můžete vkládat mnoho bitů. Jednotlivé bity zabírají málo místa, proto jich v jednom pouzdře můžete mít hodně.
Pokud šroubujete často, doporučujeme spíše elektrické nebo aku šroubováky
Elektrické šroubováky – vyvinou vysoký výkon, bude vás ale omezovat kabel. Nemusíte je však nabíjet.
Akumulátorové šroubováky – poskytnou dostatek výkonu pro většinu šroubovacích prací. Po několika hodinách je potřeba je nabít, fungují však i v terénu (v místech, kde není zásuvka elektrické sítě).
Hide description
Was this information useful?
This form is for collecting Feedback Only. If you have any other inquiries, please our Customer Care team here.
Is something missing or displayed incorrectly? Let us know your suggestions so we can improve the website and customer experience.
Best Deals
1.
Screwdriver - set of screwdrivers, attachments and other tools for mobile phone repairs and other small electronics, CRV steel, 5/32" extension, plastic case
2.
Watchmaker's Screwdriver - bits for base repairs and dismantling of electric goods, compact screwdriver case, 64pcs bits, flexible neck
3.
Bit Set and socket wrenches for hexagon bolts, universal holder, hand screwdriver
Šroubováky
Black & Decker A7231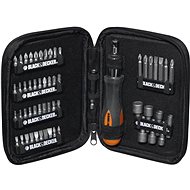 Black & Decker A7104
Šroubováky
In the category Šroubováky on Alza.cz, we currently have a total of 71 products, which you can easily buy online and get quickly delivered. See all of your purchases and make orders on our easy-to-use app.
Enter product name
Note (link, Part number etc.):
Check out products sorted by price starting with the lowest price in the category cheap šroubováky
Check out products sorted by price starting with the highest price in the category best sellers, best šroubováky
You'll find products sorted by reviews starting from the highest ranked in šroubováky reviews