ZPĚT NA VŠECHNY TV
Proč si vybrat televizor Samsung? Kvůli 8K rozlišení. Více než miliardě barev a technologii QLED. Rozsáhlým funkcím Smart TV. Výjimečným úhlopříčkám. A mnohaletým zkušenostem.

Televize Samsung
Samsung Smart TV jsou tím nejlepším důkazem rozsáhlých zkušeností společnosti Samsung s vývojem a výrobou prvotřídní elektroniky. Inovativní obrazové technologie z nich činí perfektní plátno pro filmové zážitky. Rozsáhlá konektivita a chytré funkce je promění na středobod vaší chytré domácnosti. A jejich obrazovou kvalitu doplňuje stejně jedinečný design vhodný do jakéhokoliv interiéru.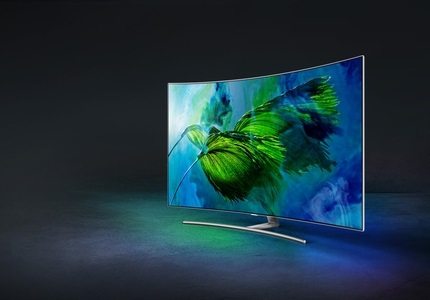 QLED televize Samsung
Řada QLED televizí je vrcholem toho, co Samsung v současné době nabízí. Díky technologii Quantum Dot a vysoké barevné hloubce disponují Samsung televizory jemnějšími barevnými přechody, které se neztrácejí ani při vyšším jasu. S celokovovým designem, oddělenou elektronikou spojenou s televizorem pomocí jediného a takřka neviditelného optického kabelu nebo možností snadného a pevného uchycení na stěnu se QLED televize Samsung stanou ozdobou vaší domácnosti.
8K televize Samsung
Díky Samsung technologii si vůbec poprvé na obrazovce vychutnáte čtyřikrát jemnější obraz než na 4K TV, a dokonce 16× detailnější než u rozlišení Full HD. 8K QLED TV se pyšní téměř 8 000 pixely na šířku obrazovky. Právě od tohoto čísla získalo toto rozlišení své krátké pojmenování – 8K, osm tisíc. Působivá čísla však nekončí u horizontální hodnoty. 8K QLED TV má na výšku 4 320 obrazových bodů. Takže ve výsledku na své obrazovce sledujete neuvěřitelných 33 milionů pixelů.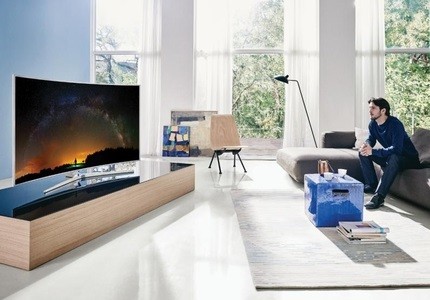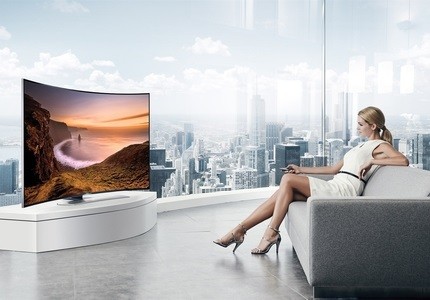 4K televize Samsung
Certifikované 4K neboli Ultra HD (UHD) smart televizory Samsung disponují rozlišením 3 840 × 2 160 pixelů, které z jejich sledování udělá výjimečný zážitek. Všechny detaily uvidíte v maximální ostrosti z jakékoliv vzdálenosti. Vrcholem této technologie jsou prémiové Quantum Dot televizory, které díky nanokrystalovým displejům dokáží zobrazit 64× více barev než běžné televizory.
Rozbočovač One Connect
Ke spojení různých zařízení se Samsung Smart TV nepotřebujete do televizoru zapojovat množství kabelů. Postačí vám jediný a takřka nepostřehnutelný optický kabel vedoucí z TV do rozbočovače One Connect, do kterého jsou další zařízení zapojena. Zachováte tak čistotu prostoru kolem televize, protože rozbočovač může zůstat zcela skrytý. K dokonalému dojmu pomáhá také 360° design televizoru spočívající ve vytříbeném minimalistickém vzhledu všech jeho stran, prémiové kovové konstrukci a bezrámečkovém provedení.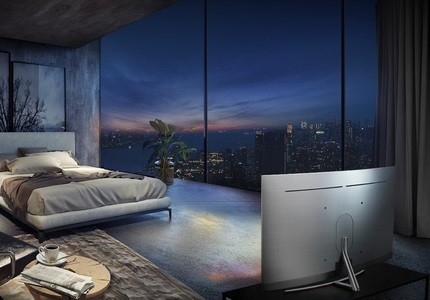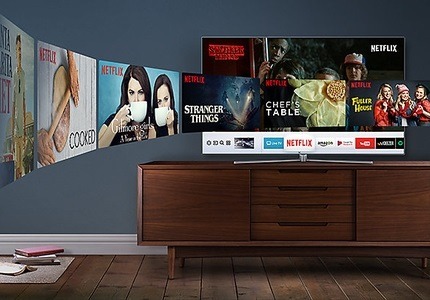 Platforma Q Smart
Platforma Q Smart umožňuje připojení dalších zařízení, jako například PlayStation, Xbox, nebo Blue-ray přehrávač. Jejich funkce lze ovládat pomocí jediného dálkového ovladače. Stejně snadno můžete sledovat obsah z internetových serverů a televizí. Chytré televize využívající Q Smart jsou také vybaveny nejrůznějšími aplikacemi, ať už je to YouTube, Netflix, Stream.cz nebo Voyo.
Systém uchycení No Gap
Způsob uchycení QLED televizorů Samsung na zeď si zamilujete. Díky systému No Gap Wall Mount přilne televizor ke stěně tak těsně, že bude působit naprosto přirozeně. Vše spočívá ve výklopném úchytu na zadní části TV, za který ji zavěsíte na konzoli připevněné na zeď. Celá montáž vám nezabere více než 15 minut. V případě, že televizor chcete umístit do prostoru, jednoduše jej umístíte na některý z designových stojanů.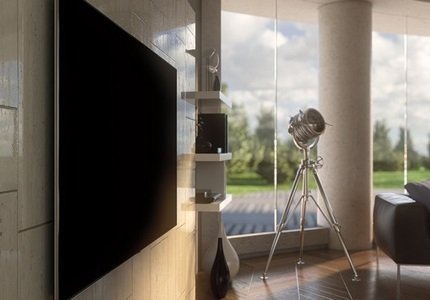 Was this information useful?
This form is for collecting Feedback Only. If you have any other inquiries, please our Customer Care team here.
Is something missing or displayed incorrectly? Let us know your suggestions so we can improve the website and customer experience.
Best Deals
1.
Television SMART LED, 108cm, 4K Ultra HD, HDR10+, PQI 1300 (50Hz), 4K Ultra HD Dimming, DVB-T2/S2/C, H.265/HEVC, 3x HDMI, 2x USB, LAN, optický výstup, CI+, WiFi, HbbTV 1.5, OS Tizen, párování s mobilním zařízením, Game Mode, Steam Link, HBO GO, Voyo, NETFLIX, web prohlížeč, VESA, repro 20W, A
2.
Television SMART LED, 138cm, 4K Ultra HD, HDR10+, PQI 1300 (50Hz), 4K Ultra HD Dimming, DVB-T2/S2/C, H.265/HEVC, 3x HDMI, 2x USB, 1x LAN, 1x optický výstup, 1x CI+, WiFi, HbbTV 1.5, OS Tizen, párování s mobilním zařízením, Game Mode, Steam Link, HBO GO, Voyo, NETFLIX, web prohlížeč, přehrávání 360° videa, VESA, repro 20W, A
3.
Television SMART LED, 138cm, 4K Ultra HD, HDR10 +, PQI 1300 (50Hz), 4K Ultra HD Dimming, DVB-T2 / S2 / C, H.265 / HEVC, 2x HDMI, HbbTV 2.0, OS Tizen, mobile pairing, Game Mode, Steam Link, HBO GO, NETFLIX, web browser, VESA 200x200, Repro 20W, A
Televize Samsung
Enter product name
Note (link, Part number etc.):
Check out products sorted by price starting with the lowest price in the category cheap televize Samsung