Vysavače Philips znají všechny vaše potřeby
Ať už vybíráte vysavač sáčkový, bezsáčkový nebo se poohlížíte po robotickém vysavači, vždy se můžete s důvěrou obrátit na výrobky značky Philips. Díky více jak 120leté tradici ve Philipsu přesně vědí, co lidé potřebují, a tomu také přizpůsobují vývoj svých výrobků. Výsledkem jsou precizně zpracované a funkční vysavače, které vám maximálně usnadní úklid vašeho domova.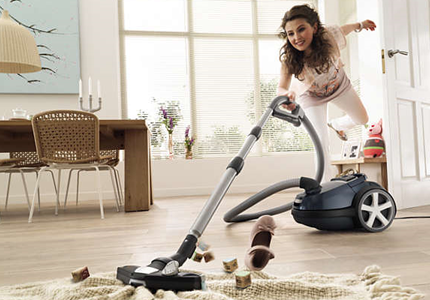 Sáčkové vysavače Philips jsou expertem na úklid
Sáčkové vysavače Philips se mohou pochlubit nízkou spotřebou, výborným výkonem a minimální hlučností. Používají vysoce účinný filtr HEPA13 pro zachycení až 99,95 % nečistot včetně těch nejjemnějších částic. Technologie AirflowMax zajišťuje silnější sací výkon. Vysavače Philips mají certifikát ECARF (European Centre for Allergy Research Foundation), takže jsou ideální zejména pro alergiky. Unikátní hubice TriActive kombinuje tři způsoby vysávání – šetrně a důkladně vysaje i vyšší koberec, nasaje lépe větší nečistoty a odstraňuje lépe prach podél stěn a nábytku.
Zbavte se sáčků s bezsáčkovými vysavači Philips
Už vás nebaví stále kupovat sáčky do vysavače? Pořiďte si bezsáčkový vysavač Philips. Technologie NanoClean použitá u jeho nádob na prach zabraňuje nalepení prachu na stěny nádoby, a ten nezůstává ani ve vzduchu. Padá přímo na dno, a tím je docíleno i snadnějšího vyprázdnění nádoby. Díky technologii PowerCyclone dosahují bezsáčkové vysavače Philips výjimečného sacího výkonu. Stejně jako u sáčkových vysavačů Philips, i zde je použit vysoce účinný filtr HEPA13 a unikátní hubice TriActive. Navíc se mohou pochlubit třídou účinnosti čištění koberců C, a díky certifikaci ECARF jsou rovněž doporučovány všem alergikům.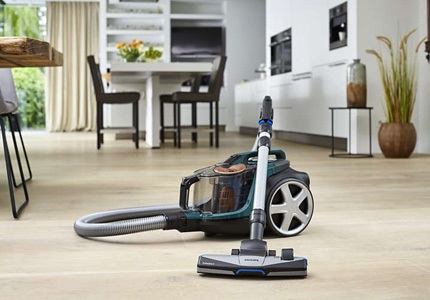 Tyčové vysavače Philips vždy po ruce
Nechcete, aby vám úklidové pomůcky zabíraly spoustu místa v bytě? Pořiďte si některý z tyčových vysavačů Philips. Nahradí klasický vysavač, ruční vysavač i mop. Ušetří vám čas, protože vysávají i vytírají najednou. Tyčové vysavače Philips jsou bezsáčkové, lehké a bezdrátové. Na jedno nabití vydrží vysávat až 5 hodin. Na jedno přejetí vysají až 97 % nečistot. Tyčové vysavače Philips mají navíc výbornou filtrační technologii – ta zachytí až 90 % všech alergenů, pylů a bakterií do velikosti 0,3 mikronů.
Nechte robotický vysavač Philips pracovat za vás
Robotický vysavač Philips si poradí s úklidem všech tvrdých podlah i koberců bez vaší asistence. Díky široké hubici TriActiveXL navíc vysaje podlahu dvakrát rychleji. K důkladnému vyčištění koberce hluboko ve vláknech a mezi spárami mu pomáhá systém Smart Detection, který určuje optimální strategii úklidu. Robotický vysavač Philips má pohon na 4 kola, který mu pomáhá snadno překonat dveřní prahy, takže na jedno nabití zvládne uklidit ve více místnostech.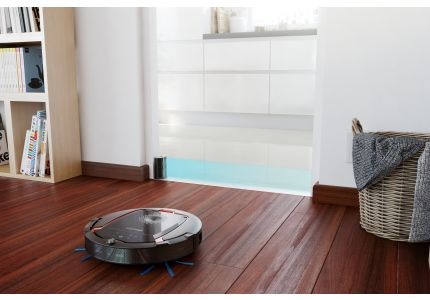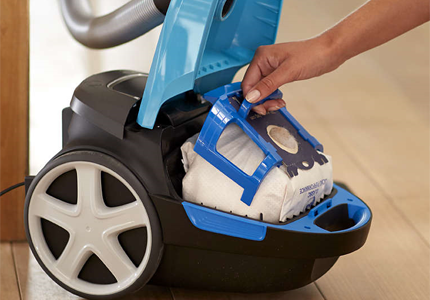 Příslušenství k vysavačům Philips
Ať už sháníte nejrůznější hubice k vysavačům Philips, náhradní sáčky nebo filtry, v nabídce máme vše. Hodit se vám může například speciální hubice na vysátí velkých drobků, hubice s kartáčem pro vysávání podél stěn nebo otočná hubici o 180° pro usnadnění úklidu. Unikátní sáčky do vysavače Philips s-bag umožňují hygienickou likvidaci nečistot, jelikož se dají při vyjímání z vysavače jednoduše uzavřít a vyhodit. Vyrábějí se ze třech materiálů – z papíru, ze syntetiky nebo z antialergického materiálu. Všechny sáčky jsou určeny jak do vysavačů Philips, tak i do vysavačů Electrolux. Rovněž nepodceňujte výměnu filtru – ten by se měl měnit jednou za rok.
Was this information useful?
This form is for collecting Feedback Only. If you have any other inquiries, please our Customer Care team here.
Is something missing or displayed incorrectly? Let us know your suggestions so we can improve the website and customer experience.
Best Deals
1.
Cordless vacuum cleaner - 3-in-1 for wet and dry cleaning, wiping system with optimum suction on all hard floors, PowerCyclone 8 for high vacuum output, three-way filtration system, manual vacuuming with integrated brush for furniture, corners and hard-to-reach areas, 360° suction head with LED lighting, wireless operation, without bag - single stage dust bag, operation up to 75 min, 25.2V Li-Ion battery , suitable for all floors, high controllability and low weight for easy operation, accessories: integrated brush, microfibre pads, spare filter, TurboPet nozzle, 360° suction head
2.
Bagged vacuum cleaner - blue, 750W, 3l dust bag, TriActive nozzle, crevice tool, small nozzle, hard floors nozzle
3.
Vacuum Cleaner Bags - Classic Long Performance, 4 bags
Vysavače Philips
Enter product name
Note (link, Part number etc.):
Check out products sorted by price starting with the lowest price in the category cheap vysavače Philips