Zdravotní kancelářské židle jsou určené pro všechny, kdo tráví dlouhé hodiny sezením. Díky speciální mechanice předcházejí problémům nejen se zády. Jak vybrat zdravotní židli?
Continue
Typ mechaniky zdravotní židle je klíčový
Díky různým mechanikám si zdravotní kancelářské židle přizpůsobíte stavbě těla tak, aby pro vás bylo i celodenní sezení bez problémů a bolestí zad.
Synchronní mechanika je ideální pro dlouhé každodenní sezení. Na této ergonomické židli se při zhoupnutí automaticky nakloní i sedák, což umožňuje zdravější a dynamické sezení.
Asynchronní mechanika umožňuje nastavení opěráku ve více pozicích a nezávisle na sklonu a poloze opěráku umí nastavit i sklon sedáku. Židli si tak můžete přizpůsobit přesně podle vašeho těla.
Houpací mechanika většinou umožňuje pouze houpání se v kancelářské židli s možností nastavení síly protiváhy na základě tělesné hmotnosti.
Ergonomie a vybavení zdravotní kancelářské židle
Při výběru ergonomické zdravotní židle jsou důležité také její funkce a vybavení, které si přizpůsobíte podle vlastních potřeb.
Opěrka hlavy poskytuje příjemnou oporu hlavě a krku, což oceníte převážně při delším sezení.
Bederní opěrka slouží k upravení opěráku a přizpůsobení kancelářské židle přesně podle tvaru vašich zad. Docílíte tak přirozenějšího a zdravějšího sezení.
Područky jsou pro častější, byť i krátkodobé používání zdravotní židle základ. Existují i výškově a stranově nastavitelné područky, které vám ještě více zvýší komfort při sezení.
Typ koleček by měl korespondovat se správným typem podlahy. Pro měkké povrchy zvolte tvrdá plastová kolečka, pro tvrdé povrchy zase měkčí pogumovaná kolečka.
Sedák v nabídce naleznete klasický či anatomicky tvarovaný neboli trojrozměrný sedák. Podporuje dynamické sezení na základě pohybu do všech stran podle pohybů pánve.
Materiál kříže zdravotní židle – plast, nebo kov?
Kříž je základem každé zdravotní kancelářské židle. Zajišťuje uchycení koleček a pístu, jenž umožňuje výškové nastavení zdravotní židle.
Nejčastěji se setkáte se standardním plastovým křížem, který se vyznačuje svou cenovou dostupností.
Pro robustnější postavy či při častém používání doporučujeme sáhnout po odolnějším materiálu – například chromu, hliníku či jiném kovu.
Ideálním potahovým materiálem zdravotních židlí je síťovina, která vyniká svou prodyšností, takže je vhodná i do neklimatizovaných kanceláří. Dalšími výhodami potahu jsou cenová dostupnost a dlouhá životnost.
Speciální ergonomické židle ve tvaru půlmíče
Zdravotní židle ve tvaru půlmíče nejsou určeny pro každodenní několikahodinové sezení u PC.
Vaše záda jsou permanentně udržována v pohybu a balancují, čímž se zpevňuje zádové a břišní svalstvo.
Některé modely zdravotní židle disponují i možností vyjmout míč a používat jej pro další cviky.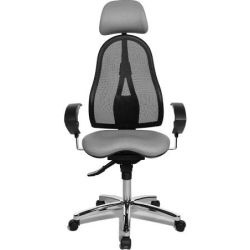 Zdravotní kancelářská židle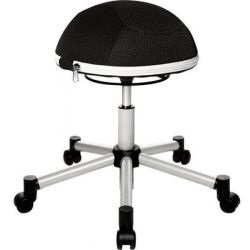 Kancelářská židle ve tvaru půlmíče
Hide description
Was this information useful?
This form is for collecting Feedback Only. If you have any other inquiries, please our Customer Care team here.
Is something missing or displayed incorrectly? Let us know your suggestions so we can improve the website and customer experience.
Best Deals
1.
Office Chair - with a patented Body-Balance-Tec joint, adjustable headrest height and depth, breathable mesh backrest, synchronous mechanism, three-dimensional moving seat, chrome-plated cross base
2.
Office Chair - with ergonomic air backrest, integrated lumbar support, shaped seat, active seat with special joint for three-dimensional seat movement (Body-Balance-Tec joint)
3.
Office Chair for dynamic seating to allow for alternating positions during work, high stability even in non-standard seating, large seat, narrow back, back support, load capacity up to 100kg, suitable for persons up to 190cm
Když se vám náhodou porouchá židle, nemusíte ji hned celou balit a vozit na reklamaci. Nově stačí jen...
Více než dvě hodiny sezení denně jsou pro lidské tělo škodlivé. Zapojit více svalů a ulevit své páteři...
Výběr správné kancelářské židle je klíčový, zejména pokud trávíte dlouhou dobu sezením. Vyzkoušeli jsme...
Nechcete v sedavém zaměstnání jen nečinně sledovat svá přibývající kila, bolesti zad a zhoršující se...
Zdravotní židle
In the category Zdravotní židle on Alza.cz, we currently have a total of 40 products, which you can easily buy online and get quickly delivered. See all of your purchases and make orders on our easy-to-use app.
Zdravotní židle – proved brands
Enter product name
Note (link, Part number etc.):
Check out products sorted by price starting with the lowest price in the category cheap zdravotní židle
Check out products sorted by price starting with the highest price in the category best sellers, best zdravotní židle
You'll find products sorted by reviews starting from the highest ranked in zdravotní židle reviews