The Official Partner of Every Kitchen
Beko Refrigerators and Freezers
The kitchen is an important place for refrigerators and freezers. Both are combined and available with Beko's American two- or four-door refrigerators. Nowadays, these are very popular due to their size and functionality. Most of them have an automatic defrost function, Twist & Serve ice makers or IonGuard® active ionisers that neutralise bacteria. Four-door Beko refrigerators even offer special MultiZone™ sections, which are adjustable as a refrigerator or freezer.
EverFresh+® technology in Beko fridges ensures optimum humidity and temperature stability. Your food will be fresh for up to 30 days.
The Beko freezer and NeoFrost™ technology feature two independent refrigeration systems to prevent the spread of smells and keep your food fresher longer.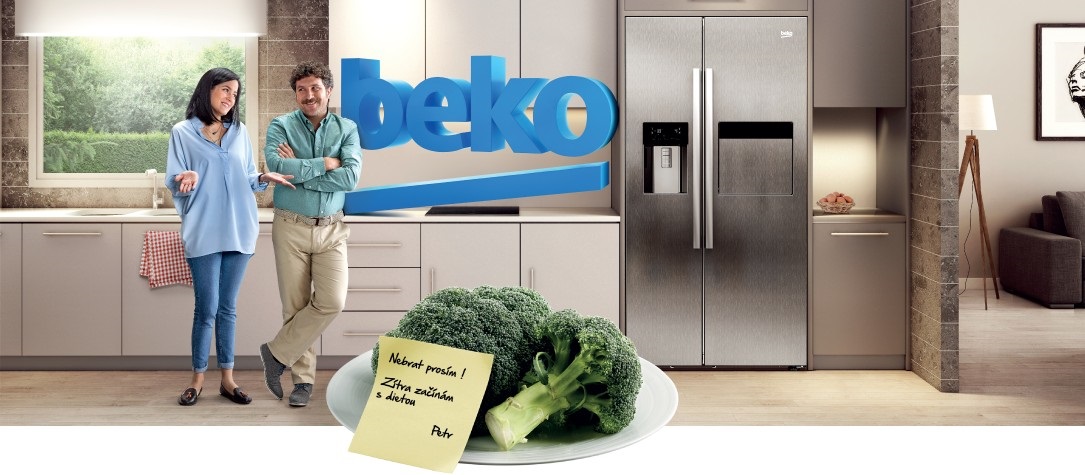 Beko Washers and Ovens
Beko kitchen appliances handle the most difficult work in the kitchen. Beko washers are characterised by their efficient and gentle washing, as well as their low water consumption. While Quick & Clean™ can wash and dry up to 14 sets of dishes in 58 minutes, GlassShield® technology will extend the lives of your glasses and prevent damage. If the dishes are very dirty after lunch, put them in the bottom right section of the dishwasher, and AquaIntense® technology will guarantee clean and shining results.
Beko ovens offer the opportunity to cook multiple dishes at once without mixing their smells and tastes. This is possible with the 3D baking technology that activates the upper and lower heater and the circular heater fan.
In addition, Beko also offers heat-treated ovens with the Surf® system, which blows hot air from the side walls, as well as professional ovens. Other Beko offerings include the Split & Cook® feature, allowing the oven to be split between two zones, each having a temperature of up to 80°C. With PizzaPro™ technology, reach temperatures up to 310°C and savour perfect Italian pizzas at home.
Beko cookers and microwave ovens are also available. They all are equipped with fully glass doors, without interior bolts, for easy maintenance. No more burns - telescopic tracks provide safer and more comfortable handling of dishes.


The Official Partner of Every Laundry Room
Beko Washing Machines and Dryers
Beko washing machines and dryers are reliable laundry helpers. With their innovative Beko technology and functions, prepared for each type of laundry, there is no loss of colour or damage that occurs. Special functions include, for example, a PET program that can remove animal hair or BabyProtect+, which is designed to protect sensitive laundry and keep them allergy-free. It takes care of 99.99% of allergens, microbial germs and mites.
Beko dryers have an important FlexySense sensor system that ensures uniform drying of the laundry at the desired degree of dryness. You can dry your laundry of any fabric type without having to worry about damage. Furthermore, the laundry will not be wrinkled when the program is finished. If your space is limited and want to wash and dry at the same time, get the Beko washer-dryer - these two appliances in one will elegantly solve your problem. Because of the inverted motor, heat pump technology and several sensors, Beko dryers are extremely quiet and fall into the A+++ energy class.