Chytrá domácnost umožňuje ovládání osvětlení, termostatů, alarmů, ale i elektroinstalace a dalších zařízení na dálku pomocí smartphonu, tabletu, počítače nebo televize. Vybudujte si rozsáhlou chytrou domácnost ovládanou jedinou aplikací, a to i bez složitých stavebních úprav. Zjistěte víc.
Continue
Co to je centrální jednotka, jak funguje a proč je nezbytná?
Centrální jednotka je srdcem chytré domácnosti a slouží jako prostředník mezi uživatelem a jednotlivými prvky chytré domácnosti. Zatímco uživatel s centrální jednotkou komunikuje většinou přes WiFi nebo síťový kabel, centrální jednotka je se zbytkem domácnosti propojená prostřednictvím specifických komunikačních protokolů – například přes ZigBee nebo Z-Wave. Hlavním cílem těchto protokolů je sjednocení komunikace mezi stovkami smarthome zařízeními od různých výrobců.
Proč nemůže vše komunikovat pouze přes WiFi?
Protokoly ZigBee a Z-Wave jsou založeny na topologii sítě typu Mesh. Signál tak "přeskakuje" z jednoho zařízení na druhé, dokud nedosáhne centrální jednotky – to umožňuje oproti WiFi komunikaci na podstatně větší vzdálenosti, ačkoli dané zařízení k tomu potřebuje jen minimum energie. Díky tomu je možné vybudovat opravdu komplexní domácnost až s několika desítkami chytrých zařízení.
ZigBee využívá frekvenci 2,4 GHz a 128bitové šifrování.
Z-Wave využívá frekvenci 868 MHz v Evropě, 908 MHz v USA a Kanadě a 128bitové šifrování.
Při rozhodování mezi ZigBee a Z-Wave se zaměřte na to, zdali všechna zařízení, která chcete pořídit, využívají stejný komunikační protokol (například termostat kompatibilní se ZigBee nekomunikuje se Z-Wave a obráceně).
Způsoby ovládání chytré domácnosti
Chytrou domácnost můžete ovládat přes:
WiFi představuje nejlepší způsob ovládání, pokud jste doma.
Internet využijete pro ovládání domácnosti z jakéhokoli místa na světě. Přijde vhod zejména v situaci, kdy chcete na dálku vypnout nějaký spotřebič, který jste zapomněli vypnout při odjezdu, ztlumit termostat nebo jste na dovolené a potřebujete nasimulovat pohyb v domě náhodným rozsvěcením světel. Zároveň vidíte záběry z kamerového systému, můžete sledovat spotřebu energie a podobně.
Pro ovládání chytré domácnosti můžete použít:
Mobilní zařízení – smartphone nebo tablet s OS Android či iOS.
Webový prohlížeč – stačí mít počítač nebo notebook s libovolným operačním systémem.
SmartTV – u některých jednotek je právě vaše SmartTV tím centrálním ovladačem.
V čem se centrální jednotky liší
Na trhu existuje několik typů centrálních jednotek v cenové relaci od 2 000 Kč do 20 000 Kč. Liší se především v těchto oblastech:
Hardwarová výbava – výkon procesoru, kapacita operační paměti, USB porty a podobně.
Provedení:

integrovaná v dotykovém displeji,
volně stojící – svým provedením připomíná router,
v USB adaptéru, který je určený pro chytrá datová úložiště (NASy),
součást Starter Kitu – ten obsahuje i základní SmartHome zařízení.
Instalace centrální jednotky pro chytrou domácnost
Instalaci zvládne po nastudování návodu i méně technicky zdatný uživatel. Centrální jednotku je nutné pouze zapojit do elektrické zásuvky a připojit síťovým kabelem k vašemu routeru. Potom už jen stačí přes webový prohlížeč provést základní nastavení, případně stáhnout příslušnou aplikaci pro smartphone nebo tablet.
Instalace jednotlivých SmartHome zařízení
Instalace doplňkových SmartHome zařízení, jako jsou například chytré žárovky, pohybové senzory k alarmům nebo termostatické hlavice k otopným tělesům, je většinou intuitivní a vyžaduje minimum úsilí. Uživatel se tak obejde bez vrtačky a sekání do zdi – příslušenství lze jednoduše přichytit například oboustrannou lepící páskou nebo pár šroubky.
Po instalaci daného zařízení a zprovoznění chytré jednotky každý systém umožňuje prohledání okolí a spárování nových přírůstků. Potom už je stačí jen v aplikaci pojmenovat, přiřadit je k jednotlivým místnostem nebo je zakomponovat do automatizovaných scén či profilů.
Scény a profily v chytré domácnosti
Snad největší výhodou systémů chytré domácnosti jsou scény a profily. Jakmile vámi vybraný profil aktivujete, centrální jednotka spustí sekvenci příkazů, jimiž ovládá několik zařízení najednou. Podívejte se na příkladové profily:
Profil "Ráno" zapne rychlovarnou konvici, roztáhne žaluzie, zvýší teplotu termostatu a rozsvítí světla.
Profil "Příchod domů" odemkne vstupní dveře, rozsvítí světla a zapne termostat.
Profil "Jít spát" zhasne světla v domácnosti, až na lampičky na nočním stolku, zatáhne žaluzie, zamkne dveře a ztlumí termostat.
Profily se navíc mohou spouštět automaticky na základě nastavení času nebo místa. Můžete tak jednoduše nastavit, v kolik hodin se ztlumí termostat nebo co vše se má stát v domě při vašem odchodu.
Nejčastější typy produktů pro SmartHome
Osvětlení,
elektroinstalace,
termostaty,
zabezpečení,
kamery,
meteostanice.
Hide description
Was this information useful?
This form is for collecting Feedback Only. If you have any other inquiries, please our Customer Care team here.
Is something missing or displayed incorrectly? Let us know your suggestions so we can improve the website and customer experience.
Best Deals
1.
Voice Assistant - Siri, 2.4GHz and 5GHz WiFi, Bluetooth, A8 chipset, 6 surround sound microphones, used for controlling your smart home and playing music, Apple Music support, EU distribution
2.
Voice Assistant - Amazon Alexa, 2.4GHz and 5GHz WiFi, Bluetooth, 3.5mm stereo audio output, used for controlling your smart home and playing music, Spotify support
+ FREE Travel Power Adapter Goobay worth 99,-
3.
Sprachassistent - Google Assistant, 2,4 GHz und 5 GHz WiFi, Bluetooth, zur Steuerung Ihres Smart Home und zum Abspielen von Musik, Spotify-Unterstützung, EU-Vertrieb
+ FREE Travel Power Adapter Goobay worth 99,-
Centrální jednotky pro chytrou domácnost
Zajímá vás téma fotovoltaických elektráren, případně uvažujete o koupi? Pokud ano, určitě byste neměli...
AI neboli umělá inteligence je termín, který slýcháme v poslední době poměrně často. Co to ale umělá...
Spine Remote je univerzální ovladač, na kterém nenajdete jediné tlačítko. Spotřebiče budete ovládat gesty...
S pojmem SmartHome, neboli chytrá domácnost, se setkáváme stále častěji. Co přesně to však znamená a jak...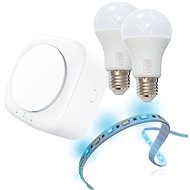 Immax NEO SMART DELICATE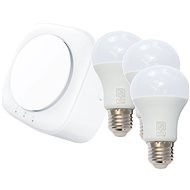 Immax Set NEO SMART TENDER, SMART BRIDGE + ALARM + 3x E27 8,5W
Centrální jednotky pro chytrou domácnost
In the category Centrální jednotky pro chytrou domácnost on Alza.cz, we currently have a total of 58 products, which you can easily buy online and get quickly delivered. See all of your purchases and make orders on our easy-to-use app.
Centrální jednotky pro chytrou domácnost – proved brands
Enter product name
Note (link, Part number etc.):
Check out products sorted by price starting with the lowest price in the category cheap centrální jednotky pro chytrou domácnost
Check out products sorted by price starting with the highest price in the category best sellers, best centrální jednotky pro chytrou domácnost
You'll find products sorted by reviews starting from the highest ranked in centrální jednotky pro chytrou domácnost reviews