Paper cutters are useful in the home or office. They allow you to conveniently and safely cut photos, documents, cards, laminated sheets and other materials into the desired size. Here you will learn more about lever, rotary and hand cutters. What are their advantages and disadvantages and how do they differ?
Continue
Lever Cutters
Lever cutters cut with a very sharp, integrated blade. The tool base has both a metric and imperial scale and guide lines for cutting different formats. Lever cutters are also usually equipped with a pressure bar and a protective cover to ensure safe and high quality cuts.
Advantages
They enable safe cutting and good stability.
Maximum cutting length 300-460mm.
Cutting capacity up to 10 sheets of paper.
Scale and markers for more precise cutting.
Rotary Cutters
Rotary paper cutters have much more practical dimensions and are light-weight. Some models allow multiple types of cuts. In addition to the classic straight cut, a wavy, double or perforated cut can also be achieved. Rotary cutters, also called roller cutters, are designed for cuts with a maximum length of 320mm.
Advantages
Portable and well-stocked.
Easy to use.
Safe.
For multiple types of cut.
Disadvantages
Cutting capacity of only 5 sheets of paper.
Not suitable for cutting harder materials.
and
There are also hand cutters with ergonomic handles suitable for right and left-handers.

Lever cutters

Disc cutters

Hand cutters
Important Parameters for Paper Cutters
When choosing a cutter, think about what you'll be cutting and how much. Then you will know the capacity and length of cut that your cutter should handle.
Cutting Capacity
This specifies the maximum number of papers the cutter can handle at one time. With a rotary cutter, you can process a larger amount of paper than with a rotary.
Cutting Length
The cut length value indicates the maximum possible paper width for the cutter. While cutting material with a width of up to 460mm is ok with a lever cutter, a rotary cutter allows for materials with a maximum width of 320mm.
Some cutters have a self-sharpening blade that makes them maintenance-free. The blade sharpens itself on the metal edge of the cutting pad while cutting paper.
Hide description
Was this information useful?
This form is used only for evaluating the information in the description above.
If you have any question about our products, services, transport or any other request, please contact our customer support.
What should be improved? Is anything missing here? Is anything wrong? Share it with us.
Best Sellers
1.
Guillotine Paper Cutter - A4, cut length of 31 cm, simultaneously cuts 10 lists of paper, scale, blade made of steel, base made of steel, pressure of manual, black and grey colour
2.
Rotary Paper Cutter - A4, cut length of 30 cm, simultaneously cuts 8 lists of paper, scale, blade made of steel, base made of plastic, pressure of manual, black and orange colour
3.
Guillotine Paper Cutter - A4, cut length of 34 cm, simultaneously cuts 25 lists of paper, scale, blade made of steel, base made of metal, pressure of manual, white and red colour
Cutters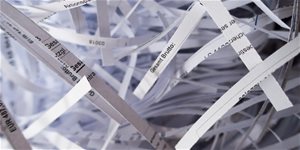 office
Type of Cut
There are two types of paper cuts for shredders. The first, is the basic strip-cut shredder. This...
The DIN 66399 classification system defines the maximum particle size of shredded material for a given...
Cutters
In the category Cutters on Alza.cz, we currently have a total of 41 products, which you can easily buy online and get quickly delivered. See all of your purchases and make orders on our easy-to-use app.
Enter product name
Note (link, Part number etc.):
Check out products sorted by price starting with the lowest price in the category cheap cutters
Find products sorted from the most expensive to the cheapest in the category most expensive cutters
Check out products sorted by price starting with the highest price in the category best sellers, best cutters
You'll find products sorted by reviews starting from the highest ranked in cutters reviews