Herní sluchátka jsou pohodlná i při delším nošení. Mají mikrofon a jejich hudební reprodukce bývá zpravidla zaměřená na hlubší basy, které vám umožní intenzivnější zážitek při hraní oblíbených her.
Continue
Na co se zaměřit při výběru herních sluchátek
Provedení
Sluchátka okolo uší – jsou pohodlná i při delším nošení, o což se stará polstrovaný hlavový most, navíc dobře hrají. Kvůli vyšší hmotnosti a větším rozměrům jsou méně skladná a hůře přenositelná.
Sluchátka na uši – mají zpravidla lehčí a drobnější konstrukci (jsou skladnější a lépe se přenáší). Ve srovnání s podobně drahými sluchátky okolo uší nebývají tolik pohodlná.

Sluchátka na uši

Sluchátka okolo uší
Připojení
Drátová sluchátka (3,5mm Jack, USB) – ve srovnání s podobně drahými bezdrátovými sluchátky poskytují kvalitnější zvukovou reprodukci. Při poslechu je volnost pohybu omezená délkou kabelu.
Bezdrátová sluchátka (Bluetooth, radiofrekvenční) – díky absenci kabelu poskytují velkou volnost pohybu (Bluetooth sluchátka mají dosah cca 10 metrů od přehrávacího zařízení, radiofrekvenční až 100 metrů). Bezdrátová sluchátka disponují zabudovanou baterii a musí se dobíjet.
Konstrukce
Uzavřená – téměř nepropouští zvuk ven ze sluchátek, tlumí okolní hluk.
Otevřená – poskytuje věrnější hudební reprodukci (méně zkreslení), propouští zvuk ven ze sluchátek, netlumí okolní hluk.
Polouzavřená – kompromis mezi otevřenými a uzavřenými sluchátky, částečně propouští zvuk ven ze sluchátek, částečně tlumí hluk z okolí.
Užitečné funkce
Ovládání hlasitosti umožňuje měnit hlasitost bez nutnosti opouštět hru.
Se sluchátky s funkcí prostorového zvuku 7.1 uslyšíte, odkud konkrétní zvuk přichází.
Odnímatelný mikrofon se hodí v případě, kdy si chcete užít poslech hudby, aniž by vám mikrofon překážel.
Hide description
Was this information useful?
This form is for collecting Feedback Only. If you have any other inquiries, please our Customer Care team here.
Is something missing or displayed incorrectly? Let us know your suggestions so we can improve the website and customer experience.
Best Deals
1.
Gaming Headset - 7.1, can be connected with a USB audio control box or via a jack, enclosed, 53mm drivers, 15Hz to 25000Hz, compatible with PS4 and Xbox ONE, detachable microphone, 3.5mm jack, USB
2.
Gaming Headset - gaming, 50mm drivers, 20 Hz - 20 kHz, 110dB, 32 Ohm, 3.5mm jack, 2m cable with volume control
3.
Gaming Headset - 7.1, with microphone, vibration, backlight, USB
Klidný spánek je v dnešní hlukem přeplněné době často jen zbožným přáním. Zajímavým řešením jsou ucpávky...
Bezdrátová sluchátka přinesla jistou svobodu pohybu, ale až True Wireless sluchátka se zcela zbavila všech...
Začalo MČR 2019 v PUBG
Začala nová sezóna Mistrovství ČR v počítačových hrách. Letos došlo na novinky v pravidlech a na fanoušky...
Pokud chcete své hraní posunout o další level, obraťte svou pozornost na herní headsety Thrustmaster. Ty...
Výběr sluchátek není jednoduchá věc. Musejí vám vyhovovat svým vzhledem, parametry a hlavně tím, jaký mají...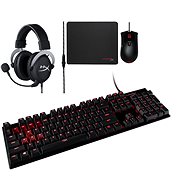 HyperX Gaming
Herní sluchátka
In the category Herní sluchátka on Alza.cz, we currently have a total of 253 products, which you can easily buy online and get quickly delivered. See all of your purchases and make orders on our easy-to-use app.
Enter product name
Note (link, Part number etc.):
Check out products sorted by price starting with the lowest price in the category cheap herní sluchátka
Check out products sorted by price starting with the highest price in the category best sellers, best herní sluchátka
You'll find products sorted by reviews starting from the highest ranked in herní sluchátka reviews