Lisy na citrusy jsou ideálním pomocníkem do každé domácnosti, kde je v oblibě čerstvě vymačkaná pomerančová šťáva či voda s citrónem a další varianty citrusových šťáv. V široké nabídce naleznete manuální i elektrické lisy, jak si vybrat ten správný?
Continue
Jak vybrat lis na citrusy?
Manuální lis na citrusy
Jejich výhodou je nízká cena a snadná obsluha. Nepotřebují ke svému provozu elektrický proud a jsou zpravidla skladnější. Jejich obsluha probíhá manuálně, takže nedoporučujeme zpracovávat velké množství citrusů. Hodí se spíš na občasné použití, pro jednotlivce.
Elektrický lis na citrusy
Pro větší rodinu či milovníky citrusových šťáv jsou vhodné elektronické verze lisu, které rychle, efektivně a bez problémů zpracují i velké množství citrusů. Elektrické lisy nabízejí i další funkce jako třeba pojistku, která neumožní spuštění spotřebiče, pokud není správně sestavený, hubici s uzávěrem proti odkapávání šťávy a komfortní ovládání. Jejich cena je oproti manuálnímu lisu obvykle vyšší.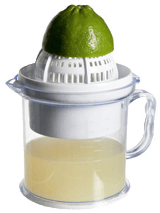 Manuální lis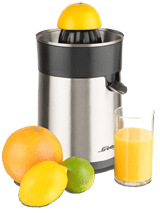 Elektrický lis
Co dalšího zohlednit při výběru lisu citrusů?
Příslušenství – sledujte počet nástavců v příslušenství. Většina lisů nabízí dvě různé velikosti nástavce, což je pro domácí použití plně dostačující.
Filtry – máte rádi ve šťávě dužinu nebo ne? Některé modely nabízí regulaci množství dužiny díky filtrům s různou propustností.
Objem – pro kolik osob lis na citrusy pravidelně používáte? Pro zpracování většího množství citrusů najednou volte větší objem nádoby.
Údržba – některé modely lisu citrusů lze do myčky vložit celé, od jiných pouze části. Vybírejte podle vlastních preferencí.
Chcete odšťavňovat i jiné ovoce? Odstředivé a šnekové odšťavňovače toho umí víc.
Hide description
Was this information useful?
This form is for collecting Feedback Only. If you have any other inquiries, please our Customer Care team here.
Is something missing or displayed incorrectly? Let us know your suggestions so we can improve the website and customer experience.
Best Deals
1.
Electric citrus press - stainless steel, 160W, integrated handle, filter Pulp, low noise, 01.201851.01.001
2.
Electric citrus press - 160W, 750ml collection vessel, universal cone catering to all citrus fruits, anti-drip mechanism
3.
Electric Citrus Juicer - 40W, two-way operation, filtration strainer included
Lisy na citrusy
Lisy na citrusy
In the category Lisy na citrusy on Alza.cz, we currently have a total of 34 products, which you can easily buy online and get quickly delivered. See all of your purchases and make orders on our easy-to-use app.
Enter product name
Note (link, Part number etc.):
Check out products sorted by price starting with the lowest price in the category cheap lisy na citrusy
Check out products sorted by price starting with the highest price in the category best sellers, best lisy na citrusy
You'll find products sorted by reviews starting from the highest ranked in lisy na citrusy reviews