Good nutrition is very important for the overall health of your pet. Dry cat food must therefore contain a good balance of nutrients, vitamins, and minerals, which contribute to a longer and healthier life. Read on to find out what makes dry food different from other types and what parameters are important.
Continue
What pros (or cons) does dry food have compared to other types?
When buying the cat food, you have a choice of several options. The main groups are dry and wet food, with each offering different advantages. Pellets are a type of dry food, so let's take a look at their pros and cons.
Balanced nutrient content.
Hard pellets help keep the cat's teeth and jaws healthy.
Dry food has a long shelf life.
Can be stored virtually anywhere.
Doesn't dry out in the air unlike canned food.
Not as fragrant and juicy as wet foods, so some picky cats may not like it.
The food quickly loses its strong scent if you leave the bag open, making it less tasty.
i
Some cats may refuse dry cat food because it's not as juicy as the wet food they are used to. This can be solved by pouring a little meat juice or broth on the pellets or mixing them with canned food. So you also change flavours often to make sure your cat's taste buds don't get bored.
Consider your cat's age and size when choosing the right cat food
A cat needs a different ratio of nutrients and vitamins depending on its age, so choose the dry food accordingly. Large and small cats also need a different amount of food to stay healthy.
| Age | Age Range | Suitable Food Type |
| --- | --- | --- |
| Kitten / Junior | under 12 months | Kitten, Junior |
| Adult Cat | 12 months – 7 years | Adult |
| Elderly Cat / Senior | 7+ years | Senior |
Neutered and spayed cats need special care. They are more prone to obesity and may have urological problems. Choose dry food for neutered and spayed cats to keep your feline friend healthy.
Read the labels: High-quality dry food has a high meat content
Composition is incredibly important. To ensure your cat gets quality food, choose dry pellets with a high meat content (at least 30%). What else should you look for?
Fats are an integral part of cat food. The fat content should match your cat's activity level—the more active the cat, the more fat it can eat. If you have a lazy kitty, make sure to choose low-calorie cat food with about 9% of fat.
Preservatives should not be in cat food at all. If the pellets do have them, make sure they are natural. It's usually just vitamin C or E.
Cats should not eat food dyes, period. Choose cat food with a natural colour instead of weird multicolour novelty treats. They are not healthy and could cause bloating.
i
Buy grain-free cat food to avoid allergies
Grain-free food is suitable for kitties who have any allergies or food intolerances. There's also a practical aspect, namely that more grain means less meat in the food, making it less nutritious and forcing the cat to eat more. An alternative for sensitive individuals is hypoallergenic cat food.
If you want quality cat food, avoid the cheapest options
Cheap cat food doesn't contain the proper amount of meat and nutrients your cat needs. The cat then has to eat more and you will have to buy food more often. Don't try to penny-pinch–save by buying in bulk or products on sale instead.
Buying in bulk–a 10kg bag will save you money and make your life easier
If you want to save money without feeding your cat substandard food, you should buy in bulk. A 10kg bag of pellets will keep your kitty fed for a long time, saving you plenty of shopping time. Moreover, large packs are very easy to store. And if you know what your feline pal likes and he or she is not very picky, just get them a 20kg bag of cat food and you're set.
If you have multiple four-legged friends in your home, remember that dog food is not suitable for cats. Cats need a different nutrient balance than dogs.
Hide description
Was this information useful?
This form is used only for evaluating the information in the description above.
If you have any question about our products, services, transport or any other request, please contact our customer support.
What should be improved? Is anything missing here? Is anything wrong? Share it with us.
Best Sellers
1.
Kibble for Cats for small large breeds with low and with normal and with high activity, animal protein 29%, meat content in dry matter 4%, fat 12.5% - 0 Kč/1 kg
2.
Kibble for Cats for all breeds with low with normal activity, fat (poultry) 10% - 0 Kč/1 kg
3.
Kibble for Cats for all neutered breeds with low and with normal activity, meat content in dry matter 15%, fat (chicken) 12%, contains yucca - from 0 Kč/1 kg
Dry Food for Cats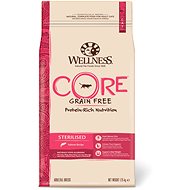 Wellness Core Cat Sterilized Salmon 10kg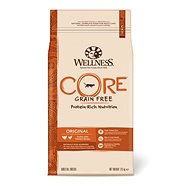 Wellness Core Cat Original Turkey and Chicken 10kg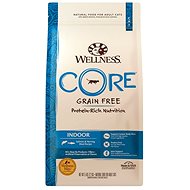 Wellness Core Cat Ocean Salmon and Tuna 10kg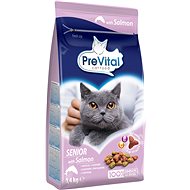 PreVital Senior Cat Salmon 1.4kg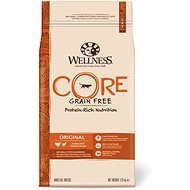 Wellness Core Cat Original Turkey and Chicken 1.75kg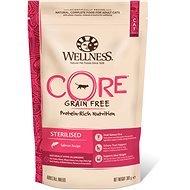 Wellness Core Cat Sterilized Salmon 300g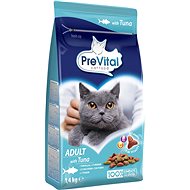 PreVital Adult Cat Tuna 1.4kg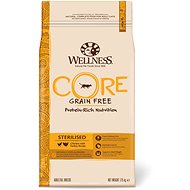 Wellness Core Cat Sterilized Turkey and Chicken 1.75kg
PreVital Sterile Cat Turkey 1.4kg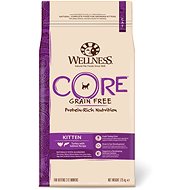 Wellness Core Cat Kitten Turkey and Salmon 1.75kg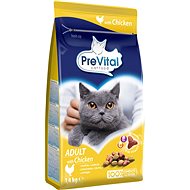 PreVital Adult Cat Chicken 1.4kg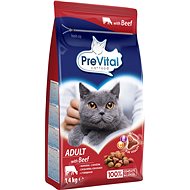 PreVital Adult Cat Beef 1.4kg
Dry Food for Cats
In the category Dry Food for Cats on Alza.cz, we currently have a total of 407 products, which you can easily buy online and get quickly delivered. See all of your purchases and make orders on our easy-to-use app.
Enter product name
Note (link, Part number etc.):