Nástěnky jsou stále oblíbenou pomůckou ve školách, v kancelářích i v domácnostech. Hodí se k prezentaci dokumentů, ke sdílení informací, vzkazů nebo fotografií a mohou tak být užitečnou pomůckou i v domácnosti. Nástěnky rozhodně nevyšly z módy!
Continue
Jaké druhy nástěnek existují?
Korkové nástěnky
Korkové nástěnky jsou nejčastěji používanými nástěnkami. Setkáte se s nimi ve školách, na úřadech, v čekárnách, ve firmách, domácích pracovnách i třeba v dětských pokojích, kde mohou sloužit jako skvělá učební pomůcka.
Jsou snadno dostupné a levné.
Jednoduchá montáž a používání.
Časem dochází k mechanickému opotřebení.
Korkový povrch nemusí vždy ladit s interiérem.
Textilní nástěnky
Textilní nástěnky jsou moderní volbou a používají se v kancelářích, kde je kladen důraz na design interiéru jako celku. Materiál použité textilie se může mírně lišit dle preferencí jednotlivých výrobců.
Širší škála barev povrchu nástěnky.
Vyztužená zadní strana zabraňuje propíchnutí.
Vyšší cena.
V případě znečištění horší údržba.
Skleněné nástěnky / tabule
Skleněné nástěnky jsou často i magnetické, ideální pro přichycení poznámek magnety. Zároveň je jejich povrch vhodný i pro psaní textu jako na tabuli. Díky tomu jsou skleněné magnetické nástěnky moderní, zároveň ale i praktické.
Využijete je jako nástěnku i tabuli zároveň.
Magnetický povrch dovoluje upevňovat předměty
Nedochází k opotřebení nástěnky.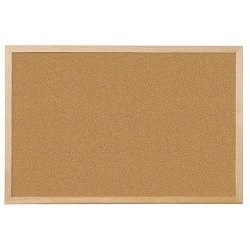 Korková nástěnka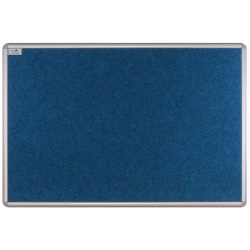 Textilní nástěnka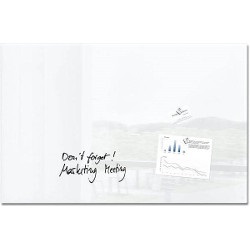 Skleněná nástěnka
Rozměry nástěnky
Rozměry nástěnky musí vyhovovat množství a velikosti dokumentů, které mají být na nástěnku umisťovány. Platí, že čím více prostoru pro své dokumenty potřebujete, tím větší rozměr nástěnky zvolíte. Dbejte také na rozměry prostoru, ve kterém má být nástěnka umístěna. Většinu nástěnek lze zavěsit jak horizontálně, tak vertikálně. Nástěnky můžete vybírat z několika standardních velikostí:
40 × 60 cm
60 × 90 cm
90 × 120 cm
90 × 150 cm
Nástěnka o rozměrech 60 × 90 cm pojme přibližně 10 listů papíru formátu A4.
Příslušenství k nástěnkám
Nástěnky se obvykle dodávají včetně základního příslušenství. Tím je montážní sada, pomocí které nástěnku připevníte na zeď. Některé nástěnky mají v balení i špendlíky a napínáčky, bez kterých se při práci neobejdete. Špendlíky a napínáčky si můžete koupit také zvlášť a vybírat z různých barev. U textilních nástěnek je možné použít i napínáčky se suchým zipem. Jsou praktičtější a nepoškozují povrch nástěnky tak, jako špendlíky a připínáčky.
Hide description
Was this information useful?
This form is for collecting Feedback Only. If you have any other inquiries, please our Customer Care team here.
Is something missing or displayed incorrectly? Let us know your suggestions so we can improve the website and customer experience.
Best Deals
1.
Board - wooden frame, for home and office use, including accessories (screws for fixing the board + 6 pins)
2.
Board - Wooden frame for home and office use, including accessories (screws for fastening sheets + 6 pins)
3.
Notice-board - Cork, high resistance to damage when working with tacks and pins, resistant to gases and liquids, thickness of 0.7mm plate prevents piercing, reinforced back, lightweight construction with high-quality aluminium frame, fast assembly in horizontal and vertical direction, mounting kit is included in the package
Nástěnky
In the category Nástěnky on Alza.cz, we currently have a total of 20 products, which you can easily buy online and get quickly delivered. See all of your purchases and make orders on our easy-to-use app.
Enter product name
Note (link, Part number etc.):