Trezor, případně sejf slouží k uložení věcí, které je třeba ochránit před neoprávněným přístupem jiné osoby a před odcizením. Do trezorů a sejfů se nejčastěji ukládají finance, šperky, doklady, cenné dokumenty, nosiče dat, zbraně či střelivo. Rozdíl mezi sejfem a trezorem je ten, že sejf má většinou nižší bezpečnost, má jednoplášťovou konstrukci a jeden zámek. Naproti tomu trezor by měl splňovat vyšší bezpečnostní limity a předepsané normy.
Continue
Trezory podle umístění
Nábytkové trezory
Nábytkové trezory a sejfy jsou určeny k zabudování do nábytku, lze je použít i jako samostatně stojící. V obou případech by se měly přišroubovat ke zdi nebo podlaze. Tyto trezory mívají menší rozměry a hmotnost.
Volně stojící trezory
Volně stojící trezory mívají větší rozměry a velkou hmotnost. Jsou určeny pro objemnější věci a mohou dosahovat nejvyšších stupňů odolnosti. Hmotnost volně stojících trezorů může být i několik tun.
Trezory k zazdění
Trezory do zdi je možné zabudovat do obvodových zdí, do podlahy, pod schodiště a podobně. V tomto případě se jedná o menší trezory, jejichž výhodou je nenápadnost.
Trezory podle účelu použití
Sejfy a bezpečnostní schránky
Jedná se o schránky na doklady, zbraně, hotovost do 30 000 Kč a podobně. Mohou být přenosné. Třída bezpečnosti v tomto případě bývá Z1, Z2 a Z3.
Trezory a skříně na zbraně
Ukládání zbraní se řídí zákonem č. 119/2002 Sb, O střelných zbraních a střelivu a nařízením vlády č. 338/2002 Sb. ve znění pozdějších předpisů. Požadavky na typ trezoru nebo skříně jsou závislé na počtu zbraní a množství střeliva. Ve všech případech platí, že střelivo musí být uloženo odděleně od zbraně.
Domácí trezory
Do domácích trezorů můžeme ukládat doklady, smlouvy, finanční hotovost, nosiče dat, zbraně, šperky a podobně. Bezpečnostní třída podle EN 1143-1 je doporučena 0 nebo 1. Jsou vhodné k uložení věcí v hodnotě do 250 000 Kč.
Střední trezory
Jedná se o trezory vhodné pro provozovny, prodejny a střední firmy. Třída bezpečnosti bývá 2 až 3. Hodnota uložených věcí do 1 milionu korun. Jsou vhodné i k ukládání tajných dokumentů.
Velké trezory
Trezory s bezpečnostní třídou 4 až 6, podle EN 1143-1 jsou určeny pro velké firmy, bankovní instituce, archívy tajných dokumentů a podobně.
i
Pokud potřebujete ochránit například utajované dokumenty, zbraně a pojištěné věci vyšší hodnoty, musí kontrukce trezoru splňovat podmínky evropské normy EN 1143-1, případně EN 14450, a mít certifikát s označením třídy bezpečnosti.
Ohnivzdorné trezory
Ohnivzdorné trezory jsou schopny ochránit obsah před ohněm a žárem. Hodí se k ukládání hotovosti, dokumentů, nosičů dat, elektroniky a podobně. V ohnivzdorných trezorech nesmí teplota při požáru stoupnout nad 170°C, při ukládání papírových dokumentů, a nad 50°C je-li trezor určen k ukládání datových nosičů. Doba odolnosti je podle kategorie trezoru 30, 60 a 90 minut.
Pokladničky a schránky
Pokladničky, bezpečnostní schránky a schránky na klíče chrání předměty proti odcizení a nedovolenému použití. Nemají odolnost jako trezory, ale najdou uplatnění díky své mobilitě a skladnosti.
Pokladničky
Pokladničky či trezorové pokladničky jsou určeny k ukládání menších finančních částek a drobných předmětů. Většinou se jedná o plechové boxy, vybavené přihrádkami na peníze a odklápěcím víkem s jedním zámkem. Pokladničky se hodí pro stánkový prodej, drobné provozovny a podobně.
Schránky na klíče
Schránky na klíče umožňují přehledně a bezpečně ukládat jeden či více klíčů. Vyrábějí se z ocelového plechu a zamykají se mechanickým číselníkem nebo běžným klíčem. Požární schránky na klíče mají dvířka ze skla, které je v nebezpečí možné rozbít a dostat se tak ke klíči.
Bezpečnostní schránky
Bezpečnostní schránky slouží k uložení dokladů, dokumentů, nosičů dat a menších věcí nižší hodnoty. Jsou to nejčastěji plechové skříňky s jedním zámkem. Bezpečnostní schránky mohou vzhledem imitovat například knihu a tím znesnadnit odhalení. Speciální bezpečnostní schránky mohou být ohnivzdorné a vodotěsné. Tyto schránky slouží k ochraně nosičů dat a listinných dokumentů a mohou se vkládat do běžných větších trezorů.
Hlavní části trezoru
Tělo trezoru
Tělo trezoru má nejčastěji tvar krychle nebo kvádru a vyrábí se z kovových plátů různých tlouštěk, plátování je dvojité a vnitřní prostor může být vyplněn betonem, izolačním materiálem a podobně. Konstrukce trezoru může být ohnivzdorná či vodotěsná.
Dveře trezoru
Dveře se vyrábějí ze stejných materiálů jako tělo. Jsou vybaveny zámkovým mechanismem a panty, v některých případech i štěrbinou pro vhoz dokumentů bez nutnosti otevírání.
Trezorové zámky
Slouží k uzamčení. U certifikovaných trezorů jsou vždy použity i certifikované zámky. Evropská norma EN 1300 rozděluje trezorové zámky podle bezpečnosti do tříd A, B, C, kde C je nejvyšší bezpečnost.
Typy zámků
Zámek na klíč
Tento zámek je nejjednodušší a zároveň nejlevnější. K jeho ovládání slouží kovový klíč. Nevýhodou jsou rozměry klíče při nošení.
Mechanický kombinační číselník
K ovládání tohoto zámku slouží otočný číselník. Výhoda je hlavně to, že nemusíme nosit klíče a trezor může otevřít i jiná osoba, který zná kód.
Elektronický zámek
Pokud je otevírání trezoru řešeno elektronickým zámkem, je na dveřích umístěna klávesnice. Elektronika zámku je uvnitř trezoru, stejně jako baterie k jejímu napájení. Hlavní výhodou těchto zámků je snadné ovládání. Nevýhodou může být nutnost výměny baterie.
Ostatní typy zámků
Zamykání trezoru může být řešeno i jiným způsobem, například pomocí snímače otisků prstů, detektoru hlasu a podobně. Tyto zámky však zatím nelze použít na certifikovaných trezorech.
Hide description
Was this information useful?
This form is for collecting Feedback Only. If you have any other inquiries, please our Customer Care team here.
Is something missing or displayed incorrectly? Let us know your suggestions so we can improve the website and customer experience.
Best Deals
1.
Safety box with mechanical lock and cover, steel, for keys and cards, internal dimensions 64x90 (card) / 64x48 (keys) x 31mm, dimensions outside 90x120x40mm, for fixing to wall, packing incl. 4 screws and 4 dowels, weight 0.48kg
2.
Safe with digital lock on PIN code, external / internal dimension 310x200x200mm / 305x195x165mm, wall-mount option, in case of emergency the supplied key can be used, metallic
3.
Cash Box - steel, surface: powder epoxy, colour - black, net weight - 0.87kg, package includes plastic trays for coins, lock and 2 keys
Trezory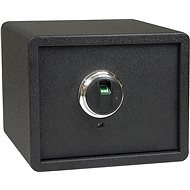 Richter Czech RS.30R.FIN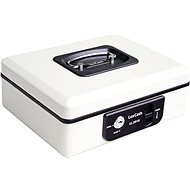 Richter Czech LC.2010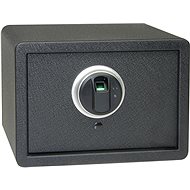 Richter Czech RS.25R.FIN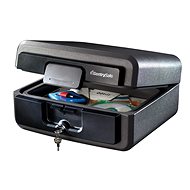 Rottner SENTRY HD2100
Trezory
In the category Trezory on Alza.cz, we currently have a total of 200 products, which you can easily buy online and get quickly delivered. See all of your purchases and make orders on our easy-to-use app.
Enter product name
Note (link, Part number etc.):
Check out products sorted by price starting with the lowest price in the category cheap trezory
Check out products sorted by price starting with the highest price in the category best sellers, best trezory
You'll find products sorted by reviews starting from the highest ranked in trezory reviews