Proč si koupit elektrokolo? Na plně nabitou baterii ujedete desítky kilometrů bez nadměrné námahy. Udržíte krok s fyzicky zdatnějšími partnery a kamarády. Doprava do práce městem je rychlejší než hromadnou dopravou a jste ohleduplní k přírodě. Elektrokola jsou navržena tak, abyste se dostali snadněji dále. Vhodné elektrokolo vybírejte podle způsobu využití, požadovaného dojezdu, nosnosti a náročnosti terénu.
Continue

Cestou do práce se nechci zpotit

Chci stačit partnerovi

Chci být aktivní v každém věku

Chci vyjet tam, kam bych běžně nevyjel
Typy Elektrokol
Horská elektrokola
Horská elektrokola jsou oblíbená u lidí, kteří si chtějí užít delší a náročnější vyjížďky se zdatnějšími jezdci i u milovníků downhillu. Nejste vázáni čekáním na lanovku a můžete si vyjet či sjet jakýkoliv dostupný kopec. Jsou určena pro lehký i náročný terén a běžně ujedou okolo 150 km na jedno nabití. Mají výkonný elektromotor chráněný vůči vnějším vlivům (prach, bahno, vlhkost apod.).
Městská elektrokola
Posed a poloha řídítek u městských elektrokol je uzpůsobena tak, aby cyklista seděl v pohodlné vzpřímené poloze. Poloha středové trubky umožňuje snadné nasedání a sesedání z kola. Elektrický pohon zaručí, že se cestou do práce nebo na schůzku nezpotíte. Dojedou okolo 100 km a vyžadují minimální údržbu i při častém provozu.
Mezi městská kola se řadí i skládací elektrokola. Snadno a rychle je složíte a přepravíte hromadnou dopravou nebo uskladníte doma či v kanceláři. Baterie mají dojezd okolo 80 km.
Krosová elektrokola
Představují kompromis mezi horskými a silničními koly. Hodí se tak na silnice i cyklostezky. Krosová elektrokola jsou proto jednou z nejoblíbenějších kategorií vůbec. Jsou vhodná pro cesty od 10 do 100 km, můžete na ně umístit různé brašny.
Rychlost elektrokol
Rychlost elektrického pohonu musí být ze zákona omezena na 25 km/h s 10% tolerancí. Výrobci proto maximální rychlost nastavují na 27,5 km/h. Výjimkou jsou některá horská kola, která disponují speciálním off-road režimem. Ten umožní vyšší rychlost než povoluje směrnice, ale využít ji můžete jen mimo veřejné komunikace. Elektromotor je pouze dopomoc, proto i na něm musíte šlapat.
Dojezd elektrokol
Dojezd se pohybuje od 30 do 200 km.
Na jakých faktorech závisí dojezd?
Na náročnosti terénu,
na hmotnosti jezdce,
na typu elektrokola,
na stylu jízdy.
Při použití tzv. off-road režimu, kdy elektromotor navýší svůj výkon, se může dojezd zkrátit na několik desítek kilometrů. Maximálního dojezdu dosáhnete naopak v případě nejmenší podpory, nízké váhy jezdce a jízdy po rovině či z kopce.
Umístění motoru
Umístění elektromotoru ovlivňuje stabilitu kola. Středový motor je zajišťuje větší stabilitu než motor umístěný v předním či zadním kole.
Odpružení kola
Elektrokola mohou mít odpruženou pření vidlici nebo pevnou stavbu (bez odpružení). Celoodpružená kola jsou kombinací odpružené přední vidlice a zadního tlumiče. Ta jsou ideální do náročnějších terénů. U některých modelů můžeme odpružení zamykat a odemykat dle potřeby (na silnici zamknout a v kopcích odemknout).
Určení
Pánská elektrokola mají sedlo dál od řídítek a výše umístěnou horní rámovou trubku.
Dámská elektrokola disponují širším sedlem a níže umístěnou horní rámovou trubkou pro snadné nasedání.
Průměr kol
Čím jsou kola větší, tím jsou rychlejší. Menší kola se zase lépe ovládají a hodí se do složitějších terénů. Velikost kol volte také podle výšky postavy. 27,5" a menší se hodí pro výšku postavy do 180 cm a pro jezdce vyšší než 180 cm jsou vhodná kola s průměrem 29".
i
Hledáte další informace? Podívejte se na naše články:
Hide description
Was this information useful?
This form is for collecting Feedback Only. If you have any other inquiries, please our Customer Care team here.
Is something missing or displayed incorrectly? Let us know your suggestions so we can improve the website and customer experience.
Best Deals
1.
Electric Bike - steel frame, 250W, engine location: rear hub, battery 370Wh, max travel 50km, without suspension, Shimano derailleur, number of speeds: 6, derailleur no, weight: 29kg
2.
Electric Bike - aluminium frame, Bafang 250W engine, engine position: rear hub, battery: 300Wh, max. travel distance: 70 km, no suspension, Shimano brakes, Shimano RD-TY300 derailleur, speed: 6, front derailleur, weight: 19kg
3.
Electric City Bike - aluminum frame, engine Bafang 250W, engine position: front hub, battery 340Wh, max. travel 80 km, without suspension, brakes Promax RC-903 hydraulic, Shimano Altus M310 derailleur, speeds: 7, kg
Elektrokola
Oblíbená elektrická koloběžka Xiaomi Mi Electric Scooter je zpět, a to v nové verzi s označením Pro. Ta...
Představování nových produktů není pro značku Garmin výjimečnou událostí. Mezi tradičními výrobci...
Elektrokola už dávno nejsou jen pro seniory, případně jen záležitostí městského ježdění. Se současnými...
Romet je největší polský výrobce jízdních kol. Byl to právě Romet, kdo začal vyrábět slavné skládačky...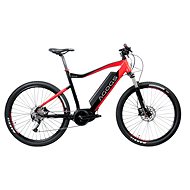 Agogs Max MTB XL/21" 19,2Ah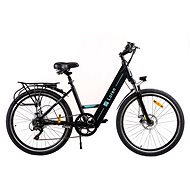 G21 Loren
G21 Lexi 2019
Elektrokola
In the category Elektrokola on Alza.cz, we currently have a total of 22 products, which you can easily buy online and get quickly delivered. See all of your purchases and make orders on our easy-to-use app.
Elektrokola – proved brands
Enter product name
Note (link, Part number etc.):
Check out products sorted by price starting with the lowest price in the category cheap elektrokola
Check out products sorted by price starting with the highest price in the category best sellers, best elektrokola
You'll find products sorted by reviews starting from the highest ranked in elektrokola reviews