Mountain bikes, or MTB as they are sometimes called, are robust bikes with wide tyres, designed for off-road riding. At present, they are arguably the most popular sports bike type in the EU. They are durable and comfortable off-road, but their higher weight and rolling resistance makes them unsuitable for paved roads, where they simply can't reach the same speed as some other bike types. You can choose between hardtail mountain bikes, which are cheaper and lighter, or those with full suspension, which are more comfortable in rough terrain, but also more expensive.
Continue
Mountain bike types
Cross country mountain bikes
Comfortable and suitable or all common terrain types
Comfortable frame design for an upright sitting position
Designed for short and medium trips (under 80 km)
Suitable for both paved roads and off-road
Wide gear selection (3 × 9, 10 × 3)
Affordable
Long service life
Cross country mountain bikes have a large number of gears, ensuring smooth riding. Most frames allow you to mount carriers or child seats as well.
Trail mountain bikes
For recreational athletes
Maximum power transfer when pedalling
Good handling
2 × 10 and 2 × 11 gears
Designed for both short rides and long cross country marathons
Sports sitting position—the biker "lies" on the bike
Trail mountain bikes are more precise and lighter than recreational cross country mountain bikes. The top tube angle in this type is more pronounced.
All-mountain bikes
For amateur athletes and professionals
Maximum performance and minimum weight
The frame geometry emphasises maximum performance and manoeuvrability in every situation
1 × 11 and 1 × 12 gears (for rapidly alternating climbs and descends)
All the components in these bikes are designed to be as light as possible and capable of handling massive one-time load. On even surface, they are not nearly as fast as bikes with 2 x 10 gears, for example.
Full suspension mountain bikes
Feature a suspension fork and rear suspension
Maximum comfort when riding on any rough terrain.
Full suspension bikes represent the technological peak of bike technology, but the downside is their higher weight (about 1 kg more), more demanding maintenance, and higher price.
Design
Women's mountain bikes
Although women can easily ride men's bikes, specially modified models may suit their physique better in some cases.
Lowered top tube
Shorter seatpost or special women's saddle (can also be used on a classic mountain bike)
Hide description
Was this information useful?
This form is for collecting Feedback Only. If you have any other inquiries, please our Customer Care team here.
Is something missing or displayed incorrectly? Let us know your suggestions so we can improve the website and customer experience.
Best Sellers
1.
Electric Mountain Bike 27.5" – frame made of aluminium, motor: Bafang 250W, placing of motor: rear hub, battery capactity: 0.3 Ah, maximum range: 70 km, spring fork MOZO 27.5" fork lift 100 mm, brakes: Shimano, rear derailleur: Shimano RD-TY500, 21-speed, front derailleur: Shimano FD-TY500, weight: 19.7kg
2.
Mountain bike 29" - carbon frame, number of speeds: 27, SHIMANO ALTUS RD-M2000 SGS 9 speed rear derailleur, spring fork 100mm, SHIMANO ALTUS MT200 brakes, weight: 13,3kg
3.
Mountain bike 29" - carbon frame, number of speeds: 20, SHIMANO RD-M6000,DEORE, GS 10-Speed rear derailleur, air fork 100mm, SHIMANO ALTUS MT200 brakes, weight: 12,4kg
Elektrokola už potkáváme na ulici poměrně běžně, ať už v podobně městských či třeba horských elektrokol. V...
Chystáte se na kolo s dětmi a řešíte, jaké sportovní vybavení je nezbytné pro rodinné cyklovýletování?...
Máte nové kolo a pořizujete i další cyklistickou výbavu? Pak právě vám je určen náš návod, který vás...
Elektrokola mají oproti běžným jízdním kolům své specifické vlastnosti, ke kterým je při jízdě potřeba...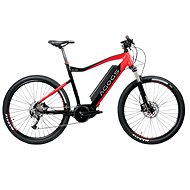 AGOGS Max-R MTB XL/21" 28Ah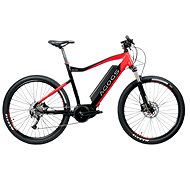 AGOGS Max-R MTB M/17" 28Ah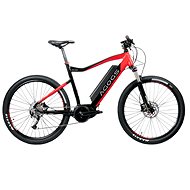 AGOGS Max-R MTB M/19" 28Ah
Mountain Bikes
In the category Mountain Bikes on Alza.cz, we currently have a total of 116 products, which you can easily buy online and get quickly delivered. See all of your purchases and make orders on our easy-to-use app.
Enter product name
Note (link, Part number etc.):
Check out products sorted by price starting with the lowest price in the category cheap mountain Bikes
Find products sorted from the most expensive to the cheapest in the category most expensive mountain Bikes
Check out products sorted by price starting with the highest price in the category best sellers, best mountain Bikes
You'll find products sorted by reviews starting from the highest ranked in mountain Bikes reviews