Topinkovač je jednoduchý přístroj na opékání chleba. Je ideální na přípravu domácích topinek bez kapky oleje i na rozmrazování či ohřívání pečiva. Při výběru topinkovače zvažte, kolik topinek budete chtít najednou připravit a co všechno od něj očekáváte.
Continue
Jak vybrat topinkovač?
Příkon
Čím vyšší příkon, tím bude topinkovač rychleji připraven na pečení a i samotná příprava topinek nebude trvat tak dlouho. Obvykle se pohybuje v rozmezí 700-3000 W. Některé topinkovače nabízí i možnost regulace výkonu, díky které budou všechny topinky propečené stejně.
Počet štěrbin na topinky
Určuje množství topinek, které můžete najednou připravit. Menší, dvoučlenné rodiny si vystačí i s jednou opékací štěrbinou. Pokud je vás doma více, zvolte raději přístroje s větším počtem otvorů, kde upečete i více topinek najednou. Na výběr jsou spotřebiče pro 1, 2, 4, nebo 6 topinek.
Některé topinkovače disponují i variabilní šířkou štěrbin, díky čemuž si snadno nastavíte, jestli chcete dát do topinkovače tenký krajíc chleba nebo celou housku či bagetu.
Údržba topinkovače
Některé speciální prvky vám usnadní údržbu a čištění přístroje. Příkladem může být vyjímatelný zásobník na drobky, který stačí z přístroje vysunout a drobky vysypat.
Regulace opékání
Díky této funkci snadno propečete topinky přesně podle své chuti. Tuto funkci již obsahuje většina modelů, i těch levnějších.
Pomocí plynulé regulace teploty si pohodlně nastavíte optimální teplotu pro propečení pečiva. S tím vám pomůže i funkce automatického centrování nebo volba strany opékání, která vám umožní opékat tousty z jedné nebo z obou stran najednou.
Speciální vlastnosti a funkce
Rozmrazování – umožňuje navolit optimální nastavení pro rozmrazování pečiva.
Funkce Stop – pomocí této funkce okamžitě zastavíte opékání.
Protiskluzové nožičky – zvyšují stabilitu a zabraňují nežádoucímu posunování topinkovače po kuchyňské lince.
Materiál – tělo přístroje je obvykle vyrobeno z nerezu, plastu, nebo v kombinaci kovu a plastu. Topinkovače s kovovým tělem jsou odolnější než plastové.
Automatické zasunutí a vysunutí pečiva – usnadní vkládání pečiva do topinkovače a zabrání popálení při vyndávání horkých topinek. Senzor zajistí, že se pečivo do přístroje automaticky zasune a po dokončení pečení vysune. K bezpečnému používání bez popálení přispěje i vysoký zdvih pečiva.
Hide description
Was this information useful?
This form is for collecting Feedback Only. If you have any other inquiries, please our Customer Care team here.
Is something missing or displayed incorrectly? Let us know your suggestions so we can improve the website and customer experience.
Best Deals
1.
Toaster - 1090W, smooth toasting intensity control with integrated heating function, anti-jam feature, removable crumb tray for easy cleaning
2.
Toaster - for 2 pieces of toast, 7 degrees of browning time selection, defrost, reheat, stop button for immediate release, heating tray, crumb tray, power consumption 800W
3.
Toaster -1090W, variable degrees of toasting with integrated heating, anti-jamming system, easy to clean thanks to the removable crumb tray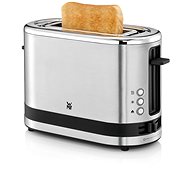 WMF 04.1410.0011 KITCHENminis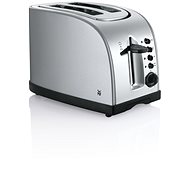 WMF 04.1401.0012 STELIO
Topinkovače
In the category Topinkovače on Alza.cz, we currently have a total of 93 products, which you can easily buy online and get quickly delivered. See all of your purchases and make orders on our easy-to-use app.
Enter product name
Note (link, Part number etc.):
Check out products sorted by price starting with the lowest price in the category cheap topinkovače
Check out products sorted by price starting with the highest price in the category best sellers, best topinkovače
You'll find products sorted by reviews starting from the highest ranked in topinkovače reviews