Nerf: Toy pistols that won't hurt
Popular Nerf pistols come in different shapes and sizes so that everyone can find the one that suits them best. The lightweight of the plastic Nerf pistols allows children to have a long fight that is still safe, ensured by the foam and rubber bullets. The Nerf brand has gradually begun to focus on girls and makes some products for them as well.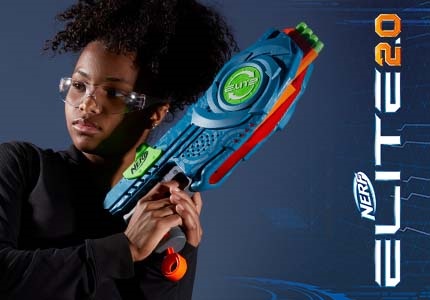 Nerf Elite
Discover the world of the new and improved Nerf Elite 2.0 blasters. A modern design with up to twice the magazine capacity of the previous Nerf N-Strike Elite series. You won't have to waste time with frequent reloads anymore, and you'll also get your enemy nimbly out of the way thanks to improved blaster technology. Other advantages include the extended range of Nerf foam darts and the new bright blue image of the blasters.
Nerf Ultra
You'll experience a whole new dimension of fun with the new Nerf Ultra series. Thanks to the Nerf Ultra blaster technology, the range of the guns has been increased up to 36 meters, allowing you to hit your enemy before he sees you. In addition to the range, the development team also focused on accuracy so that you could blast your opponents one by one.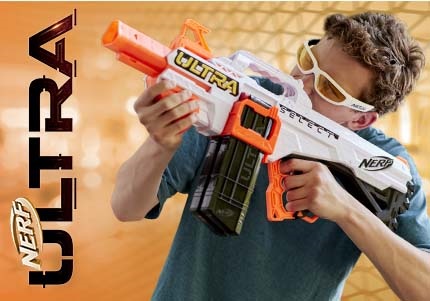 Nerf Fortnite
The Fortnite computer game is a phenomenon not only for the young generations of console and computer players. Nerf wanted to bring fans of this game from the virtual world to reality and prepared a series of Nerf Blasters Fortnite. Nerf Fortnite guns are available in several variations, from handguns to the popular Ricky Reeler to the Fortnite Rocket Launcher, which fires long foam rockets.
Nerf Super Soaker
Enjoy water battles with Nerf Super Soaker. These foam water pistols with a large water reservoir reliably hit everyone you point at. They have a range of several metres and are easy to use - aim, pull the trigger, and the water will take care of your enemy. Nerf Super Soaker water pistol is an excellent toy for hot summer days.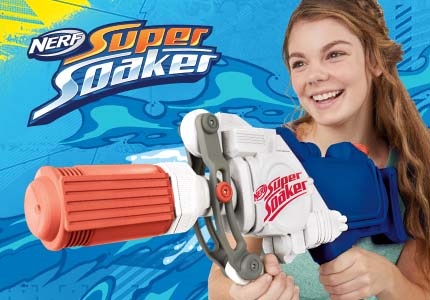 Nerf Modulus
The Nerf Modulus edition has prepared several options for you to build your own pistol from different parts and combinations exactly to your liking. The blasters are now more powerful and more sophisticated in design than the Nerf Elite edition. The ammunition darts are long-range and safe to use without hurting anyone because they are made from foam.
Nerf Accessories
Choose from a wide range of Nerf gun accessories. You can buy spare darts, a strap or a viewfinder to attach to your blaster to identify your victim better. You can also upgrade your gun with a tactical flashlight or a magazine that can fire two darts at once.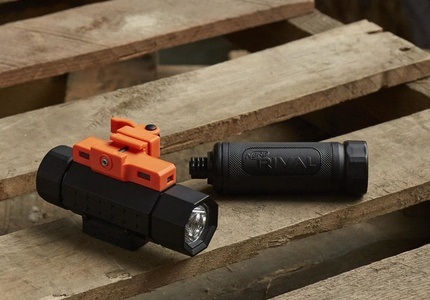 Was this information useful?
This form is used only for evaluating the information in the description above.
If you have any question about our products, services, transport or any other request, please contact our customer support.
What should be improved? Is anything missing here? Is anything wrong? Share it with us.
Best Sellers
1.
Toy Gun - suitable boys, made of plastic and foam, range of up to 27m, foam cartridges, suitable from 8 years
2.
3.
Toy Gun - suitable boys, made of plastic, range of up to 20m, cartridge type: darts, suitable from 8 years
Nerf Hasbro
Enter product name
Note (link, Part number etc.):