Chcete mít vlastní domácí cloudové úložiště, na které by se vám automaticky zálohovala? NAS domácí server poskytuje pohodlný přístup k datům z počítače, tabletu i smartphonu a umožňuje streamování multimédií. Jak domácí servery fungují, kolik úložného prostoru nabízí a jak se obsluhují? Poradíme vám.
Continue
K čemu NAS domácí server slouží a jaké má výhody?
Domácí servery NAS slouží k ukládání, streamování a zálohování dat. Jedná se o zařízení vybavená úsporným procesorem a velkou kapacitou pro pevné disky. Díky síťovému připojení můžete k vašemu domácímu datovému úložišti přistupovat z více počítačů, tabletů, mobilních telefonů i televize.
Domácí server NAS – výhody a nevýhody
Domácí server NAS pojme velké množství dat.
Data jsou přístupná i pro smart TV či tablety.
Domácí server umožňuje automatickou zálohu dat.
Jednoduchá obsluha nevyžadující speciální software.
Vyšší požadavky na rychlost při přístupu z internetu.
i
Rychlost přenosu dat závisí u domácí WiFi na routeru, obzvláště v domech, kde je více sítí. V takovém případě nemusí 2,4 GHz WiFi s nižší propustností stačit třeba na 4K streamování. Připojíte-li se k NAS zvenčí, závisí kvalita streamu/přenosu dat na rychlosti připojení.
Jak vybrat domácí server
Vybíráte domácí server? Zohledněte několik vlastností, kterými se od sebe domácí datové úložiště NAS liší. O které jde a jaký dopad budou na vaše domácí datové úložiště mít?
Výkon NAS ovlivňuje procesor a RAM. Výkonné NAS mají plynulejší chod i při náročných úkonech jako je přesouvání velkého objemu dat, streamování ve vysokém rozlišení či při multitaskingu.
Rychlost NAS stanice značí rychlost čtení a zápisu dat. Hodnota je také ovlivněna rychlostí připojení k síti.
Velikost úložiště je dána počtem diskových polí NAS a velikostí použitých pevných disků.
Počet diskových polí udává, kolik pevných disků domácí server umožňuje zapojit.
i
Domácí server NAS s více diskovými poli často umožňuje pevné disky zapojit do režimu RAID. Co to RAID je a jak funguje se dozvíte v našem článku RAID disková pole.
Služby NAS úložiště
NAS úložiště nabízí kromě zálohování a sdílení dat také další služby. Podpora DLNA umožňuje přehrávat vaše média na smart TV a dalších zařízeních. Pro sdílení dat v prostředí Unix se hodí služba Samba. Mezi nejčastější funkce NAS úložiště patří také tiskový, FTP nebo VPN server.
Některé NAS neobsahují od výrobce žádný pevný disk. Vyberte pro svůj domácí server vhodné úložiště v nabídce pevných disků pro NAS.
Domácí datové úložiště aneb stavíme domácí NAS
Pokud stavíme domácí NAS, postupujte podle několika kroků. S nimi se instalace NAS úložiště stane snadnou.
Ujistěte se, že váš NAS domácí server již má pevný disk. Pokud ne, vložte ho do příslušného pole.
Připojte domácí server do elektřiny a k vašemu routeru či modemu.
Zapněte NAS, propojte ho ethernetovým kabelem s routerem a na počítači otevřete adresu webového rozhraní (naleznete ji v návodu nebo na zařízení). Následně se řiďte pokyny v instalačním průvodci.
Po dokončení instalace budete moci obsluhovat úložiště ze všech zařízení.
i
Abyste se k NAS mohli připojit i jinak než v rámci stejné sítě, budete potřebovat veřejnou IP adresu a úpravu nastavení routeru. Pro více informací kontaktujte vašeho poskytovatele.
Domácí servery NAS – další vlastnosti
Domácí servery mají kromě zmíněných i další důležité vlastnosti, které mohou být při výběru rozhodující.
USB 2.0 a USB 3.2 (dříve USB 3.1) porty umožňují připojení externích pevných disků, flashdisků, SATA adaptérů a podobně.
Nastavení přístupových práv pro různé účty a dvoufázové ověření účtů přináší další úroveň zabezpečení.
Podpora zálohování operačního systému macOS a dat přes Time Machine.
Šifrování uložených dat chrání vaše data před zneužitím.
Potřebujete více informací? Podívejte se na článek NAS – chytrá datová úložiště.
Hide description
Was this information useful?
This form is for collecting Feedback Only. If you have any other inquiries, please our Customer Care team here.
Is something missing or displayed incorrectly? Let us know your suggestions so we can improve the website and customer experience.
Best Deals
1.
Data Storage Device - 4 x 2.5"/3.5" SATA III HDD/SSD external hard drives, Intel Celeron J3455 2.3GHz quad-core, RAID (Basic/JBOD/0/1/5/6/10), 4GB of DDR3L RAM, 3.0, eSATA
2.
ZYXEL NAS326
In stock > 5 pcs and in store Praha - Holešovice
Data Storage Device - For 2x 3.5" SATA HDD to 2x 6TB, Marvell Armada 380 1.3GHz CPU, 512MB DDR3, RAID 0.1, 1x GLAN, DLNA, FTP, 1x USB 2.0, 2x USB 3.0
3.
Data Storage Device - external box for 2 x 2.5"/3.5" SATA III HDD, Intel Celeron J3355 dual-core 2.45GHz, 2GB of DDR3L RAM, 1 x GLAN, 3 x USB 3.0s, e1x SATA
Domácí servery NAS
Společnost QNAP vnímá NAS jako něco víc než jen "pouhé úložiště". I proto máme radost, že vám můžeme...
Na trh s SSD disky se nám nenápadně vkradl kousek z dílen společnosti Intel s označením Optane H10. A...
V dnešní recenzi jsme si posvítili na nástupce revolučního SSD disku Intel Optane 900p, řadu Optane 905p...
Potřebujete naformátovat disk pro herní konzoli, vytvořit externí disk, který bude spolupracovat s Windows...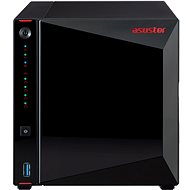 Asustor Nimbustor 4-AS5304T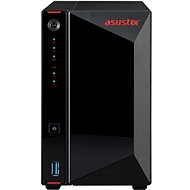 Asustor Nimbustor 2-AS5202T
Domácí servery NAS
In the category Domácí servery NAS on Alza.cz, we currently have a total of 107 products, which you can easily buy online and get quickly delivered. See all of your purchases and make orders on our easy-to-use app.
Enter product name
Note (link, Part number etc.):
Check out products sorted by price starting with the lowest price in the category cheap domácí servery NAS
Check out products sorted by price starting with the highest price in the category best sellers, best domácí servery NAS
You'll find products sorted by reviews starting from the highest ranked in domácí servery NAS reviews