Angle grinders, also known as flex or as ground grinders, will be used for rough grinding or cutting of material (whether you use a grinding or cutting wheel). With the angle grinder you can grind and cut wood, masonry, concrete, plastic as well as metal. They are often used for cutting floor and wall tiles.
Continue
What to consider when choosing an angle grinder.
Disc diameter
Conventional disc diameters are 115, 125, 150 and 230 mm. The most widespread models with diameters of 125 and 230 mm. Since the diameter of the wheel depends on the depth of the cut - with a larger disc you often don't have to cut twice. However with a larger blade grinder, the higher the power, weight and cost.
| | | |
| --- | --- | --- |
| disc diameter | cutting depth | Recommended motor power |
| 115 mm | 2 cm | min. 600 W |
| 125 mm | 2.5 cm | min. 750 W / opt. 1000 W |
| 150 mm | 3.5 cm | min. 1000 W / opt. 1400 W |
| 230 mm | 7.5 centimeters | min. 1800 W / opt. 2200 W |
230 mm - for example, to cut paving, concrete and cutting or grinding of large metal profiles.
125 mm - for example, for cutting thin tubes and flat profiles.
Weight
Grinder, 150 mm weighs 1.5-3 kg.
Grinder, 230 mm weighs 5-7 kg.
Number of revolutions
Grinders with larger wheels have a lower speeds. Differences between the different models of the same diameter discs are minimal. For 125 mm, grinding speed is in the range of 10 000 to 13 000 rpm, whereas the 230 mm models around 6500 rpm.
useful features
Electronic grinders ensure constant speed - grinder maintains a constant speed regardless of the intensity level.
Electronic overload protection - ensures a gradual ramp up to speed (protects against the failure of breakers).
Run-out brake - stops the disc completely.
Anti-vibration handle

- making those longer jobs more bearable.

Protecting against reconnection - ensures that the grinder doesn't restart itself in case of a short power failure.

Electronic speed control - to reduce the speed of the discs (such as when working with stainless steel and concrete or stone cutting and polishing).
Blade to angle grinders
Sanding
Abrasive discs and angle grinders are used for machining surfaces made of metal and stainless steel. They will be used when sanding, welding, deburring, bending etc. They are produced in standard thicknesses from 4 to 8 mm.
Lamella - for fine grinding and finishing welds. Suitable for work with stainless steel.
Wire - coarse sanding and cleaning surfaces, removing rust, preparing materials before welding or removing adhesive residue on the tiles.
Cutting
They are used to cut workpieces made of stone, steel, iron, aluminum and plastics. Thinner discs with a thickness of between 0.8 mm and are designed primarily for cutting thin metal sheets, thicker disc to 3.2 mm is suitable for cutting thicker materials and profiles.
Diamond
They are used for cutting and grinding very hard, mostly construction, materials - concrete, brick, marble and natural stone. They are the most expensive.
Universal
Ideal for situations where you need to move frequently between cutting and grinding and do not want to delay the exchange. Do not expect them, however, to last, as the blades are designed specifically for mostly either cutting or grinding.
Hide description
Was this information useful?
This form is used only for evaluating the information in the description above.
If you have any question about our products, services, transport or any other request, please contact our customer support.
What should be improved? Is anything missing here? Is anything wrong? Share it with us.
Best Sellers
1.
Angle Grinder with power of 720W, disc diameter: 125mm, max speed: 11000 RPM, additional handle, weight: 1800g
2.
Angle Grinder with power of 720W, disc diameter: 125mm, max speed: 11000 RPM, additional handle, weight: 1900g
3.
Angle Grinder with power of 900W, disc diameter: 125mm, max speed: 11000 RPM, additional handle, weight: 1900g
Angle Sanders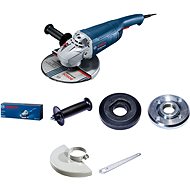 Bosch GWS 9-115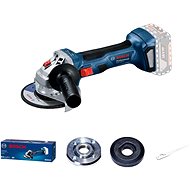 Bosch GWS 180-LI solo v kartonu
Angle Sanders
In the category Angle Sanders on Alza.cz, we currently have a total of 143 products, which you can easily buy online and get quickly delivered. See all of your purchases and make orders on our easy-to-use app.
Enter product name
Note (link, Part number etc.):
Check out products sorted by price starting with the lowest price in the category cheap angle Sanders
Find products sorted from the most expensive to the cheapest in the category most expensive angle Sanders
Check out products sorted by price starting with the highest price in the category best sellers, best angle Sanders
You'll find products sorted by reviews starting from the highest ranked in angle Sanders reviews