Volíte granule pro psy jako kompletní krmivo? Pak by měly obsahovat optimální poměr živočišných bílkovin, tuků, sacharidů a dalších potřebných živin. Kvalitní strava je totiž alfou a omegou zdravého a aktivního života vašeho pejska. Čím se granule od ostatních krmiv liší a co byste měli sledovat při jejich výběru?
Continue
Jaké (ne)výhody mají psí granule ve srovnání s ostatními krmivy?
Psí granule patří k suché formě krmiva. Jaké jsou jejich výhody a nevýhody oproti ostatním typům?
Mohou sloužit jako doplňkové i kompletní krmivo.
Obsahují daleko méně vody než mokrá krmiva. Jsou tudíž ekonomičtější.
Mají dlouhou trvanlivost a poměrně dobře se skladují.
Neosychají tak, jako kapsičky nebo konzervy. Údržba misky je poté méně náročná.
Tvrdá konzistence podporuje zdravý chrup a čelisti.
Nejsou tak voňavé a šťavnaté jako mokrá krmiva.
i
Psí granule můžete vybírat z nepřeberného množství příchutí. I ten nejvybíravější pes domácí si u nás přijde na své.
Jak vybrat ty nejlepší granule pro psy ve 3 krocích
Granule pro psy rozlišujeme hned podle několika kritérií. Zajímá vás, jaké nároky na výživu má aktivní pes nebo podle čeho vybrat granule pro štěňata?
1. krok: Berte ohled na stáří – psí granule pro seniory se od granulí pro juniory značně liší
Při výběru je věk vašeho pejska tím nejdůležitějším kritériem. Psí granule pro seniory se totiž od těch štěněcích mohou lišit nejen složením, ale také samotnou velikostí či tvrdostí.
Věku vašeho pejska přizpůsobte i četnost krmení. Štěně má zpravidla kratší trávicí systém, tudíž tráví a vylučuje rychleji, a proto je potřeba jej krmit vícekrát za den v menších dávkách.
2. krok: Granule pro psy rozlišujeme také podle velikosti plemene
Velikost plemene je dalším kritériem, kterému jsou granule pro psy přizpůsobeny. Zpravidla se rozlišují podle konečné váhy v dospělosti psa.
Granule pro malé psy bývají typicky drobné velikosti, která je přizpůsobena slabým čelistem.
Granule pro střední psí plemena, která tvoří nejčetnější zastoupení, mívají průměrnou energetickou hodnotu přizpůsobenou rychlosti trávení.
Granule pro velká plemena jsou tvořeny velkými kousky. Mají optimálně vyváženou energetickou hodnotu tak, aby pes netíhl k obezitě, která by pak zatěžovala velký kloubní aparát.
i
V nabídce najdete také řady krmiv přizpůsobené konkrétní rase psa.
3. krok: Zohledněte i fyzickou aktivitu – granule pro psa sportovce musí podporovat regeneraci
Granule pro aktivní psy v zátěži jsou typické zvýšenou energetickou hodnotou. Mívají vyšší obsah proteinů a tuků, které psovi dodají požadovanou dávku energie a také další látky potřebné pro správnou regeneraci organismu během fyzického vytížení. Jsou ideální, pokud je váš pes hodně aktivní nebo s ním provozujete psí sporty.
| Velikost plemene | Váha v dospělosti | Dosažení dospělosti |
| --- | --- | --- |
| Malá plemena | do 10 kg | 10.–12. měsíc |
| Střední plemena | do 25 kg | 12. měsíc |
| Velká plemena | do 45 kg | 15.–18. měsíc |
| Obří plemena | nad 45 kg | 24. měsíc |
Psí granule lisované za studena vs. průmyslově vyráběné – jaký je mezi nimi rozdíl?
Psí granule se nejčastěji vyrábí třemi způsoby – extrudováním, pečením a lisováním za studena. Přemýšlíte, jaký vliv na kvalitu krmiva má technologie výroby?
Extrudované granule pro psy (průmyslově vyráběné) procházejí teplotou vyšší než 100 °C, což zajišťuje eliminaci parazitů. Jsou cenově nejdostupnější, jejich nevýhodou je ale možné nabobtnání v psím žaludku.
Psí granule lisované za studena se vyrábí při nízkých teplotách, a proto si zachovávají důležité vitamíny, minerály a vlákninu. Nebobtnají, jejich nevýhodou je však vyšší cena ve srovnání s extrudovanými.
Pečené granule pro psy se vyrábí pod teplotou nepřesahující 95 °C, což zajišťuje alespoň částečné zachování živin. Rovněž v žaludku nebobtnají, ale mívají nižší trvanlivost a není vhodné je dlouho skladovat.
Složení: Zaměřte se na skutečně kvalitní granule pro psy s vysokým obsahem masa
Nezapomeňte na obsah masa a jeho původ. Kvalitní granule pro psy s vysokým obsahem masa se mohou skládat i z více druhů svaloviny, což může být pro psa velice lákavé. Chcete-li mít plně pod kontrolou složení jeho stravy, vyhněte si krmivu, které obsahuje blíže nespecifikované produkty živočišného původu.
Při výběru vám pomůže parametrický filtr v levém menu, pomocí kterého nastavíte požadovaný minimální obsah čerstvého masa v sušině. Umožní vám upřesnit i další specifika složení, například pokud vašeho mazlíčka čeká dieta nebo požaduje zvýšené množství antioxidantů či juky.
Existují granule pro psa s citlivým zažíváním? Hypoalergenní řada je to pravé
Hypoalergenní granule pro psy jsou řešením pro všechny majitele citlivých mazlíčků trpících alergií či nesnášenlivostí. Obsahují typicky rychle stravitelné složky a množství probiotik pro úpravu trávení. Granule pro psa s citlivým zažíváním se rovněž rozlišují podle stáří, velikosti i aktivity.
Psí granule bez obilovin mohou být alternativou pro citlivé jedince
Granule pro psa bez obilovin, které jsou označovány jako grain free či bezobilné, obsahují zpravidla maso, zeleninu, ovoce a bylinky. Ve složení postrádají obiloviny, které sice obsahují prospěšnou vlákninu, vitamíny a mnoho minerálů, ale mnohdy mohou u citlivých jedinců způsobit podráždění či nepříjemnou alergickou reakci.
i
Nemoci dokážou potrápit i zvířata – jaké zvolit granule pro psa s cukrovkou?
Cukrovka je nemoc, která se vyskytuje i u čtyřnohých mazlíčků. Pro takové jedince zvolte stravu s nízkým glykemickým indexem, což splňují psí granule bez obilovin mající typicky nízký obsah tuků a vlákniny. Jeví se tudíž i jako vhodné granule pro psa s cukrovkou.
Jakou velikost balení zvolit? 15kg granule pro psy ušetří váš čas i kapsu
Máte jistotu, že vybrané granule vašemu psovi chutnají? Pořiďte mu rovnou velké balení. Takové 15kg granule pro psy vydrží dlouho a ušetří nejen vaši kapsu, ale i čas, který byste jinak strávili nad výběrem a pořízením dalšího krmiva. Vzorky granulí pro psy zase zvolte v případě, kdy dané balení kupujete poprvé.
Hide description
Was this information useful?
This form is for collecting Feedback Only. If you have any other inquiries, please our Customer Care team here.
Is something missing or displayed incorrectly? Let us know your suggestions so we can improve the website and customer experience.
Best Deals
1.
2.
3.
Granule pro psy
Jak správně krmit štěně?
Pořídit si štěně je nejen radost, ale také závazek. Vše začíná již při výběru vašeho budoucího psího...
Trendem posledních let je pečlivý výběr potravin, které jíme. Soustředíme se na to, aby měly správné...
V českých domácnostech žije nejvíc domácích mazlíčků v Evropě. V čem se liší psi od koček? A na co si dát...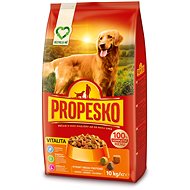 Propesko Vitalita 10kg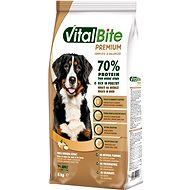 VitalBite Premium 8kg
Fitmin Dog Medium Light - 15kg
Granule pro psy
In the category Granule pro psy on Alza.cz, we currently have a total of 420 products, which you can easily buy online and get quickly delivered. See all of your purchases and make orders on our easy-to-use app.
Enter product name
Note (link, Part number etc.):