Sockets are used to connect your electrical appliances directly to the mains. There are movable (extension cords), but also non-movable (wall sockets). How do they differ and what features or connectors do they offer? Read on.
Continue
Socket and its types
Drawers can be divided according to type and purpose into three categories.
Extension and extension sockets
Extension and extension sockets can be used when your cable does not reach the socket or when you need to connect several appliances at once.
Drawer rails They expand the number of usable drawers and can often be integrated into walls or furniture.
Cable Splitters & Adapters plug directly into the socket and increase its number of outputs. This is an alternative to the double drawer.
Extension Leads will extend the range or increase the number of connected appliances.

Socket bar with USB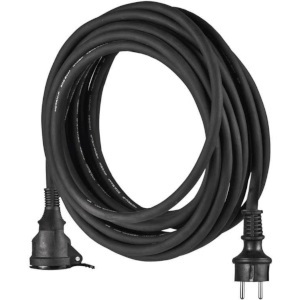 Extension cable

Extension cord with switch
Do you travel often or are you going on a longer trip? Choose from our section In-Car Chargers.
Sockets with special connectors
Some sockets and extension leads have special connectors for different purposes.
Telephone sockets RJ11 type are used to connect a fixed line.
Data sockets RJ45 type are used to extend the fixed Internet.
Sockets with USB allows you to charge your phone or tablet without the need for an adapter.
Antenna sockets extends the range of the DVB-T cable to the remote TV.
HDMI sockets are useful for connecting a projector or TV to a computer.

Telephone socket

Data socket

Antenna socket

Socket with USB
i
Are you planning to travel outside the Czech Republic and need a travel adapter for a socket in another country? A wide selection can be found in our section for Travel Plug Adapter.
Drawers by function
In addition to types, sockets can also be divided according to special functions and connectors.
Consumption meters measures the electrical consumption of the connected appliance.
Switching sockets and timers will allow to mechanically set on and off the socket.
Sockets & Extension Cords With Switch They have a simple switch for switching on and off as required.
Smart sockets You can turn it off and on via your smartphone or home assistant.
Surge protectors protects your devices from higher surges than they can withstand.
Sockets with thermostat allows easy temperature adjustment and records current temperature data.
Remote control sockets are switched on and off with the remote control and are suitable for less accessible appliances.

Consumption meters

Socket with timer

Sockets & Extension Cords With Switch

Smart socket
Do you have smaller children in your home? Choose wall outlets with a childproof screen or get a separate childproof wall outlet to ensure they are protected. You can find the child fuses in the section plugs.
What parameters to look for when choosing a socket?
Important parameters when choosing a socket include:
IP protection can be against water, dust or objects and is often suitable for outdoor use.
Voltage of the electrical outlet ranges from 100 to 380 V depending on the country or use. In the Czech Republic it is 230V.
The maximum load of an electrical outlet is marked in Watts and Amps, and it is important not to exceed this value with a plugged-in appliance.
i
The input voltage of the appliance can usually be found in the manual or on the manufacturer's website.
Outlet voltage by state or usage
See the table below for outlet voltages by state or usage.
Socket voltage
State/use
100 V
Japan
120 V
USA, Canada, Brazil, Mexico
220 V
Russia, South Korea, Egypt
230V
Most of Europe, including the Czech Republic and Slovakia
380 V
Industrial purposes
Are you planning a trip to an area with a different voltage? Make sure in advance that your devices support charging at this voltage. This information can be found on the charger adapter or in the device manual, most often under AC INPUT.
Hide description
Was this information useful?
This form is used only for evaluating the information in the description above.
If you have any question about our products, services, transport or any other request, please contact our customer support.
What should be improved? Is anything missing here? Is anything wrong? Share it with us.
Best Sellers
1.
Smart Socket controlled via Wifi, operated: independently, compatible with Google Assistant, Amazon Alexa and Tuya, control: digital, male connector(s): 1× E/F-type plug, female connector(s): 1× type F fork, with switch, application in for Android and iOS, IP20
2.
Extension Cable - length 2 m, 3 sockets, switch, E type forks, current load 16 A, voltage 230 VAC, plastic insulation, curved ending
3.
Timer - 24h, interval 15min, switch, with child lock, 230V/16A, 50Hz
Sockets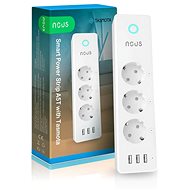 Nous A5T WiFi Tasmota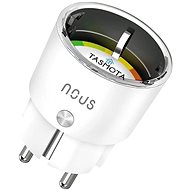 Nous A1T WiFi Tasmota
Sockets
In the category Sockets on Alza.cz, we currently have a total of 656 products, which you can easily buy online and get quickly delivered. See all of your purchases and make orders on our easy-to-use app.
Check out products sorted by price starting with the lowest price in the category cheap sockets
Find products sorted from the most expensive to the cheapest in the category most expensive sockets
Check out products sorted by price starting with the highest price in the category best sellers, best sockets
You'll find products sorted by reviews starting from the highest ranked in sockets reviews