Přístroje pro přípravu raw stravy vám při přípravě zdravých pokrmů a nápojů dokážou uchovat všechny potřebné vitamíny, které v sobě potraviny mají, navíc vám přípravu podstatně ulehčí. Jaké přístroje pro raw stravování najdete v nabídce?
Continue
Nutriční mixéry
Nutriční mixéry jsou vhodné nejen pro lidi, kteří jsou zaměřeni na raw stravu, využít je můžete i při přípravě přesnídávek malým dětem, nebo pomohou při vaření vydatné polévky.
Funkce mixéru dokážou ze surovin vyfiltrovat nejdůležitější vitamíny, minerální látky a živiny.
Nutriční mixéry jsou vhodné také pro nasekání ořechů, obilnin a semínek.
Mixéry na smoothie
Mixéry na smoothie mají velkou výhodu v tom, že si své ovoce nebo zeleninu namixujete přímo v nádobě, ze které nápoj můžete ihned pít.
Díky těsnícímu víčku nemusíte nápoj z mixéru na smoothie přelévat a můžete si ho vzít rovnou s sebou na cesty.
Nádoba se vyrábí ze speciálního plastu, který je při přenášení velice odolný.
Sušičky ovoce
Sušičky jsou všestrannými pomocníky, protože se kromě ovoce a zeleniny mohou využívat také pro sušení bylinek, hub a dokonce i masa.
Různé typy sušiček na ovoce umožňují regulovat teplotu a nastavovat počet pater pro sušení.
Kulaté sušičky mají motor umístěný ve spodní části. Teplo je posouváno směrem vzhůru, proto může být sušení nerovnoměrné.
Hranaté sušičky na ovoce mají motor umístěn na boku a tím je sušení rovnoměrné.
Spiralizéry
Spiralizéry vám vaše pokrmy krásně ozdobí a vylepší nejen vzhledově, ale také chuťově.
Spiralizéry ovoce či zeleninu nakrájí na spirály, které můžete na své jídlo naaranžovat.
Nerezová část spiralizéru se dá snadno omýt a čepele můžete dát také do myčky nádobí.
Odšťavňovače
Díky odšťavňovačům budete mít neustálý přísun vitamínů z čerstvého ovoce či zeleniny. Práce s nimi je navíc poměrně jednoduchá. Odšťavňovače dělíme na více druhů.
Šťáva ze šnekových odšťavňovačů je méně náchylná k oxidaci, proto má delší trvanlivost a nemusí být rychle vypitá. Šnekové odšťavňovače se dají využít pro odšťavňování většiny druhů ovoce a zeleniny, ale také bylinek a listové zeleniny.
Šťáva z odstředivých odšťavňovačů je méně trvanlivá a nápoj má také vyšší obsah pěny. Není vhodný pro odšťavňování měkkých druhů ovoce a zeleniny, naopak s tvrdými kousky si poradí velmi dobře.
Lisy na citrusy jsou vhodné pro rychlou práci a pouze občasné využití. Nejsou totiž určené pro větší objem.
Mlýnky na obilí
Umlít si čerstvou mouku nebo zpracovat velké kusy koření není problém. Mlýnky na obilí umožňují poměrně snadnou a rychlou manipulaci.
Využít je můžete také pro sušené houby nebo mák.
Vrchní plnící otvor pojme velké množství surovin, které nerezový kužel uvnitř pomele a připraví čerstvou směs, kterou můžete ihned využít.
Výrobníky rostlinného mléka
Pro milovníky raw stravy je tohle jeden z nejužitečnějších přístrojů. Ve výrobníku rostlinného mléka si můžete nápoj připravit sami doma během pár minut.
Rostlinné mléko neobsahuje laktózu, na kterou je spousta lidí alergických.
Výrobník rostlinného mléka můžete využít na přípravu mléka ze sóji, rýže nebo ořechů. Tyto typy mléka neobsahují cholesterol, takže jsou lépe stravitelnější, než kravské mléko.
Všechny raw potraviny nesmí při přípravě překročit 42° C. Tím by došlo ke zničení všech živých buněk, které v sobě uchovávají.
Hide description
Was this information useful?
This form is for collecting Feedback Only. If you have any other inquiries, please our Customer Care team here.
Is something missing or displayed incorrectly? Let us know your suggestions so we can improve the website and customer experience.
Best Deals
1.
Countertop Blender - for smoothies, three removable bottles 0.6-litre and two 0.3-litre bottles serve as drinking bottles, impact-resistant bottles made of BPA-free TRITAN, power: 500W
2.
Food dehydrator - 245W power, 5 stackable drying trays, tray dimensions: 30.6x23cm, active drying area: 0.33m2, only use the number of drying trays required for the quantity of food, adjust the distance between drying trays (15-25mm), herb drying tray, 0.9m power cable
3.
Juicer - 150W, durable titan screw, 2 filters, quiet operation, ability to reverse, anti-drip mechanism, 1l juice container, 1.3l pulp container, BPA free
Přístroje na přípravu raw stravy
O skvělé chuti smoothie i jeho přínosu pro zdraví není pochyb. Zajímá vás, jak si připravit lahodné...
Zdravé stravování je hitem současné uspěchané doby. Smoothie, domácí rostlinná mléka, oříšková másla nebo...
Raw food nebo také syrová strava zažívá boom v rámci zdravé výživy. Co to však znamená, co obnáší přesun...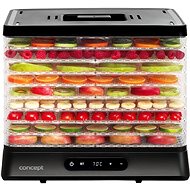 Concept SO2040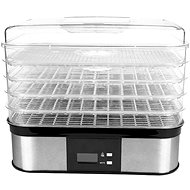 Guzzanti GZ 508
Přístroje na přípravu raw stravy
In the category Přístroje na přípravu raw stravy on Alza.cz, we currently have a total of 330 products, which you can easily buy online and get quickly delivered. See all of your purchases and make orders on our easy-to-use app.
Enter product name
Note (link, Part number etc.):
Check out products sorted by price starting with the lowest price in the category cheap přístroje na přípravu raw stravy
Check out products sorted by price starting with the highest price in the category best sellers, best přístroje na přípravu raw stravy
You'll find products sorted by reviews starting from the highest ranked in přístroje na přípravu raw stravy reviews