Stolní mixér na smoothie je určený pro jednoduchou a rychlou přípravu převážně ovocných a zeleninových koktejlů – tzv. smoothie. Oproti klasickému stolnímu mixéru lze smoothie namixovat přímo ve speciální nádobě na pití, ze které si můžete hotový koktejl ihned vychutnat nebo vzít s sebou ven.
Continue
Jak vybrat smoothie mixér?
Příkon smoothie mixéru
Příkon určuje spotřebu elektrické energie mixéru. Má ale vliv i na jeho výkon.
Spodní hranice příkonu by se neměla dostat pod 150 W.
Pro přípravu chutných zeleninových i ovocných nápojů by měl stačit příkon kolem 350 W.
Smoothie mixér mohou využít příznivci zdravého životního stylu všech věkových kategorií. Sportovci, senioři, těhotné a maminky s dětmi i dospělí.
Užitečné funkce
Doba mixování – některé smoothie makery mohou mixovat pouze když držíte spínač. Jiné typy nabízí funkci nepřetržitého mixování i mixování po určitou dobu. Vybírejte podle vlastních preferencí.
Pojistka proti přehřátí – díky integrované pojistce se v případě zahřátí motoru mixér automaticky vypne. Předchází se tak možnému poškození.
Bezpečnostní pojistka – tato pojistka zabraňuje spuštění mixéru v případě, že je nádoba špatně nasazená na tělo mixéru.
Možnost mytí v myčce – pokud máte doma myčku, zkontrolujte před nákupem, zda je možné v ní všechny nádoby i víčka mýt.
Příslušenství
Nádoby – součástí smoothie mixéru jsou speciální nádoby, které slouží jako lahve na pití. Některé modely nabízí i více nádob o různých objemech, případně si je můžete dokoupit.
Víčka – nádoby by měly být opatřené uzavíratelným víčkem s těsněním, které vám umožní vzít si připravené smoothie kamkoliv s sebou. Některá víčka disponují i praktickým poutkem pro snadné uchycení.
Termo obal – Dalším doplňkem mohou být speciální obaly, nejčastěji z neoprenu, které udržují smoothie nápoj delší dobu v požadované teplotě.
Tritan je kvalitní, bezpečný a zdravotně nezávadný plast, který se často používá výrobu nádob smoothie mixérů.
Materiál smoothie makerů
Tělo mixéru – může být vyrobené z kvalitního plastu i nerezové oceli. Vybírat můžete z široké škály barev a tvarů podle vašeho osobního vkusu i na základě interiéru vaší kuchyně.
Nádoby na pití – jsou nejčastěji z tritanu, tedy plastu, průhledné, ergonomicky tvarované a mohou být vybavené i protiskluzovými prvky.
Mixovací nože – nejčastěji se vyrábějí z nerezové oceli. Někdy bývá nerezová ocel potažená jinými materiály, například titanem, což zvyšuje odolnost nožů.
Hide description
Was this information useful?
This form is for collecting Feedback Only. If you have any other inquiries, please our Customer Care team here.
Is something missing or displayed incorrectly? Let us know your suggestions so we can improve the website and customer experience.
Best Deals
1.
Countertop Blender - for smoothies, three removable bottles 0.6-litre and two 0.3-litre bottles serve as drinking bottles, impact-resistant bottles made of BPA-free TRITAN, power: 500W
2.
Countertop Blender - two removable 0.6l and 0.3l, made from impact-resistant BPA-free TRITAN material, pulse switch, 500W power
3.
Countertop Blender removable 0.6 liter bottle of one volume 0.3l, made of TRITAN material that does not contain BPA, pulse switch, input power 500W
Mixéry na smoothie
Jak vybrat smoothie mixér
Nadchli jste se pro smoothie a vybíráte vhodný smoothie mixér? V nabídce je mnoho typů a barevných...
Máte rádi smoothie, RAW krémové polévky či jen hledáte výkonného pomocníka na mixování do kuchyně? Mixér...
O skvělé chuti smoothie i jeho přínosu pro zdraví není pochyb. Zajímá vás, jak si připravit lahodné...
Smoothie sezóna je v plném proudu. Dopřejte si lahodné koktejly plné vitamínů nebo zkuste třeba smoothie...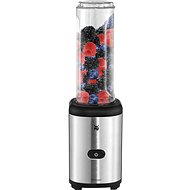 WMF 04.1627.0011 KULT X MIX & GO
Mixéry na smoothie
In the category Mixéry na smoothie on Alza.cz, we currently have a total of 113 products, which you can easily buy online and get quickly delivered. See all of your purchases and make orders on our easy-to-use app.
Enter product name
Note (link, Part number etc.):
Check out products sorted by price starting with the lowest price in the category cheap mixéry na smoothie
Check out products sorted by price starting with the highest price in the category best sellers, best mixéry na smoothie
You'll find products sorted by reviews starting from the highest ranked in mixéry na smoothie reviews