Sportovní výživa zajišťuje přísun energie při sportu, napomáhá růstu a regeneraci svalů a doplňuje potřebné minerální látky. Většina zmíněných látek se vyskytuje i v běžné stravě, ale v menší koncentraci a s množstvím nežádoucích složek. Pomůžeme vám s orientací v nabídce sportovní výživy.
Continue
Proteiny
Proteiny neboli bílkoviny, podporují růst svalové hmoty. Také brání zmenšování svalstva a úbytku hmotnosti při cvičení.
Syrovátkové proteiny – whey protein – mají nejlepší využitelnost a podporují vysoký nárůst svalové hmoty.
Vícesložkové proteiny – v různém poměru kombinují vlastnosti několika bílkovin.
Noční proteiny (Kasein) – uvolňují se postupně a delší dobu. Zabraňují odbourávání svalové hmoty.
Rostlinné proteiny – neobsahují tuk, sacharidy a laktózu. Vyrábí se z hrachu, rýže a sóji.
Sacharidy a gainery
Gainery jsou směsí sacharidů, bílkovin a tuků. Dodávají tělu energii potřebnou pro fyzický výkon. Jsou rychle vstřebatelné a zabraňují odbourávání svalové hmoty při zátěži.
Pokud je obsah proteinů vyšší než 20 %, jsou určeny ke zvýšení hmotnosti a nárůstu svalové hmoty.
Obsah bílkovin nižší než 20 % zajišťuje rychlejší nástup energie.
Aminokyseliny
Aminokyseliny jsou základním prvkem bílkovin. Zlepšují regeneraci a hojení svalů a vazů, podporují vylučování růstových hormonů a zvyšují proudění krve do svalů.
BCAA – zabraňují ztrátě svalové hmoty při vyčerpání a metabolizují přímo ve svalech.
L-Glutamin – zvyšuje imunitu, detoxikuje organismus a působí anabolicky.
Komplexní aminokyseliny – obsahují směs aminokyselin v určitém poměru podle požadovaného účinku.
Kreatiny
Kreatiny jsou rovněž určeny ke zvětšení svalové hmoty. Jedná se o zdroj energie přímo pro svalové buňky, což má za následek zvýšení síly a nárůst objemu.
Stimulanty a energizéry
Stimulanty a energizéry mají povzbudit sportovce před tréningem nebo v jeho průběhu. Nejčastěji se jedná o přípravky obsahující kofein, guaranu a sacharidy.
Energetické gely
Energetické gely dodávají tělu rychlé cukry, čímž zabraňují poklesu energie a síly při sportovním výkonu. Nejvíce je využívají dálkoví běžci. Energetické gely začnou účinkovat asi deset minut po konzumaci a působí zhruba hodinu.
Anabolizéry
Anabolizéry jsou látky zrychlující růst a zvětšující objem svalů. Užívají se před tréningem a po něm.
Předtréninkové anabolizéry – obsahují kreatiny a minerální látky. Působí proti únavě a zefektivňují cvičení.
Potréninkové anabolizéry – skládají se z aminokyselin, L-karnitinu, hořčíku a zinku. Zvyšují svalový růst v době klidu.
NO doplňky – zvyšují produkci oxidu dusného, tím se prokrví a zvětší svaly, a zvýší přísunu anabolických látek.
Kloubní výživa
Kloubní výživa je určena k ochraně a regeneraci kloubů a svalových úponů, které jsou namáhány při tréningu. Obsahuje kolagen, glukosamin a vitamíny.
Nápoje
Ke sportovní výživě patří i nápoje. Ty se dělí do 3 základních kategorií:
Iontové nápoje – rychlé doplnění energie díky sacharidům, minerálním látkám a vitamínům.
Proteinové nápoje – k doplnění bílkovin mezi jídly, vhodné pro růst svalstva.
Nápoje proti křečím – odbourání svalového napětí, doplnění sodíku, draslíku a vápníku.
Vitamíny a minerály
Při sportu dochází k spotřebování a odbourání některých látek. Zatížený organismus potřebuje látky k regeneraci a ochraně v podobě vitamínů a minerálů.
Vitamín C – podporuje imunitní systém během fyzické zátěže a působí jako antioxidant.
Minerály – ubývají při fyzické námaze a je důležité doplňovat zejména zinek, hořčík a železo.
Omega mastné kyseliny – pomáhají s regenerací, podporují celkově fyzické a duševní zdraví.
Tyčinky
Sportovní výživa ve formě tyčinek je skladná a snadno použitelná. Tyčinky mohou být proteinové nebo energetické, případně kombinované.
Spalovače tuků
Jedná se o přípravky, které přeměňují tělesný tuk na energii a tím zabraňují úbytku svalové hmoty při sportovním výkonu. Spalovače tuku zároveň zdokonalují vyrýsování svalů. Hlavní složkou těchto přípravků bývá L- karnitin, vitamín C, kofein a další.
Doplňky stravy
Mezi doplňky stravy patří sušené nebo konzervované ovoce, ořechy, obilniny a další. Mohou být prodávány jednotlivě nebo ve formě směsí. Většinou se jedná o doplňky stravy v bio kvalitě.
Shakery
Shakery slouží k přípravě tekuté sportovní výživy. Umožňují dokonalé promíchání práškových přípravků s vodou nebo s jinými tekutinami.
Manuální shakery jsou vybaveny míchací mřížkou nebo míchací kuličkou.
U elektrických shakerů zajišťuje míchání elektromotor. Shakery mohou mít více komor k přípravě různých druhů nápojů, případně k uložení tablet a prášku.
Hide description
Was this information useful?
This form is for collecting Feedback Only. If you have any other inquiries, please our Customer Care team here.
Is something missing or displayed incorrectly? Let us know your suggestions so we can improve the website and customer experience.
Best Deals
1.
Dried meat - finely chopped, 320g of raw meat is used for 100g of product
2.
Dried meat - dried beef delicacy, 100g
3.
Sportovní výživa
OnlineFitness.cz je koncept online cvičebních lekcí, který vám nabízí volnost, jakou vám běžné fitcentrum...
Správná výživa vás dokonale připraví na sportovní výkon. Vyřeší problém, co před i během sportování jíst...
V Empower Supplements mají jasné poslání, a to vytvářet produkty prospěšné pro lidi. Nikoli produkty...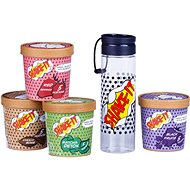 SHAKE-IT STARTER SET 4x175g + shaker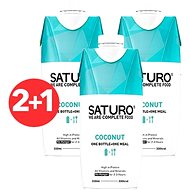 SATURO Coconut 2+1 zdarma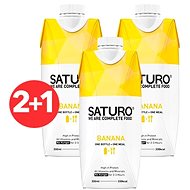 SATURO Banana 2+1 zdarma
Sportovní výživa
In the category Sportovní výživa on Alza.cz, we currently have a total of 436 products, which you can easily buy online and get quickly delivered. See all of your purchases and make orders on our easy-to-use app.
Enter product name
Note (link, Part number etc.):