RC toys can bring hours of entertainment to kids and adults alike. Get your child an RC car, a ship, or a drone, and you can introduce them to a whole new world of play. Read on to learn how individual RC toys can differ and what to focus on when buying.
Continue
RC Model Types
RC Cars and Other Vehicles
RC cars and vehicles in general constitute the most popular type of RC models. You can choose from standard passenger cars, military equipment, off-road vehicles, excavators and the like. Some RC models are designed for competition and their construction actually resembles real-world race cars.
RC Ships
RC ships are designed to navigate water, and it doesn't matter if it's just a bathtub or a pond. This includes submarines - they can be equipped with a camera for instance so you can take some really neat footage.
RC Aircraft, Helicopters and Drones
RC aircraft, helicopters and drones are among the most popular RC toys on the market. They are designed mainly for play, but you can put a camera and light on them and use them to map your surroundings.
RC Model Motors
RC Models with Electric Motor
The electric motor is the most common type of drive for RC models and is particularly suitable for beginners. They are powered by rechargeable battery units or disposable batteries. Electric motors are quiet, easy to maintain, and relatively inexpensive. DC electric motors are the most common, while the more expensive models use AC motors - they are more powerful and consume less energy.
RC Models with Internal Combustion Engine
Internal combustion engines are more expensive than electric motors and are usually bought by advanced model makers and people with more experience in general. They weigh more and are more difficult to maintain, plus you also have to refuel them. But they also have their advantages - RC models with an internal combustion engine can achieve high speeds and are not limited by battery life.
Motorless RC Models
Not all RC models need an engine to power them - some only need wind. A typical example is a RC sailboat or a glider. The remote serves to adjust the course, but not the speed.
i
RC models use a radio transmitter operating at a frequency of 2.4 GHz or 27-40 MHz for small models. The signal from the transmitter is picked up by the receiver in the model and and turns on the servomotor, which performs the appropriate maneuver.
Special Functions and Features
Proportional control allows a smooth speed or wheel rotation change without any sharp swerves. Controlling a PC model feels very natural, not unlike driving a real vehicle.
Water resistance means you can drive your model out in the rain, over puddles, or on wet surfaces in general. All control electronics and the motor are protected against water splashes.
Light and sound effects are glowing or flashing headlights, horns, sirens and the like. On some models they are switched on automatically, on others you activate them manually using the remote.
Turbo provides a sharp speed boost, delighting any the heart of any racing fan.
Hide description
Was this information useful?
This form is used only for evaluating the information in the description above.
If you have any question about our products, services, transport or any other request, please contact our customer support.
What should be improved? Is anything missing here? Is anything wrong? Share it with us.
Best Sellers
1.
LEGO Set for children, suitable from the age of 9 years, theme: Vehicle, launched in 2022, 772 piece(s)
2.
Remote Control Car - for boys and girls, electric DC engine, running time of 30 min on one charge, operating range: 20m, with on 4 rounds drive, features: LED lights, rubber tyres and 360° rotation, for use at home, need to buy 1piece(s) battery of type AA
3.
RC Model - suitable from 4 year(s), in package: model and remote control, model works with 4 batteries AA, controller works with 2 batteries AAA batteries are not included in the package
RC Models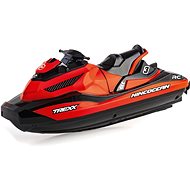 Nincocean Trexx 2.4GHz RTR
RC Models
In the category RC Models on Alza.cz, we currently have a total of 852 products, which you can easily buy online and get quickly delivered. See all of your purchases and make orders on our easy-to-use app.
Check out products sorted by price starting with the lowest price in the category cheap RC Models
Find products sorted from the most expensive to the cheapest in the category most expensive RC Models
Check out products sorted by price starting with the highest price in the category best sellers, best RC Models
You'll find products sorted by reviews starting from the highest ranked in RC Models reviews