Díky mobilním klimatizacem si doma i v horkých letních dnech nastavíte svou oblíbenou teplotu. Při výběru je důležité zohlednit způsob ovládání, spotřebu energie i design. Dobré je také se podívat na další funkce, jako například odvlhčování vzduchu, topení nebo větrání.
Continue
Výhody mobilních klimatizací
Energeticky úsporné
Lehké a přenosné, využitelné na cestách i v bytech
Ideální pro rychlé chlazení různých místností
Možnost volby z několika režimů – od chlazení po ventilátor
Některé mají vyjímatelný HEPA filtr, který vzduch čistí od plynu, prachu, bacilů a jiných mikročástic
K provozu stačí pouze zásuvka
Výkon a hlučnost klimatizace
Při výberu mobilní klimatizace svou pozornost zaměřte na výkon uvedený v parametrech. Obecně platí, že 8 watů výkonu klimatizace stačí pro 1 metr čtvereční. V parametrech klimatizací ale obvykle najdete informaci, pro jak velkou místnost je klimatizace vhodná. Čím je klimatizace výkonnější, tím může být hlučnější. Pokud tedy plánujete mobilní klimatizaci využívat také v místnostech určených ke spánku, doporučujeme si pohlídat, že hlučnost nepřevýší 60 dB.
Spotřeba energie mobilních klimatizací
Sledujte podíl chladicího výkonu a množství energie, které je potřebné k jeho dosažení. Tento podíl nazýváme EER a jeho vyšší hodnota značí vyšší energetickou účinnost. Podle energetické úspornosti mohou být klimatizace, stejně jako spousta ostatních domácích spotřebičů, rozdělená do tříd od G až po A, A+, A++ a A+++. Čím blíže je označení písmenu A, tím více klesá energetická náročnost. Spotřebič třídy A+++ vám může ušetřit až polovinu oproti spotřebiči z třídy A+.
Další užitečné funkce a vlastnosti
Topení – některé klimatice mohou fungovat také jako topení.
Časovač – využijete, pokud chcete plánovat spuštění a vypnutí klimatizace dopředu.
Odvlhčování vzduchu – hodí se do místností s vysokou vlhkostí, pomáhá proti plísním a vlhkým zdem.
Hide description
Was this information useful?
This form is for collecting Feedback Only. If you have any other inquiries, please our Customer Care team here.
Is something missing or displayed incorrectly? Let us know your suggestions so we can improve the website and customer experience.
Best Deals
1.
Air Conditioner mobile, power class A, cooling capacity 12000 BTU / hour, room size 20-30 m2, 2 functions
2.
Air Conditioner A, cooling / ventilating / dehumidifying, cooling power 3,2kW, easy installation, WIFI control, remote control, autorestart, eco refrigerant R290, automatic condensate evaporator, 24 hour timer, quiet mode, 3year warranty
3.
Air Conditioner - mobile with heating function, timer, leakage protection, autorestart, Wi-Fi - application control, 5 operating modes: cooling, heating, ventilator, dehumidification, auto, omnidirectional wheels, self-diagnostics, dehumidification, dust filter, display, energy class A+/A+ cooling/heating, cooling/heating power kW: 2,6/2,1, 9000 BTU, cooling range 17-30°C, dimensions (h x w) 955 x 388mm
Klimatizace
Zajistit si teplo nebo naopak příjemný chládek přesně podle vašich požadavků je mnohdy velmi nesnadné. A...
Věděli jste, že klimatizací se dá v zimě topit? I když to v našich končinách ještě není moc rozšířené...
Mobilní klimatizace bývá často efektivním a cenově dostupným řešením tam, kde není možné nainstalovat...
Letní dny jsou mnohdy velmi náročné, když se teploty pohybují nad hranicí 30 °C. V takovém případě...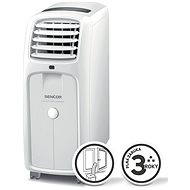 SENCOR SAC MT7020C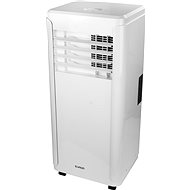 EUROM Polar 9001
Klimatizace
In the category Klimatizace on Alza.cz, we currently have a total of 18 products, which you can easily buy online and get quickly delivered. See all of your purchases and make orders on our easy-to-use app.
Enter product name
Note (link, Part number etc.):
Check out products sorted by price starting with the lowest price in the category cheap klimatizace
Check out products sorted by price starting with the highest price in the category best sellers, best klimatizace
You'll find products sorted by reviews starting from the highest ranked in klimatizace reviews