Cordless screwdrivers are ideal for less-demanding projects, such as minor repairs, occasional DIY, and assembling and installing furniture. Being battery operated, you can use them anywhere as long as they are charged. When choosing a cordless screwdriver, important parameters include weight, the number of speed settings, and the type of battery.

Continue
Weight - the lighter the screwdriver, the easier it is to operate
Number of speeds
One speed - suitable for less demanding work
Two speed - suitable for demanding work
Battery
Capacity - the higher the value in mAh / Ah, the longer the battery will last on one charge
Voltage (V) - higher voltage means more battery power
Battery type:
Li-Ion - the most widely used type; Li-Ion batteries are lightweight, high-capacity, and don't suffer from memory effect. They are found in more expensive models.
NiCd - excellent current-carrying capacity; mainly used in powerful cordless screwdrivers; suffers from memory effect.
NiMH - a compromise between Li-Ion and NiCd. They suffer less from memory effect than NiCd but have a lower capacity, whereas they are cheaper than Li-Ion batteries.
Hide description
Was this information useful?
This form is used only for evaluating the information in the description above.
If you have any question about our products, services, transport or any other request, please contact our customer support.
What should be improved? Is anything missing here? Is anything wrong? Share it with us.
Best Sellers
1.
Cordless Drill with hammer, 12 V, Li-Ion, maximum torque: 30 Nm, motor type: carbon, chuck range: 10 mm, package includes 2 × 2 Ah batteries, with carrying case
2.
Cordless Screwdriver - double activation mode, 5 levels of torque on the mechanical clutch, electronic brake
3.
Cordless Drill with hammer, 18 V, maximum torque: 42 Nm, motor type: carbon, chuck range: 13 mm, package includes 2 × 1,5 Ah batteries, with carrying case
Cordless Screwdrivers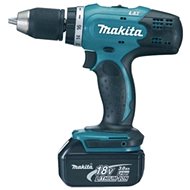 Makita DDF453RFE 18V, 2x3Ah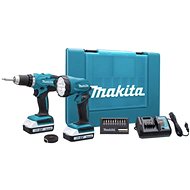 Makita DF457DWLX 18V, 2x1,3Ah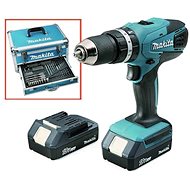 Makita HP457DWEX4 18V, 2x1.5Ah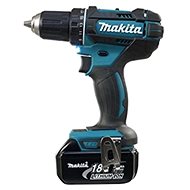 Makita DHP482RF 18V, 1x3Ah
Cordless Screwdrivers
In the category Cordless Screwdrivers on Alza.cz, we currently have a total of 143 products, which you can easily buy online and get quickly delivered. See all of your purchases and make orders on our easy-to-use app.
Enter product name
Note (link, Part number etc.):
Check out products sorted by price starting with the lowest price in the category cheap cordless Screwdrivers
Find products sorted from the most expensive to the cheapest in the category most expensive cordless Screwdrivers
Check out products sorted by price starting with the highest price in the category best sellers, best cordless Screwdrivers
You'll find products sorted by reviews starting from the highest ranked in cordless Screwdrivers reviews