Ochlazovač vzduchu je laicky řečeno něco mezi klimatizací a ventilátorem. Ochlazovač zvlhčuje a pomocí chladicí vložky ochlazuje vzduch, který rozhání do okolí pomocí ventilátoru. Naproti tomu klimatizace potřebuje k zajištění studeného vzduchu chladicí kapalinu. Jaké jsou výhody ochlazovače a jak jej vybrat?
Continue
Ochlazovač vzduchu vs. klimatizace – v čem je rozdíl?
Ochlazovač, někdy také označován jako klimatizace bez hadice, má přeci jen něco navíc. Některé modely mají i funkci topení či ohřívání vzduchu a většina z nich disponuje také ionizátorem či zvlhčovačem, který oproti klimatizaci vzduch zvlhčuje, čímž usnadňuje dýchání v letních dnech, chrání sliznici a brání tak i vysoušení pokožky. Před koupí je tedy také vhodné změřit vlhkost vzduchu zvlhčovačem. Pokud jsou hodnoty vlhkosti pod 45 %, je vhodné koupit ochlazovač, pokud jsou vyšší, je vhodnější pro ochlazení prostoru klimatizace.
Ve výběru ochlazovače vzduchu tápete a rádi byste dostali odpověď na některé otázky? Nechte se inpirovat například v následujícím rádic Jak vybrat mobilní klimatizaci?.
Na co se zaměřit při výběru chladiče vzduchu?
Výkon
Objem nádržky na vodu - určí dobu po kterou bude chladit
Funkce - spousta modelů umí jak ochladit vzduch, tak i slouží jako topení či čistič nebo zvlhčovač vzduchu
Chladič vzduchu se vyznačuje nižší hlučností a jeho provoz nás nevyjde tak draho, jako pořízení klimatizace do bytu. Jeden z důležitých prvků, podle čeho vybírat ochlazovač vzduchu do bytu je, jak velkou místnost chcete ochladit a o kolik stupňů by se měla ochladit. Od toho se pak odvíjí jeho výkon chladiče vzduchu. Obecně platí, že čím větší výkon, tím větší místnost vám mobilní ochlazovač vzduchu vychladí. Jednotlivé modely se liší jak výkonem, velikostí nádobky na vodu. Některé chladiče dokáží snížit teplotu místnosti i o 15 – 20 stupňů. Další výhodou je pro některé i to, že chladič vzduchu nezpůsobuje průvan, tak jako klimatizace či stropní ventilátor. Je možné ho přemisťovat. Najde si své využití i venku, zde je ovšem nutné dodržovat bezpečnostní opatření, která jsou uvedená v návodu.
Údržba ochlazovače vzduchu do bytu
Údržba ochlazovače vzduchu do bytu je velmi nenáročná. Prachový filtr a panel odpařování je při každodenní používání v běžném prostředí potřeba vyčistit jednou za týden, ovšem toto je velmi individuální a záleží na modelu ochlazovače. Pro zachování účinnosti panelu na odpařování se doporučuje tento vyměnit jednou za 3 roky, ovšem je opětovně nutné přihlédnout k danému modelu. Jeho cena se pohybuje v řádu stovek. Zásobník na vodu se dle potřeby doporučuje čistit jednou týdně a to běžným mycím prostředkem.
Hide description
Was this information useful?
This form is for collecting Feedback Only. If you have any other inquiries, please our Customer Care team here.
Is something missing or displayed incorrectly? Let us know your suggestions so we can improve the website and customer experience.
Best Deals
1.
Cooler 3 features fan/cooler air purifier, four speed fan, velocity airflow 320 m3/h, horizontal 75° oscillation, vertical oscillation of 90°, water reservoir 6l, castors, remote control, timer, possibility to use coolant
2.
Cooler - air cooler, 3 functions in one device: summer fan, humidifier, air cooler, switchable air humidifier function, humidifying/cooling circuit with water pump, 3 speeds (low, medium, high), remote control, automatic shutdown timer with remaining time indicator (1h, 2h, 4h, 8h), removable dust filter, removable 6l water tank
3.
Cooler air, ionization, air purification, fan with 3 speeds (low, medium, high), timer for automatic shutdown within 12 hours, touch control panel, remote control, room temperature indication, horizontal automatic lamella oscillation 60 °, filter from natural fiber filter, dust filter, water tank 4l, cool the room temperature by 3-4 ° C, automatic cool down in case of empty tank, power 65W, dimensions 225 × 245 × 1132mm, weight 5.3kg, maximum air flow speed 450m³ / min
Poslední léta jsou horká a často i velmi suchá. Slunce neúprosně svítí a rozpaluje vše kolem. Váš byt se...
Léto je již v plném proudu a s ním přišla i horka. Protože každým rokem jsou léta stále teplejší...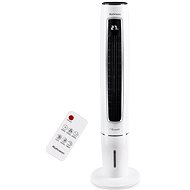 ROHNSON R-879 Levante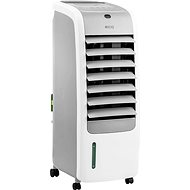 ECG ACR 5570
Ochlazovače vzduchu
In the category Ochlazovače vzduchu on Alza.cz, we currently have a total of 28 products, which you can easily buy online and get quickly delivered. See all of your purchases and make orders on our easy-to-use app.
Enter product name
Note (link, Part number etc.):
Check out products sorted by price starting with the lowest price in the category cheap ochlazovače vzduchu
Check out products sorted by price starting with the highest price in the category best sellers, best ochlazovače vzduchu
You'll find products sorted by reviews starting from the highest ranked in ochlazovače vzduchu reviews