Při výběru gramofonu byste si měli položit otázku, zda chcete pouze přehrávat desky, nebo si užít opravdu kvalitní zvuk. Pokud volíte druhou možnost, určitě byste neměli pořizovat model pod 4 tisíce Kč, ani multifunkční gramofon s reproduktory.
Continue
Základní typy gramofonů
Gramofon s reproduktory (vše v jednom)
Hodí se pouze pro nenáročné posluchače. Jsou vybavené vestavěným zesilovačem a reproduktory (nemusíte k nim dokupovat externí). Kromě přehrávání vinylových desek bývají také vybavené doplňkovými funkcemi, jako jsou například FM rádio, budík, hodiny a někdy jsou uloženy v kufříku pro snadné přenášení.
Hi-Fi gramofony
Mají jednoduchý, čistý design pro uložení na polici. Zpravidla umožňují vyměnit přenosku dle vašich preferencí a také hrají lépe než gramofony typu "vše v jednom". Musíte k nim však ještě dokoupit reproduktory, případně zesilovač či receiver. Záleží, co od gramofonu očekáváte. Pokud si doma chcete vytvořit kompletní Hi-Fi sestavu (soustava reproduktorů napojená na více přehrávačů), doporučujeme ke gramofonu dokoupit stereofonní zesilovač nebo receiver. V případě, že chcete poslouchat na slušné úrovni z vícekanálového AV receiveru, poohlédněte se po přístroji od 20 000 Kč. K zesilovači nebo receiveru pak připojte jakékoli pasivní reproduktory.
V případě, že chcete poslouchat jen vinyly, je vhodným řešením koupě aktivních reproduktorů (ve většině případů dokáží přijímat signál pouze z jednoho nebo dvou zdrojů, což může být omezujícím faktorem při budoucím rozšiřování Hi-Fi sestavy).
Gramofony pro DJe
Jsou uzpůsobené pro náročné zacházení a skrečování. Základem je přímý náhon a motor se silným krouticím momentem. K maximálnímu využití gramofonu pro DJe budete potřebovat ještě mixážní pult, ke kterému pak připojíte studiové monitory.
| | | |
| --- | --- | --- |
| | | |
| Vše v jednom (s reproduktory) | Hi-Fi | Pro DJe |
Na co dalšího se při výběru gramofonu zaměřit
Ovládání gramofonu
Manuální – zahájení i ukončení přehrávání je na vás. Gramofon se nevypíná ani na konci desky a otáčí se, dokud jej nevypnete sami. Tento systém využívají drahé Hi-Fi přístroje.
Poloautomat – na konci desky se gramofon vypne nebo se zvedne raménko, případně se raménko gramofonu vrátí do základny. Na vás je tedy pouze zahájení přehrávání a spuštění raménka na desku.
Automat – po vložení desky stačí stisknout tlačítko přehrávání a gramofon již vše zařídí za vás. Někdy je k dispozici také funkce "repeat" pro automatické opakování celé strany desky.
Gramofonová přenoska
Přenoska se stará o rekonstrukci zvuku z drážky desky. Je jednou z nejdůležitějších součástí gramofonu a její kvalita se přímo projevuje ve výsledném zvuku. Při výběru alternativní přenosky je nutné vždy dodržet rozsah hmotnosti a přítlaku pro konkrétní raménko.
Piezoelektrická přenoska (keramická/krystalová – do 500 Kč) – nejčastěji u gramofonů typu "vše v jednom" a velmi levných řešení. Nabízí nižší zvukovou kvalitu (frekvenční rozsah cca 50 – 10 000 Hz) v porovnání s MM/MC. Vyžaduje také až 3krát větší tlak hrotu, čímž zvyšuje opotřebení desky. Někdy je navíc fixně spojena s raménkem, což znemožňuje výměnu v případě opotřebení přenosky.
Elektromagnetická (MM/MC – od 500 Kč) – nejpoužívanější je MM (s pohyblivým magnetem), která nabízí výborné zvukové vlastnosti při příznivé pořizovací ceně a pokrývá srovnatelný, nebo i širší frekvenční rozsah než hudební CD (cca 20 - 20 000 Hz). Varianta MC (s pohyblivou cívkou) je určena pro "fajnšmekry" a zvukový přínos je znát pouze se špičkovým předzesilovačem a odpovídající Hi-Fi sestavou v ceně desítek tisíc korun.
Frekvenční rozsah přenosky udává, jaké frekvence (kmitočty) dokáže přenoska sejmout z drážky gramofonové desky a následně je předat zesilovači či aktivní reprosoustavám. Mladý člověk do 30 let slyší frekvence v rozsahu 20 – 20 000 Hz, krajní frekvence však velmi potichu, s vyšším věkem se tento útlum okrajů (basů/výšek) zvětšuje.
Gramofonový předzesilovač
Elektromagnetické přenosky (MM/MC) vytvářejí zvukový výstup s relativně nízkým napětím (cca 3,5-10 mV u typu MM a 0,1-0,3 mV u MC) a běžný analogový (linkový) vstup vyžaduje minimálně 200 mV, proto musí být mezi těmito typy přenosek a zesilovačem nebo aktivními repro ještě předzesilovač. Předzesilovač (v zesilovači, gramofonu nebo samostatný) musí umět spolupracovat s přenoskou osazenou v gramofonu. Veškeré předzesilovače dokáží zesílit signál z přenosek MM, kvalitnější pak i z typu MC (předzesilovač Phono MM/MC). Gramofony s piezoelektrickou přenoskou předzesilovač nepotřebují a připojíte je do jakéhokoli analogového vstupu zesilovače nebo aktivních reprosoustav (line-in/AUX/CD/DVD apod.).
Jakým způsobem může být řešený předzesilovač gramofonu
Gramofon s předzesilovačem – připojíte k libovolnému zesilovači, AV receiveru či aktivním reproduktorům.
Gramofon s vypínatelným předzesilovačem – umožňuje použití externího předzesilovače i vestavěného v gramofonu. Předzesílený výstup je označován jako "Line" a neupravený signál přenosky přenosky jako "Phono".
Gramofon bez předzesilovače – jedná se zejména o Hi-Fi modely, u kterých se počítá s použitím kvalitnějších stereofonních zesilovačů/receiverů s vestavěným předzesilovačem či použitím samostatně prodávaných předzesilovačů nejvyšší kvality.
| | | |
| --- | --- | --- |
| | | |
| Zesilovač se vstupemPhono MM/MC | Zesilovač se vstupemPhono MM | Zesilovač bez vstupu Phono |
Náhon gramofonu
Řemínkem – využívá se u gramofonů pro domácí poslech, ať už se jedná o cenově dostupné modely, nebo Hi-Fi výrobky. Pokud je motor dokonale oddělen od šasi gramofonu (ideálně uložen zcela mimo talíř), přináší to výhodu minimálního přenosu vibrací na desku. Řemínek ale musíte jednou za čas vyměnit.
Přímý (středový motor) – využívá se zejména u gramofonů pro DJe, kde je kvůli přesnému řízení otáček, silnému krouticímu momentu pro skrečování a jemnému nastavení různých parametrů jediným použitelným řešením. Naleznete jej i u některých gramofonů pro domácí poslech.
Raménko gramofonu
Rovné – drží lépe v drážce desky než zahnuté, zvukově za ním však ve většině případů zaostává.
Zahnuté nebo dvojitě zahnuté (esovité) – umožňuje lepší nastavení snímacího úhlu, výborně kopíruje drážku desky a poskytuje lepší zvuk než rovné. U poškrábaných desek horší kvality může vyskočit z drážky.
| | | |
| --- | --- | --- |
| | | |
| Esovité raménko garantuje nejlepší zvuk | Jednoduše zahnuté raménko | Rovné raménko drží nejlépe v drážce desky |
Nejpoužívanější rychlosti otáček a formáty vinylových desek
Veškeré v současnosti vydávané desky jsou určeny pro rychlost přehrávání 45 nebo 33,3 otáčkami za minutu a obě tyto rychlosti podporují všechny gramofony v naší nabídce. Rychlost přehrávání 78 ot./min. vyžadují pouze staré šelakové desky, jejichž výroba skončila v 60. letech.
Průměr desky
Rychlost otáček
Typ
12" (30 cm)
33,3 ot./min.
45min LP (dlouhohrající deska)
45 ot./min.
12" single, maxi single
10" (25 cm)
33,3 ot./min.
LP

(dlouhohrající deska)

78 ot./min.
3min deska (*vyžaduje speciální jehlu)
7" (17,5 cm)

45 ot./min.

Single

45 ot./min.

Rozšířený single (EP - extended play

)
*Pokud gramofon podporuje rychlost 78 ot./min., neznamená to, že byste mohli bez jakékoli změny pouštět desky s rychlostí 33/45 a 75 ot./min. Ve většině případů pro přehrávání rychlostí 78 ot./min. musíte zakoupit a nainstalovat speciální přenosku nebo minimálně vyměnit jehlu (kvůli jiné šířce drážky na vinylech pro rychlost 33/45 a 78 ot./min.).
Doplňující funkce gramofonu
USB a slot pro SD karty – slouží pro spojení s počítačem, připojení flash disků nebo SD karet a digitalizaci vinylů (záznam/nahrávání vinylů do formátu MP3). Někdy také pro přehrávání skladeb MP3 nebo ripování (nahrávání) z CD do formátu MP3.
Bluetooth – pro poslech bezdrátovými reproduktory nebo sluchátky.
FM tuner – ladění a poslech oblíbených rádiových stanic.
CD/kazetová mechanika – pro přehrávání audiokazet, klasických optických nosičů Audio CD a případně i MP3 CD.
Dálkové ovládání – může sloužit k obsluze přehrávání CD, rádia apod. u gramofonů typu "vše v jednom".
Hide description
Was this information useful?
This form is for collecting Feedback Only. If you have any other inquiries, please our Customer Care team here.
Is something missing or displayed incorrectly? Let us know your suggestions so we can improve the website and customer experience.
Best Deals
1.
Turntable - retro, with integrated radio, FM/AM tuner, 33/45/78 speed, integrated speakers, headphone output
2.
Turntable - USB port with MP3 playback - convert vinyl into MP3, can be uploaded to USB
3.
Turntable built-in speakers, 5W power, USB PC output, integrated stereo amplifier, 33/45/78 rpm speed, turntable turn off, headphone jack, RCA line output
Gramofony
The largest consumer electronics trade fair in the world, CES 2018, is behind us. Many companies have...
Gramofony poslední roky zažívají po desítkách let útlumu nebývalý rozkvět. Proč gramofony zmizely ze scény...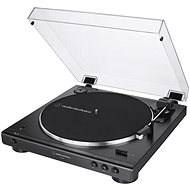 Audio-Technica AT-LP60XBTBK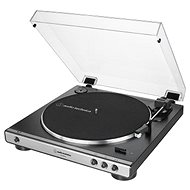 Audio-Technica AT-LP60XUSBGM
Gramofony
In the category Gramofony on Alza.cz, we currently have a total of 131 products, which you can easily buy online and get quickly delivered. See all of your purchases and make orders on our easy-to-use app.
Enter product name
Note (link, Part number etc.):
Check out products sorted by price starting with the lowest price in the category cheap gramofony
Check out products sorted by price starting with the highest price in the category best sellers, best gramofony
You'll find products sorted by reviews starting from the highest ranked in gramofony reviews