Like any other car component, tires require proper care and maintenance to ensure their safety and long lifespan. You need to maintain the optimum tire pressure, store them away properly off-season, and watch out for any defects.
Continue
Car tire and wheel accessories
Hide description
Was this information useful?
This form is used only for evaluating the information in the description above.
If you have any question about our products, services, transport or any other request, please contact our customer support.
What should be improved? Is anything missing here? Is anything wrong? Share it with us.
Best Sellers
1.

Kompresor , max. pressure 10,3bar
2.
Repair Kit - for emergency repair of common tire treads, ergonomic needle, fork fork, 5 pcs of repair wicks, cement based adhesive - from 10,21 Kč/pcs
3.
Jack - hydraulic mobile, load capacity of 2500kg, lifting range: 85-385mm, weight: 12kg
+ FREE Car Moisture Absorber SIXTOL worth 129,-
Tyre Accessories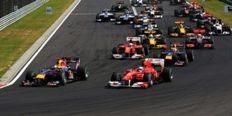 The end of July this year the Hungaroring circuit will host the Grande Prix Formula 1 races. Go to this...
Tyre Accessories
In the category Tyre Accessories on Alza.cz, we currently have a total of 997 products, which you can easily buy online and get quickly delivered. See all of your purchases and make orders on our easy-to-use app.