V zájmu bezpečné jízdy a zachování dobrého stavu pneu je třeba o letní i zimní pneumatiky řádně pečovat. Je například nutné pneumatiky pravidelně dohušťovat, kontrolovat jejich opotřebení a vždy počítat s případnou opravou pneumatiky po defektu či jiném poškození. Zjistěte více o náčiní pro údržbu a opravu pneu.
Continue
Kryty kol
Poklice na kola ochrání disky před škrábanci a oděrkami, navíc okoření celkový vzhled vašeho vozu a dodají mu potřebnou eleganci. Kryty na kola nabízejí rychlou a snadnou instalaci i demontáž.
Vylepšují vzhled auta.
Chrání kola při parkování podél patníků nebo před odlétávajícími kamínky.
Měřiče tlaku pneumatik
Měřič tlaku pneu vám umožní snadno zkontrolovat tlak v pneumatikách. Správný tlak v pneu zvyšuje bezpečnost jízdy zkrácením brzdné dráhy a snižuje opotřebení. Měřič tlaku pneu pořídíte jak analogový s ručičkou, tak i digitální s podsvíceným displejem. K dispozici je také měřič tlaku pneu s funkcí měření hloubky dezénu.
S jeho pomocí zjistíte, zdali je potřeba pneumatiky dohustit.
Pokročilejší tlakoměr pneu změří, zda je hloubka dezénu pneumatik dostatečná, či nikoli.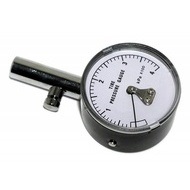 Analogový měřič tlaku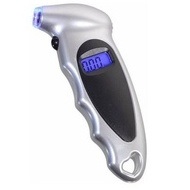 Digitální měřič tlaku
Stojany a obaly na pneumatiky
Stojany a obaly na pneumatiky vám poslouží k pohodlné manipulaci s pneumatikami a k jejich uložení, když je zrovna nevyužíváte. Než si pořídíte ochranný obal na pneumatiky nebo držák disků kol, zjistěte si maximální vnější průměr a šířku vašich pneumatik.
Umožňují správné skladování nepoškozující pneumatiky.
Chrání pneu před vnějšími vlivy.
Šetří prostor a zjednodušují manipulaci.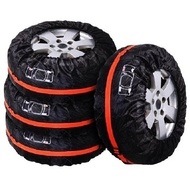 Obaly na pneu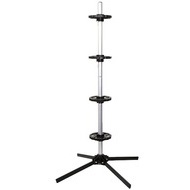 Stojan na pneu
Stojany na pneumatiky
Stojan na pneumatiky vám výrazně uspoří místo při jejich skladování a zabrání poškození, které může nastat při obyčejném navrstvení pneumatik do komínku. Existuje i pojízdný stojan na pneumatiky, díky kterému docílíte ještě pohodlnější manipulace s pneu. Pokud stojan nepoužíváte, můžete jej složit a uklidit.
Obaly na pneumatiky
Obal na pneumatiky chrání pneu před nečistotami či nestabilními vnějšími teplotami a umožňuje manipulovat s pneumatikami bez zašpinění. Je možné pořídit samostatné návleky na jednotlivé pneumatiky nebo obal na celou sadu pneumatik o čtyřech kusech.
Opravné sady na pneu
Opravná sada pneu výborně poslouží k rychlé opravě propíchnuté či jinak lehce poškozené pneumatiky. Existují sady pro opravu pneu knotem, s nímž defekt utěsníte, nebo lepící sady na opravu pneu s kompresorem, umožňující opakované použití. Ve výbavě auta nebo motorky by také neměl chybět sprej na opravu pneu.
Umožňují rychlou opravu pneumatik bez demontáže kola.
Šetří finance za opravy pneu v profesionálních servisech.
Nezaberou téměř žádné místo v kufru auta.
Klíče na kola
Klíče na kola se používají při povolování nebo utahování matic kol aut. Klíč na kola automobilů je součástí povinné výbavy každého vozidla. Vybrat si můžete křížový klíč na kola nebo teleskopický klíč, který poskytuje lepší páku při práci.
Klíče na kola nabízí nástavce na šrouby různých velikostí.
Vhodné do domácností i profesionálních dílen.
Hevery
Hevery pod auto jsou určeny k nadzvednutí automobilu při výměně kola, nebo při provádění jiných oprav na vozidle.
Hydraulický zvedák
Hydraulické hevery využívají ke zvedání vozidla metodu pumpování. Hydraulický hever bývá těžší, pro lepší manipulaci je však obvykle vybaven kolečky.
Nůžkový zvedák
Nůžkové hevery vozidlo zvedají pomocí utahování závitu šroubu. Nůžkový hever je skladnější, jeho obsluha je však složitější.
Podpěry pod auto
Podpěry pod auto zajistí automobil v požadované výšce a umožní vám bezpečně provádět servisní úkony na vozidle.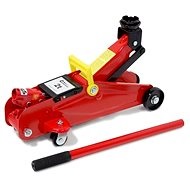 Hydraulický zvedák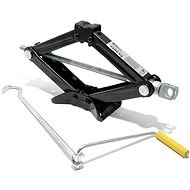 Nůžkový zvedák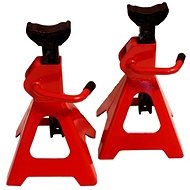 Podpěry
Kompresory
Kompresory slouží především k nahušťování pneumatik vozidel. Použít je ovšem můžete i k nafouknutí či vyfouknutí objemnějšího rekreačního vybavení. Pro použití na cestách zvolte kompresor do auta, který je možné napájet z automobilového zapalování. Pro nafukování bazénu doporučujeme kompresor s napětím 230 V.
Ušetří vám cestu na pumpu při potřebě dohustit pneumatiky automobilu.
Zrychlí také proces nafukování sportovního nebo rekreačního vybavení.
Pumpičky
Pumpičky, ať už jde o dílenské pumpy nebo cestovní pumpičky, vám dobře poslouží při nafukování pneumatik jízdních kol, a také při akutní potřebě naplnit vzduchem pneumatiky automobilu či motocyklu. Nabízí se ruční pumpičky nebo elektrické pumpy, které je však nutné čas od času nabít zapojením do zásuvky.
Pumpičky jsou pro dobrou skladnost vhodné na cesty.
Adaptéry pumpiček vám umožní pohodlně nafoukat pneumatiky kol či automobilů, matrace, míče nebo bazény.
Praktický integrovaný manometr vám ukáže tlak v pneumatikách.
Sněhové řetězy
Sněhové řetězy pomáhají v zimním období zdolávat sněhem zaváté silnice a zajišťují stabilitu vozidla při jízdě po zledovatělé cestě. Vybrat si můžete kovové sněhové řetězy s dlouhou životností a výbornou funkčností nebo textilní sněhové řetězy, které nejsou tolik hlučné a lze je použít i u sportovních automobilů.
Zvyšují tření pneumatik na ledě.
Zlepšují záběr vozidla na sněhu.
i
Pro pohodlnější používání je možné zvolit také automatické sněhové řetězy, které nabízejí snadné nasazení pomocí dálkového ovladače.
Rázové utahováky
Rázové utahováky ušetří manuální námahu při utahování nebo povolování šroubů během výměny pneumatik. Uplatnění najdou nejen v pneuservisech, ale i domácích dílnách a garážích. Rázové utahováky se kromě zdroje energie liší krouticím momentem, počtem otáček, hmotností a s tím spojenou náročností obsluhy.
Aku rázové utahováky
Aku utahováky nabízí slušný výkon a nízkou hmotnost bez nutnosti připojení k elektrické síti nebo kompresoru.
Elektrické rázové utahováky
Elektrické utahováky se vyznačují vyšším výkonem za dobrou cenu, nevýhodou je vysoká hmotnost a nutnost pevného připojení k elektrické síti.
Pneumatické rázové utahováky
Pneumatické utahováky jsou vhodné pro každodenní práci, mají nejvyšší výkon a nízkou hmotnost, musí však být neustále připojeny k dostatečně výkonnému kompresoru.
Hide description
Was this information useful?
This form is for collecting Feedback Only. If you have any other inquiries, please our Customer Care team here.
Is something missing or displayed incorrectly? Let us know your suggestions so we can improve the website and customer experience.
Best Deals
1.
Compressor - car portable compressor
2.
Jack - jack designed for demanding use in the automotive industry. Its very low profile allows access to sports cars and a reduced chassis, lifting range: 80 - 365mm, max weight 2.5t, weight 12kg
3.
Car Care Products for emergency repair of common tire treads, ergonomic needle, fork fork, 5 pcs of repair wicks, cement based adhesive
Vše pro přezutí
Cesta na dovolenou autem do Chorvatska je přes léto docela oříšek. Přinášíme vám několik tipů a variant...
Jaro je tu a s ním teplejší počasí, které přeje motoristům. Věnujte svému vozu jedno odpoledne a očistěte...
STK je pro mnohé rutinou, pro majitele starších aut a motocyklů ale často strašákem. Abyste se při...
S příchodem zimního období nastává motoristům povinnost výměny pneumatik. Můžete zajet do pneuservisu...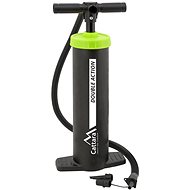 Cattara DOUBLE Hand pump 2x2000 cm3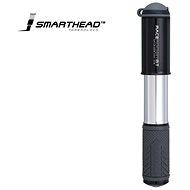 Topeak Race Rocket MT černá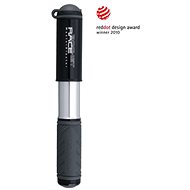 Topeak Race Rocket černá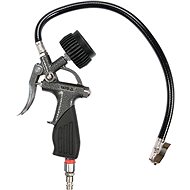 YATO 6 Bar Tyre Pressure Meter
Vše pro přezutí
In the category Vše pro přezutí on Alza.cz, we currently have a total of 350 products, which you can easily buy online and get quickly delivered. See all of your purchases and make orders on our easy-to-use app.
Enter product name
Note (link, Part number etc.):