Make your life easier and control your home appliances from your smartphone or tablet. Make a cup of morning coffee from your bed, lower the oven temperature while shopping, or turn on the washing machine while you are going home from work. And that's not all. Want to learn more?
Continue
What are smart appliances?
Smart appliances are appliances that can be connected to a phone or tablet via WiFi and the right app. You can then keep an eye on them and control them remotely. Smart appliances can also alert you if there is anything you should know.
Smart appliance control apps are most commonly available for Android and iOS.
What smart appliances are there?
The selection of smart appliances is growing constantly. At the moment, you can buy the following appliances:
Large appliances: Washing machines, dishwashers, refrigerators, and ovens.
Small appliances: Coffee machines and vacuum cleaners.
What can smart appliances actually do?
These appliances boast a number of features and options. It always depends on the model and app. Here are some common examples:
Smart washing machines - you can remotely set the wash cycle, water temperature, speed, and monitor the washing progress.
Smart dishwashers - the app may recommend you the most suitable program and you can remotely switch on the dishwasher, control of the washing process, and see how many tablets you have left.
Smart refrigerators - temperature control, function control, remote view of the refrigerator contents using an integrated camera.
Smart ovens - monitor the baking process or perform the program or temperature change remotely.
Smart coffee makers - coffee preparation including program selection.
Smart vacuum cleaners - initiate cleaning or take over the robot vacuum cleaner and drive it like a toy car.
What app should I use to control my smart appliance?
Each and every manufacturer uses its own control app or builds its own ecosystem where, with a single app, the user can control a variety of smart appliances from that particular manufacturer.
i
The Home Connect platform brings together electronics manufacturers and enables users to communicate with smart appliances from multiple brands. Currently, this platform is compatible with smart appliances made by Bosch and Siemens. Other partners include Amazon Alexa, Nest, and IFTTT.
Hide description
Was this information useful?
This form is used only for evaluating the information in the description above.
If you have any question about our products, services, transport or any other request, please contact our customer support.
What should be improved? Is anything missing here? Is anything wrong? Share it with us.
Best Sellers
1.
Steam Washing Machine - with front loading, energy efficiency class: A, washing machine capacity (ECO program 40-60 °C): 9kg, weighted energy consumption: 49 kWh/100 cycles, weighted water consumption per cycle: 50l, main functions: steam programme, inverter motor, automatic weighing, delayed start, fast programme, display, adding laundry during washing, control via mobile phone, child protection and audible signal at end program, special technology: Eco Bubble and AddWash, white colour, size: 60 × 85 × 55cm (W × H × D), weight: 67kg
2.
Automatic Coffee Machine - pressure: 19 bar, automatic shutdown, cappuccino and latte, display, hot water function, smart, milk system, cup heater, adjusting coffee amount, adjusting water amount, decalcification, with a steam jet, prepares two cups at once, energy saving mode and self-cleaning system, 2l water reservoir, power: 1450W, width: 26cm, height: 36,1cm, depth: 46,9cm, weight: 11kg, silver colour
3.
Built-in Dishwasher standard (60cm), built-in and fully integrated, energy efficiency class C, place settings (ECO programme): 13×, noise emissions: B, cutlery drawer, delayed start, dry autoopen, aqua stop, adjustable baskets, display, water sensor, aquastop, full sensor, warm water connection, quick wash, info projection on the floor, heat exchanger, extra drying and half load, height 81.5 cm, width 59.8 cm, height 55 cm, the door is not included in the package
Smart Appliances
Zabezpečovací systém iGet Security je dostupný, jednoduše se používá a hlavně vám nabídne vysokou úroveň...
Chytrý hlasový asistent do domácnosti se může hodit opravdu každému. Pomůže připomenout důležité události...
The world's largest consumer electronics trade show, CES 2022, is over. In this article, you will find an...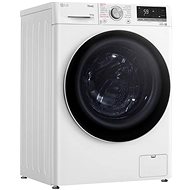 LG FA104V5URW0
HOOVER HOCE7T618DW
Smart Appliances
In the category Smart Appliances on Alza.cz, we currently have a total of 582 products, which you can easily buy online and get quickly delivered. See all of your purchases and make orders on our easy-to-use app.
Enter product name
Note (link, Part number etc.):