The iPad is a sleek tablet-like device belonging to the Apple family of portable devices. It boasts a fine-tuned operating system, industry-leading performance and many great features. Which Apple iPad is right for you? Read on for advice.
Continue
Apple iPad – The Tablet According to Cupertino
Apple's iPad ranks between iPhone and MacBook in size and design. It is still a portable device, but it offers a larger screen compared to the iPhone. To what does the iPad owe its popularity?
iPads have always ranked among the most powerful tablets ever. So you can rely on maximum performance.
iPad fits perfectly into the Apple ecosystem. Lightning synchronisation between devices is a matter of course.
The AppStore offers countless apps and games. A large portion of the apps is also completely free.
Do you like to buy and change covers, foils or packaging? Then iPad's huge range of accessories makes it the obvious choice.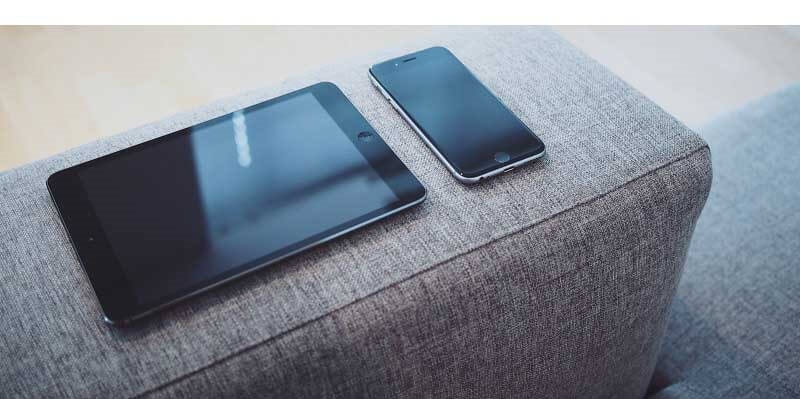 Which iPad to Choose?
If you've decided on an iPad, now all you have to do is choose the right option. But how not to get lost in the wide range of models? Learn how iPad, iPad mini, iPad Air and the latest generation of iPad Pro are different.
iPad Air M1 (2022) Delivers Maximum Performance
iPad Air M1 (2022) is the first device in the Air family to feature Apple's M1 chipset. Combined with 8GB of RAM, it's a real advancement for the series and iPad tablets in general. With its 10.9″ Retina display, it's good for just about anything, even working with 3D graphics programs.
iPad 2021 Is a Great All-rounder
iPad 2021 is the perfect device for work, school and play. The machine features a 10.2″ Retina touchscreen display, supports the handy Apple Pencil digital pen, and you can connect a Smart Keyboard if you want. Together with its long battery life (up to 10 hours), it is a versatile device for any activity.
iPad mini - the Smallest
iPad mini The latest generation is a compact device with enough power for all your daily tasks. With its 8.3″ display, it's Apple's smallest tablet, but it's no match for its larger siblings in terms of performance.
iPad Air 2020
iPad Air 2020 brings a redesigned bezel-less design that includes a 10.9″ Retina display with a high resolution of 2360 x 1640 px and True Tone technology. Other great new features include the deployment of a USB-C connector, Touch ID or the supercharged A14 Bionic processor.
You can connect a variety of accessories to your Apple iPad Air 2020 with the connector on the back. In addition, it supports an external monitor with up to 4K resolution.
iPad Pro Will Please Even the Most Demanding Users
iPad Pro is an uncompromising tablet for professionals. It is available in two versions – sizes 11″ a 12,9″. The latest generation also hosts the Apple M1 chipset, which is perfect, especially for graphics.
Apple iPad tablet comparison table
Beliefs
iPad Air M1 (2022)
iPad 2021
iPad mini
iPad Air 2020
iPad Pro M1
Processor
Apple M1
A13 Bionic
A15 Bionic
Apple M1
A14 Bionic
Screen size
10,9″
10,2″
8,3″
10,9″
12,9″/11″
Display resolution
2360 × 1640 px
2160 × 1620 px
2266 × 1488 px
2360 × 1640 px
2732 × 2048 px
2388 × 1668 px
Back camera
12 Mpx
8 megapixels
12 Mpx
12 Mpx
12+10 Mpx
Front camera
12 Mpx
12 Mpx
12 Mpx
7 megapixels
12 Mpx
Colour variants
Grey, white, pink, purple, blue
Grey, silver
Grey, white, pink, purple
Grey, silver, pink, blue, green
Grey, silver
i
iPad and storage capacity
If you're choosing an iPad, don't forget to think about the internal storage capacity. All variants of the tablet (standard, mini, Air and Pro) are available with different capacities.
Apple iPad 2021 is available in 64GB or 256GB capacities.
Apple iPad mini 6th generation can be 64GB or 256GB.
Apple iPad Air is offered with the same internal memory as previous models.
Apple iPad Pro M1 is available with 128GB up to 2TB (2048GB) of memory.
Apple Pencil – a new level of tablet control
Apple Pencil is a stylus (digital screen pencil) that lets you conveniently jot down ideas, thoughts, take notes or draw. The Apple Pencil is compatible with iPad, iPad mini, iPad Air and iPad Pro.
What Interesting Features Does the iPad Bring?
iPad is packed with exclusive features you won't find on other tablets. What are the most interesting ones?
Touch ID is a fingerprint scanner that brings an extra layer of security to your iPad.
Apple iPad displays allow for multi-touch control, i.e. multi-touch gestures.
Retina displays also offer higher pixel density and resolution than conventional displays.
iPadOS offers many useful features. Dock, split-screen or Spotlight to name a few.
Looking for elegant accessories for your Apple iPad? Take a look at Apple accessories.
Are Older Generations of iPad Worth It?
Looking for a cheaper iPad tablet? Try the older generations. With timeless performance and perfect optimization, Apple iPad 2019, Apple iPad Air 2019, Mini 4th Generation, and older generation Pro versions are still more than capable devices that meet all your needs.
Hide description
Was this information useful?
This form is used only for evaluating the information in the description above.
If you have any question about our products, services, transport or any other request, please contact our customer support.
What should be improved? Is anything missing here? Is anything wrong? Share it with us.
Best Sellers
1.
Tablet - display: 10,2" QHD 2160 × 1620 Retina, Apple A13 Bionic, internal memory: 64GB, Wi-Fi, Bluetooth, webcamera 8Mpx+ 12Mpx, battery life up to 10hr(s), weight: 490, Lightning connector, iPadOS
2.
Tablet - display: 10,2" QHD 2160 × 1620 Retina, Apple A13 Bionic, internal memory: 64GB, webcamera 8Mpx+ 12Mpx, weight: 490, Lightning connector, iPadOS
3.
Tablet - display: 11" QHD 2388 × 1668 Liquid Retina, Apple M1 with 8-core GPU, RAM: 8GB, internal memory: 128GB, webcamera 12Mpx, weight: 466, USB-C, iPadOS
iPad
Honor představil variantu svého letošního modelu X8, a to X8 5G. Jak již doplněk 5G napovídá, novinka chce...
Honor 70 je novinkou populárního čínského výrobce pro rok 2022. Jde o telefon určený pro střední třídu...
Realme GT 2 Pro je telefon, který už na první pohled zaujme přívětivou cenovkou a výbornými parametry. O...
CAT S53 je vysoce odolný telefon se zajímavou výbavou. Špatně na tom není ani výkon, přičemž podporuje i...
iPad
iPad is a tablet computer, i.e. a mobile computer with a multi-touch screen, designed and marketed by the American company Apple. Following the great success with iPods and iPhones, the company developed yet another revolutionary device which has been setting the trend in the field of personal computers ever since. Many generations of iPad are available, including iPad Mini and iPad Air, and interest remains relentless.
The Power of the Apple
If you're a fan of Apple and looking for a tablet, you're in the right place. Equipped with the powerful iOS operating system, iPads provide incomparably fast and smooth performance through and through – enjoy Apple's original approach which fascinates millions of satisfied customers all around the world. In our wide range of Apple products, you can choose between compact-sized iPad Mini and the newest iPad Air featuring stunning image quality with a built-in Retina display. Thanks to the immense popularity of Apple worldwide, there is a vast selection of accessories of different colors and styles that you can use to upgrade your precious device.
Revolutionary Device
One might object that iPad brings virtually no technological innovation and is just a larger version of iPhone. Some of these objections have a valid point – iPad uses the same easy-to-use operating system and responds and looks as good as iPhone, but that's hardly a disadvantage, is it? iPads accomplished the goal that had been set by Apple, which is plugging the gap between smart phones and notebooks.

Those who want a stylish and portable device to surf the internet, read news and books, view photos, and play multimedia will be absolutely satisfied with iPad. Even playing games is much more intuitive and enjoyable than ever before thanks to a large multi-touch screen and a built-in gravity sensor. So iPads' similarity with iPhones is actually a good thing, as Apple always combines the best features of their devices to deliver an unforgettable experience, and what's more, all the Apple products work seamlessly together.
Specifications and Equipment
The main parameters are similar for iPads of all generations (not iPad mini) – the capacitive touch screen supports multi-touch gestures, has a LED-backlit display with a diagonal of 9.7" (almost 25cm) in a classic 4:3 format, and the models with built-in Retina displays deliver a stunning 2048x1536 resolution. With dimensions of 24x17cm and a thickness of 0.6cm, iPads provide an ideal compromise between a sufficient size of display and easy mobility. Weighing 440g and lasting up to ten hours on a single charge, you can use your iPad everywhere. Needless to say, all the models include integrated WiFi cards for easy internet access. iPads come in different memory sizes such as 16, 32, 64, or 128GB.
Was this information useful?
This form is used only for evaluating the information in the description above.
If you have any question about our products, services, transport or any other request, please contact our customer support.
What should be improved? Is anything missing here? Is anything wrong? Share it with us.
Enter product name
Note (link, Part number etc.):
Check out products sorted by price starting with the lowest price in the category cheap iPad
Check out products sorted by price starting with the highest price in the category best sellers, best iPad
You'll find products sorted by reviews starting from the highest ranked in iPad reviews