Was this information useful?
This form is for collecting Feedback Only. If you have any other inquiries, please our Customer Care team here.
Is something missing or displayed incorrectly? Let us know your suggestions so we can improve the website and customer experience.
Best Deals
1.
Building Kit for boys, suitable for children older than 10 year(s), contains 541 pieces, MindStorms LEGO range
2.
Building Kit for boys and girls, suitable for children older than 14 year(s), contains 1969 pieces, Exclusives LEGO range
3.
Building Kit for boys, suitable for children older than 16 year(s), contains 1471 pieces, Creator Expert LEGO range
LEGO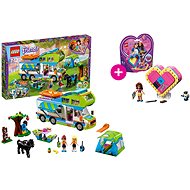 LEGO Friends 41339 Mia and LEGO 41357 Olivia's Heart Box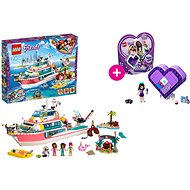 LEGO Friends 41381 Lifeboat and LEGO 41355 Emmina Heart Box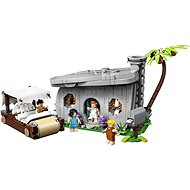 LEGO Ideas 21316 Flintstone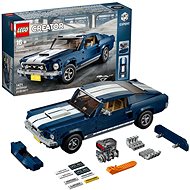 LEGO Creator Expert 10265 Ford Mustang
LEGO
LEGO dělá radost dětem i dospělým již od roku 1949. Tehdy spatřila světlo světa první LEGO kostka. Za jejím stvořením stojí otec a syn Ole a Godtfred Christiansenovi. Myslíte si, že hned sklidili úspěch a způsobili revoluci ve světě dětské zábavy?
LEGO a jeho těžké začátky
Prodej byl mizivý a spousty kostek prodejci vraceli zpět. Trendům vládly dřevěné hračky a nebylo snadné se z něj vymanit. O pár let později přišli výrobci s novým, vylepšeným prototypem LEGO kostek. Jejich zaklapnutí do sebe bylo jednodušší, kostičky menší a barevnější. Postupně začaly získávat na popularitě a staly se celosvětovým hitem.
Význam slova LEGO
Přemýšleli jste někdy, co vlastně slovo "LEGO" znamená? Není to jméno jednoho z majitelů, ani zkratka pro "Let's go". Ve skutečnosti jde o spojení dvou dánský slov "Leg" (hrát si) a "Godt" (dobře), tedy něco jako "dobře si hraj". Název lze interpretovat i z latiny jako "dávám dohromady".
Výroba LEGO
A víte, kolik LEGO kostek se za rok přibližně vyrobí? Ne? My to také neuhodli. Zní to až neuvěřitelně, ale jedná se přibližně o dvacet miliard kostiček, tedy 600 dílků za sekundu.
Řady stavebnic LEGO
LEGO DUPLO
Kostky pro ty nejmenší caparty od 1,5 roku. Díky dvakrát větším dílkům jsou ideální do drobných dětských ručiček. Napomáhají rozvoji dovedností vašich dětí a hlavně zabaví vaše ratolesti na celé hodiny.
LEGO Juniors
Ideálním přechodem mezi LEGO DUPLO a klasickými stavebnicemi je LEGO Juniors. Na výběr máte z pohádkových, filmových i rutinních témat, jakým je třeba rodinný domek nebo návštěva supermarketu. Dítě už dokáže lépe rozvíjet krativitu a fantazii prostřednictvím vymýšlení vlastních příběhů svých oblíbených LEGO hrdinů.
LEGO City
Město potřebuje tvoji pomoc. Pochytej zloděje, uhas požár nebo bez nehody doprav všechny cestující do práce. LEGO City simuluje městský život a poskytne vašim dětem příležitost, vyzkoušet si ta nejdobrodružnější povolání.
LEGO Star Wars
Z daleké galaxie přilétají známí hrdinové Světlé a Temné strany Síly. Postav si vesmírnou loď nebo stíhačku a objevuj nové světy. Stavebnice na motivy jednoho z nejznámějších fenoménů filmového světa si získá děti různého věku a umožní jim vymýšlet vlastní osudy svých oblíbených hrdinů. LEGO Star Wars zkrátka dostane kluky i holky.
LEGO Ninjago
Pradávná síla ninjů se ukrývá ve čtyřech Zlatých zbraních. Pokud je spojíte dohromady, máte šanci ochránit říši před zlým lordem Garmadonem. U LEGO Ninjago se může každý cítit zachráncem světa.
LEGO Batman Movie
Gotham City je v ohrožení a proto potřebuje zachránce. Pomozte Batmanovi zvítězit nad zlem a zavřít všechny padouchy, jako je Joker nebo Mr. Freeze. Společně s touto sérií si můžete připomenout ty nejlepší chvíle z filmu LEGO Batman Movie nebo vytvořit své vlastní dějové linie.
LEGO Friends
Pět nejlepších kamarádek bydlí se svými domácím mazlíčky v jednom krásném městečku. Pomozte jim uspořádat narozeninovou oslavu, na kterou nikdy nezapomenou. Roztomilí mazlíčci mohou vyhrát psí výstavu nebo společně s vámi zajít do zábavního parku. S LEGO Friends si užijete spoustu zábavy.
LEGO Nexo Knights
Který malý kluk nikdy nechtěl být rytířem? Zachráncem krásných princezen nebo přemožitelem netvorů? Rytířské turnaje ožívají v čarovném světě plném fantazie. Postavte pojízdný hrad a vzepřete se lávovým monstrům zlého Jestra.
LEGO Elves
Vstupte do kouzelného světa Elvendale, kde se ukrývají elfové. Odhalte dávno ztracená tajemství a nechte se unést na křídlech fantazie. S LEGO Elves se přenesete do jiného světa, ve kterém je možné úplně všechno.
LEGO Technic
Ozubená kolečka, trámky, kolíky – to vše vyzývá na technický souboj všechny milovníky nejrůznějších modýlků. Nečekejte obyčejné LEGO kostky, ale plně funkční a pohyblivá zařízení. Postavte si závodní auto, bagr nebo třeba těžební rypadlo a pořádně se vyblbněte.
LEGO Minecraft
Hrdinové z populární počítačové hry se pomalu plíží do vašeho pokojíčku. Stavte obydlí, shánějte potravu a bojujte s příšerami v ještě hranatějším světě, než jste byli dosud zvyklí. Stavebnice LEGO vám umožní stát se součástí vašeho oblíbeného počítačového světa. Tentokrát budete ale příběh režírovat vy.
LEGO Creator
Ideální volba pro stavitele s velkou fantazií. Sada obsahuje tři stavebnice v jednom balení. Skýtá tedy spoustu možností, jak se kreativně vyřádit. Zkuste třeba proměnit letadlo v ponorku, karavan v dům nebo transformujte zvířátka v jiné druhy. S LEGO Creator se totiž kreativitě meze nekladou.
LEGO Speed Champions
Závoďáci i závoďačky si zamilují tenhle svět plný rychlých vozů a adrenalinové zábavy. Postavte si auto svých snů a zúčastněte se vzrušujících závodů. S autem podle svého gusta totiž vyhrajete každý závod.
LEGO Disney Princess
Láká vás svět zámků, kočárů, krásných princezen a šťastných konců? Splňte si tajné přání a vydej se do Ledového království, Popelčina romantického zámku nebo třeba Podvodního paláce Ariely.
LEGO Ultra Agents
Super tajní agenti mají v Astor City co dočinění s těmi největšími darebáky. Adam Kyselina šíří toxické zlo, Terabyte se snaží ukrást cenná počítačová data. Nedovol jim, aby převzali vládu nad městem a způsobili chaos.
LEGO Super Heroes
Superhrdinové i superpadouši všech světů, spojte se! Obdivuje vaše dítko Batmana, Kapitána Ameriku či Spidermana? Nebo máte vy sami slabost pro komiksové postavičky? Pak vás LEGO Super Heroes úplně odzbrojí.
LEGO Classic
Popusťte uzdu dětské fantazii a nechte svou ratolest postavit cokoliv, co ji jen napadne. Základem každého balení je stavební podložka, na kterou lze stavby připevňovat.
LEGO Architecture
Zajímá vás architektura a zároveň zbožňujete LEGO? Výrobci spojili obě vášně v jednu a dali prostor k realizaci světových památek. Postavte si uprostřed obýváku Big Ben, Louvre nebo třeba Eiffelovu věž.
LEGO Doplňky
Je libo svíticí klíčenka s Batmanem nebo třeba hodinky StarWars v LEGO stylu? Nezahálej a dej okolí najevo, kdo je tady nejvíc cool fanoušek.
LEGO Hry
Kromě toho, že si s LEGO užijete spoustu zábavy při stavění stavebnic, můžete si vyzkoušet i online hry LEGO, které jsou určené i pro ty nejmenší hráče. Z dílny LEGO Star Wars určitě potěší hra s názvem "Poslední z Jediů". Na milovníky Batmana čeká nejedna hra, ale své si zde najdou i holčičky, které dávají přednost LEGO Disney. Vytvářejte plakáty s oblíbenými hrdiny, tvořte vlastní scény z filmu Batman Movie nebo proveďte veverku záludnými překážkami.
LEGO Katalog
Co si pro nás LEGO přichystalo v roce 2017? Jaké stavebice vznikly a které se udržely na výsluní? V rozsáhlém LEGO katalogu se můžete podívat na 132 stránek nápaditých stavebnic. Od řady Duplo pro nejmenší stavitele přes princezny a víly z Disney a Elves až k Nexo Knights a dalším hrdinům. Pokud vám chybí inspirace, tento katalog vám ji jistě poskytne. V obrovském množství řad a témat vám pomůže náš průvodce výběrem LEGO.
LEGO, logo LEGO, minifigurka, DUPLO, LEGENDS OF CHIMA, NINJAGO, BIONICLE, MINDSTORMS a MIXELS jsou ochranné známky LEGO Group. ©2017 The LEGO Group. Všechna práva vyhrazena.
Was this information useful?
This form is for collecting Feedback Only. If you have any other inquiries, please our Customer Care team here.
Is something missing or displayed incorrectly? Let us know your suggestions so we can improve the website and customer experience.
Enter product name
Note (link, Part number etc.):
Check out products sorted by price starting with the lowest price in the category cheap LEGO
Check out products sorted by price starting with the highest price in the category best sellers, best LEGO
You'll find products sorted by reviews starting from the highest ranked in LEGO reviews