Thanks to a wide range of different types of coffee makers, you can now prepare espresso, cappuccino or latté macchiato in many different ways. You can choose from various automatic, lever, and capsule coffee makers, but also moka pots, French presses, or drip coffee machines. Read on to learn how to choose the right coffee machine for you.
Continue
Automatic Coffee Maker at Your Service
Automatic coffee makers are great if you want to prepare coffee quickly and efficiently, from grinding beans and tamping to brewing and milk frothing. You will appreciate them both in the office and at home. In addition, an automatic coffee maker with a ceramic grinder can make you freshly ground coffee beans without affecting the coffee flavour.
Grinding coffee beans is easy and often requires only a single push of a button. Both automatic and manual lever coffee makers often have an integrated grinder.
Lever Espresso Machines for True Coffee Connoisseurs
Lever espresso machines are ideal for people who really love their coffee. The coffee machine has a water container and a lever for manual coffee preparation. You can use coffee beans or ground coffee, or alternatively pre-made E.S.E. pods.
Smart Coffee Makers for Smart Homes
A smart espresso machine can be integrated into a smart home network. Making coffee is then very simple and can be done even from a different room. All you need is a smartphone app or a smart Google Assistant or Amazon Alexa voice assistant.
In addition to large automatic coffee makers, we also offer a selection of simple French presses, portable moka pots or drip coffee makers, which are suitable for preparing large quantities of the so-called drip coffee.
Coffee Pod Machine – Get All Kinds of Coffee From One Device
Capsule coffee machines are known for their user-friendly design and quick brewing process. Simply put a coffee capsule in the machine, push a button, and you're done. However, the lower purchase price is balanced out by the relatively expensive coffee capsules, which must be compatible with the particular coffee maker brand.
Get Delicious Milk Coffee with Latte & Cappuccino Coffee Machine
Latte and cappuccino machines make coffee with milk froth. They include a milk frother and often a container - together they form the so-called milk system. Some coffee makers with a milk system can also make other milk drinks, including hot chocolate for the kids. You can choose from automatic coffee machines, lever coffee makers and coffee pod machines.
Take Your Coffee with You with a Travel Coffee Maker
Frequent travellers and drivers are advised to consider purchasing a travel coffee maker or press. They are made for portability and many of them can be powered from the automotive power socket.
Built-In Espresso Machine Fits Any Modern Kitchen
Built-in espresso machines fit in perfectly along with other built-in appliances, giving the kitchen a modern look and saving plenty of space in the process. Feature-wise they resemble classic automatic coffee machines, with the only major disadvantage being their considerably higher price.
Other Types of Coffee Machines
Make Coffee for Your Whole Family with Your Own Coffee Machine
Home coffee machines are notable for their lower purchase price and smaller size, which makes them suitable for individuals. They can prepare two cups at the same time and are capable of making other types of coffee beside espresso, so everyone in the family can get their favourite.
Professional Coffee Maker Fits Any Business
A professional coffee maker will come in handy for anyone who needs the best coffee possible or is starting their own gastronomic business. Unlike home coffee machines, these machines are more expensive, larger, and are made for intensive use.
Mini Coffee Maker Can Fit Anywhere
Mini coffee makers occupy the absolute minimum of space in the kitchen, so they can fit into small and confined spaces. These are suitable for a personal office or a small flat, or even travel in some cases.
Retro Coffee Makers Excel in Design
Retro coffee makers differ from the standard ones only by their retro design, which will undoubtedly attract attention no matter where you put it, be it in your home or office or in your business.
Useful Coffee Machine Features
When buying a new coffee maker, carefully consider what features you need.
The steam nozzle is used to froth milk for certain types of coffee.
Making two cups at a time speeds up the process if you need to make coffee for more people.
The coffee grinder grinds the coffee beans and then does the tamping.
The descaling system cleans the coffee machine and removes the lime scale build up.
Adjusting the amount of water and coffee allows you to tweak the strength and taste of the coffee according to your personal preferences.
The timer allows you to brew the coffee at the preset time.
In addition to features and size, you can also filter coffee makers by colour. A stylish red coffee maker, for example, can really tie a modern kitchen together.
Hide description
Was this information useful?
This form is used only for evaluating the information in the description above.
If you have any question about our products, services, transport or any other request, please contact our customer support.
What should be improved? Is anything missing here? Is anything wrong? Share it with us.
Best Sellers
1.

Automatic Coffee Machine - pressure: 15 bar, hot water function, prepares two cups at once, one-touch beverage preparation and automatic shutdown, 1,8l water reservoir, coffee bean container of 250g, 13 grinding levels, power: 1450W, width: 23,8cm, height: 34cm, depth: 43cm, weight: 9kg, black, stainless steel and silver colour
2.

Automatic Coffee Machine - pressure: 19 bar, hot water function, prepares two cups at once, one-touch beverage preparation, user profiles, automatic shutdown, favorite beverage settings and smart, 1,8l water reservoir, coffee bean container of 300g, 13 grinding levels, power: 1450W, width: 26cm, height: 38,5cm, depth: 45cm, weight: 11,4kg, black, stainless steel and titanium colour
3.

Automatic Coffee Machine - pressure: 19 bar, hot water function, prepares two cups at once, one-touch beverage preparation, automatic shutdown and favorite beverage settings, 1,8l water reservoir, coffee bean container of 300g, 13 grinding levels, power: 1450W, width: 23,6cm, height: 34,8cm, depth: 42,9cm, weight: 9,5kg, black, stainless steel and silver colour
Coffee Machines & French Presses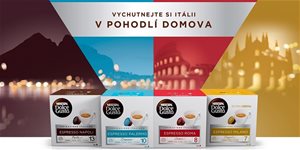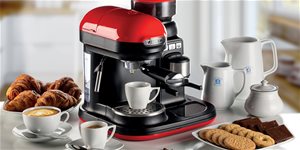 Jestliže máte rádi lahodnou a kvalitní kávu, tak jistě víte, že nezáleží jen na pečlivém výběru druhu kávy, ale také na přístroji, na kterém ji připravíte. Proč je na to nejlepší právě pákový kávovar? Přečtěte si více.
Pokud jste zastánci zdravého životního stylu, čistého designu i intuitivního ovládání, neměly by vám uniknout novinky od společnosti Lauben. Ta se kromě péče o domácnost zaměřuje také na gastro produkty, díky kterým se příprava pokrmů i samotné vaření stává snadnou a...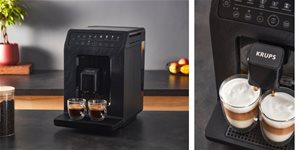 review
Automatický kávovar KRUPS EA897B10 Evidence Eco (RECENZE)
Nenechte si ujít dnešní recenzi. Bezmála měsíc jsme testovali automatický kávovar KRUPS EA897B10 Evidence Eco, který ztělesňuje propojení přípravy lahodné kávy spolu se šetrným přístupem k přírodě. Je vyrobený z recyklovaných materiálů a sám je až z 90 % recyklovatelný....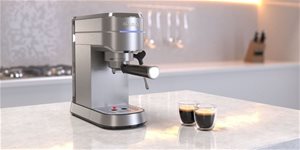 We have tested for you how coffee is prepared in the Siguro EM-K42 Barista lever coffee machine, which has top parameters in the form of 20 bar pressure, personal coffee settings, the possibility of preparing two cups at once and a steam nozzle for frothing milk. Read...
Společnost Nespresso představuje novou řadu kávovarů Nespresso Vertuo. Nový kávový systém dokáže připravit 5 různých velikostí lahodné kávy. Přečtěte si, jaké jsou hlavní výhody kávavarů Nespresso Vertuo.
Coffee Machines & French Presses
In the category Coffee Machines & French Presses on Alza.cz, we currently have a total of 610 products, which you can easily buy online and get quickly delivered. See all of your purchases and make orders on our easy-to-use app.
Check out products sorted by price starting with the lowest price in the category cheap coffee Machines & French Presses
Find products sorted from the most expensive to the cheapest in the category most expensive coffee Machines & French Presses
Check out products sorted by price starting with the highest price in the category best sellers, best coffee Machines & French Presses
You'll find products sorted by reviews starting from the highest ranked in coffee Machines & French Presses reviews