Camping Furniture we will dispatch within 24 hours. Discover why shop on Alza.cz.
Continue
5 Reasons to Buy Camping Furniture on Alza.cz
Camping Furniture in stock with quick purchasing made online!
We have a wide range of products and complementary services.
Do you need some advice? Our customer support is here to help you with your purchasing decisions.
You can view other questions or reviews made by other reliable customers!
You will find all the necessary product information. Some will include customer reviews, which can help ease your product selection
Easily make your selection. Click through our pre-made filters for the category: Camping Furniture
Are you looking for the best Camping Furniture? View products sorted by the best selling or by the highest ratings from other customers. If you are looking for top items based on price, look for Camping Furniture sorted by the lowest to highest price.
Camping Furniture – main types
Find more in the navigation below
Hide description
Best Sellers
1.

Fishing Chair folding, weight capacity: 160kg, large mud feet, arm rests, adjustable, weight: 5,1kg
2.
Armchair - folding, with a load capacity of 90kg, with a backrest and a drink holder
3.
Armchair - with steel construction, hand rests and beverage holder
Camping Furniture
Cesta na dovolenou autem do Chorvatska je přes léto docela oříšek. Přinášíme vám několik tipů a variant...
Chystáte se autem do Itálie? Pak pro vás máme tipy na rychlou cestu k prosluněným italským plážím v...
Ať plánujete víkendový výlet, nebo letní dovolenou, vyrazit někam po Česku je vždy dobrý nápad. Budete ale...
Najíst se dobře na cestách v přírodě vyžaduje sice určitou přípravu předem, výsledek ale stoprocentně bude...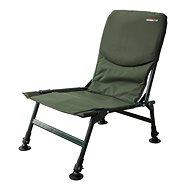 Suretti Master Armchair
Camping Furniture
Folding tables and folding chairs are the ideal camping solution, as well as for the cottage or even excursions. Here you will find camping furniture, ie tables and chairs, whether you are looking for an armchair or folding table. Foldable tables take up a minimum of space after collapsing. A collapsed table folds into the shape of a suitcase and has a length of only 88cm, so it fits easily into the car. The foldable Tristar table is made of high-quality aluminum and the safety is ensured by a bracket which ensures that the table in the assembled stand does not collapse.
Comfortable folding chair
Fishermen will be welcomed with a chair that offers comfort during those long waits. The chairs can have a load capacity of up to 160kg, so they are suitable for every figure. Foldable chairs for fishing have an anatomically shaped support and a padded neoprene cushion; Enabling you to sit on it for a long time with maximum comfort. Swivel sockets prevent the chair from sinking into the ground. Another variant of the foldable chairs are folding seats with a three-pronged construction, low weight and easy to transport. Also we have a simple folding stool, which is made of high-quality materials and can carry up to 140kg. High-quality folding chairs are offered by the manufacturers Mivardi or perhaps Spokey.
Was this information useful?
This form is for collecting Feedback Only. If you have any other inquiries, please our Customer Care team here.
Is something missing or displayed incorrectly? Let us know your suggestions so we can improve the website and customer experience.
Enter product name
Note (link, Part number etc.):