Pull-up bars are a great exercise tool for strengthening your back, arm, and abdominal muscles. Telescopic bars and over the top doorway bars are easy to mount and remove, so you can store them away right after your workout.
Continue
Pull-up bar weight limit
Most pull-up bars have a maximum weight limit ranging between 100 and 130 kg. However, make sure to select a bar with a weight capacity at least 20 kg higher than is your weight, because dynamic exercise places considerable load on the bar.
Size
Pull-up bars can be telescopic or have a fixed width. Telescopic bars can be usually adjusted between 70 and 110 cm, which is a standard door frame width, or 63 to 90 cm, for narrower doorframes found in some housing estates. Over the top doorway bars generally fit doorframes 60-90 cm in width and with door trims about 15 cm wide.
Make sure to measure your doorframe before buying a pull-up bar. The most common doorframe width tends to be between 80 and 70 cm, but a lot depends on your regional area and housing type.
Mounting method
A telescopic pull-up bar is mounted by extending and wedging it between the uprights of your doorframe. This type often comes with fixing safety cups that provide extra friction and prevent the bar from falling.
An over the top doorway bar rests on the door trim, with the top of the bar pushing against the wall during exercise. This type often has multiple handles and allows an array of exercise positions for strengthening different muscle groups. The curved handles even allow you to do some exercise on the ground.
Telescopic pull-up bar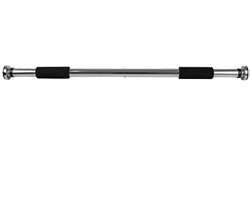 Over the top doorway bar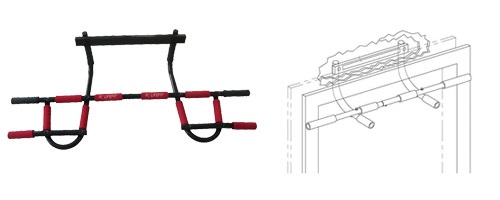 Hide description
Was this information useful?
This form is for collecting Feedback Only. If you have any other inquiries, please our Customer Care team here.
Is something missing or displayed incorrectly? Let us know your suggestions so we can improve the website and customer experience.
Best Sellers
1.
Bar - in-door, minimum length 63cm × maximum length 93cm, maximum load 120kg
2.
Bar - On the wall, minimum length 100cm × maximum length 100cm, maximum load 350kg
3.
Bar - in-door, minimum length 60cm × maximum length 90cm, maximum load 100kg
Pull-Up Bars
Jaký sport vybrat pro cvičení doma? Jde to levně, účinně a bez nutnosti opustit pokoj. V našem článku...
Jak začít cvičit doma? Jde to levně, účinně a bez nutnosti opustit svůj pokoj. V článku vám poradíme...
Pull-Up Bars
In the category Pull-Up Bars on Alza.cz, we currently have a total of 14 products, which you can easily buy online and get quickly delivered. See all of your purchases and make orders on our easy-to-use app.
Pull-Up Bars – proved brands
Enter product name
Note (link, Part number etc.):
Check out products sorted by price starting with the lowest price in the category cheap pull-Up Bars
Find products sorted from the most expensive to the cheapest in the category most expensive pull-Up Bars
Check out products sorted by price starting with the highest price in the category best sellers, best pull-Up Bars
You'll find products sorted by reviews starting from the highest ranked in pull-Up Bars reviews