Headphones with a mic are great if your have a PC or a laptop and want to enjoy gaming or online calls. But you can also use headphones with a mic with your mobile phone to make important calls in the office or on the go. You can choose from either wired and wireless headsets with mic according to the type, intended usage, and the microphone specifications.
Continue
Headsets—What Do You Want to Do with It?
You can use a headset with a microphone at work, while playing games, or for casual phone calls. Headsets also differ in design, with wireless over-ear headphones usually featuring an integrated microphone, while wired over-ear headphones have an adjustable mic you can put away when you are not using it.
Wired Headset for Your Desktop or Laptop
For computers or laptops, over-ear headphones are ideal. Compared to similarly priced earbuds or flat buds, they are more comfortable and offer better sound quality. See below for a more specific breakdown of PC headphones:
Gaming headsets with a microphone are notable for their closed design, amplified bass for the most immersive experience and an adjustable microphone. They are compatible with both PC and all gaming platforms.
Office headphones with a mic are usually lighter and smaller. They are great for call centre operators and private households that make frequent calls over the internet. Monaural, single-ear headsets allow you to communicate with people around you at the same time.
Headsets for Life on the Go
For travelling on the bus, train or plane, try smartphone-compatible earbuds. They don't provide as good transmission as gaming or office headsets, but they are very portable and lightweight. You can choose from earbuds or flat buds.
i
Stay in Touch with Hands-Free Headsets
Handsfree headsets are great devices for drivers and people who need to be on-call at all times while doing other things. Check out the special types—both wired and wireless. The most common subtypes are handsfree headsets for cars, motorbikes or in-ear headphones for every occasion.
Sports Headsets Won't Get in Your Way
Sports headphones with a mic let you make calls at the touch of a button without interrupting whatever you're doing. They fit well in your ears, muffle ambient noise, and don't really make your ears sweat. They also have water protection. Among the most popular are the wireless over-ear headphones with microphone that provide freedom of movement.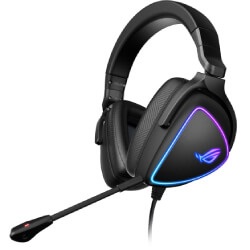 Gaming Headphones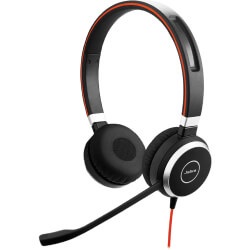 Office Headphones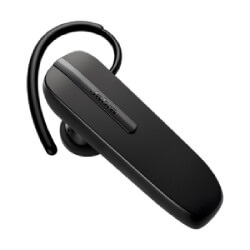 Handsfree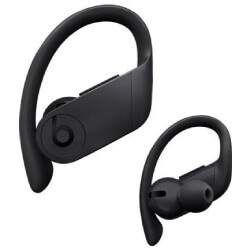 Sports Headphones
Wireless Headsets Won't Limit Your Freedom
Wireless headsets with a microphone come in all your favourite designs—over-head, earbuds, etc. They are especially suitable for phones and tablets, but there are also specialised gaming and office models for PC. They generally provide greater freedom of movement and an integrated microphone. You take a call by pressing the earpiece or confirming it on your respective device.
Are You Looking for a Top-Quality Headset with a Microphone? Focus on the Type
A good headset with a mic should be able to provide excellent audio quality along with comfortable calls without any noise. Almost all headphones have a microphone, so make sure you choose well.
Directional or Omnidirectional Microphone?
The directional description of the microphone tells you whether the headset will give you the call experience you want. If you use your headset primarily for talking, make sure it has a directional microphone.
Directional microphone - picks up sound from only one direction, making it very effective at reducing ambient noise. Typical for expensive and high-quality gaming and office over-ear headphones.
Omnidirectional microphone - picks up sound from all directions. Compared with directional microphones, they let in more ambient noise. This type is common in earbud headphones and cheaper over-ear models.
Integrated or Adjustable Microphone?
Adjustable and retractable microphones can be found mostly in gaming and office models and they allow you to simply flip the mic out of the way when you are not using it. Flat buds and earbuds usually have a microphone on the cord, but the sound transmission usually requires lifting the cord close to your mouth so you can talk properly. Wireless headphones are equipped with an integrated microphone.
If you own an iPhone, check out Apple's wireless earbuds or Apple AirPods. They're smart and always know when you're talking and whether you're wearing them.
Headphones with a Microphone—Wired or Wireless?
Wired headsets are generally more reliable as they don't lose connection or run out of battery while you're on a call. However, wireless headphones provide far more freedom during exercise or in everyday activities.
Wired headphones with microphone (3.5mm jack, USB-C, USB-A) - compared to similarly priced wireless headphones, they perform better and transmit sound better, but don't offer as much freedom of movement.
Wireless headphones with microphone (Bluetooth, radio-frequency) - with no wires, they offer greater freedom of movement (Bluetooth and RF Headphones with a USB transmitter have a range of about 10 metres from the playback device).
i
Headphones with Microphone—Construction
Closed microphone headphones muffle ambient noise and keep the sound inside the headphones, so your call will take place in total privacy. Open headphones have less distortion, but they let sound through and do not muffle ambient noise. If you want something between the two, a semi-closed headset can be a good compromise.
Headsets with Mic—Useful Functions & Features
Next, let's take a look at headsets and their practical features.
Folding design for easy portability.
Volume control is located on the headphones or cable.
Rotating ear cups allow you to comfortably listen to music in one ear.
Active Noise Cancellation ensures that ambient noise does not reach you.
Ambient sound, on the other hand, helps you better perceive ambient sounds, especially for people with mild hearing loss.
Receiving a call can be easily done with the headset, either by touch or by voice with the assistant.
7.1 surround sound function - you can hear where a particular sound is coming from (especially handy for PC gamers).
AptX and AAC - codecs for Bluetooth headphones that guarantee higher quality sound close to a corded connection.
NFC technology used in connection with a Bluetooth headset, which accelerates and facilitates their connection with the playback device.
If you want to save money and don't care about getting a high-end product, check out our budget-priced headphones with a mic. Looking for the perfect model and still need advice? We have prepared a guide for you: How to Choose Headphones.
Hide description
Was this information useful?
This form is used only for evaluating the information in the description above.
If you have any question about our products, services, transport or any other request, please contact our customer support.
What should be improved? Is anything missing here? Is anything wrong? Share it with us.
Best Sellers
1.
Wireless Headphones - with microphone, True Wireless earplugs, closed construction, Bluetooth 5.3, active noise control (ANC), track shuffle, taking calls, with volume control, IPX4 certification, battery life of up to 30 hr(s) (6 hr(s)+24 hr(s))
2.
Wireless Headphones - with microphone, headset, around the ears, closed construction, Bluetooth, active noise control (ANC), voice Assistant, NFC, track shuffle, taking calls, frequency range: 7 Hz-20000 Hz, impedance: 72 Ohm, converter: 30mm, removable cord length of 1,2m, battery life of up to 35 hr(s)
3.
Wireless Headphones - with microphone, True Wireless pits, closed construction, Bluetooth 5.0, Ambient sound, Hi-Res audio, voice Assistant, track shuffle, taking calls, battery life of up to 24 hr(s) (5 hr(s)+19 hr(s))
Headsets
Možností, jak stáhnout hudbu do mobilu, je celá spousta. Nezáleží na tom, jestli máte Android, nebo iOS, v...
The ANC function, Active Noise Cancellation, is becoming a mainstay in more and more headphones, wireless...
Buy selected Sony products and as a gift you will receive a voucher for a 15% discount on one of the selected...
If you want the best quality headphones choose Hi-Fi headphones. They offer highly accurate sound delivery and...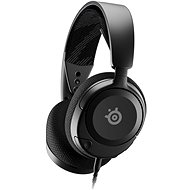 SteelSeries Arctis Nova 1 Black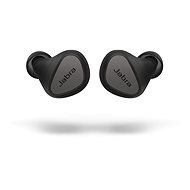 Jabra Elite 5 black
Huawei FreeBuds SE blue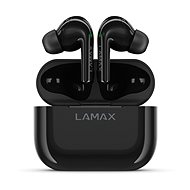 LAMAX Clips1 black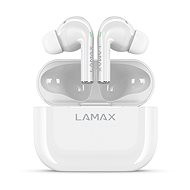 LAMAX Clips1 white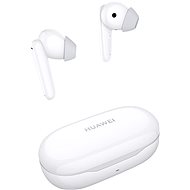 Huawei FreeBuds SE white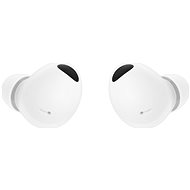 Samsung Galaxy Buds2 Pro white
Headsets
In the category Headsets on Alza.cz, we currently have a total of 2474 products, which you can easily buy online and get quickly delivered. See all of your purchases and make orders on our easy-to-use app.
Check out products sorted by price starting with the lowest price in the category cheap headsets
Find products sorted from the most expensive to the cheapest in the category most expensive headsets
Check out products sorted by price starting with the highest price in the category best sellers, best headsets
You'll find products sorted by reviews starting from the highest ranked in headsets reviews