Moderní šicí stroje disponují řadou funkcí, které šití usnadňují, urychlují a zaručují precizní výsledky. Klasické šicí stroje nabízí univerzální využití v domácnosti, overlocky slouží primárně k šití a začišťování švů a vyšívací stroje využijete při tvorbě ozdobných výšivek. Pokud si chcete vytvořit vlastní vzor či motiv, využijete plotr. Před výběrem konkrétního šicího stroje si tedy zodpovězte otázku, co vlastně plánujete šít.
Continue
Klasické šicí stroje
Tento typ šicího stroje patří mezi nejpoužívanější stroje pro šití a sešívání látek i vyšívání knoflíkových dírek. Klasický šicí stroj umožňuje šití pomocí mnoha druhů stehů a jeho využití je ideální nejen pro pokročilé švadleny, ale také pro začátečníky.
Lze rozšířit o patky (overlocková, zipová, lemovací a další).
Slouží i k zapošívání.
Není příliš vhodný na šití pružných materiálů.
Overlocky
Hlavní funkcí overlocku je sešívání a začišťování švů. Funguje na principu sešití, následného odříznutí přebytečného kusu látky a obnitkování stehu.
Možnost řasení látky, našití gumy a lemování.
Díky diferenciálnímu podávání se hodí také pro pružné materiály.
Zajistí dokonalý vzhled oblečení.
Vyšívací stroje
Pro originální výšivky na textilu slouží vyšívací stroje s přednastavenými vzory i fonty písma. Jejich hlavní výhodou je možnost vlastního doplnění vyšívacího vzoru — skrz připojení vyšívacího stroje na USB flash disk.
Dotykové ovládání pomocí displeje.
Některé modely mají také řezací funkci.
Náhled na vyšívací vzor.
Řezací plotry
Plotr má využití nejen při šití a vytváření patchworku, ale také při dalších kreativních činnostech, jako je například tvorba ozdob či samolepek. Kromě řezání dokáže plotr také kreslit nebo skenovat a následně vytvořit řezací šablonu.
Slouží k výrobě vlastních grafických motivů.
Práce s vinylovými fóliemi, látkami, filcy, koženkami, apod.
Propojení s PC, některé modely nabízí i scanner.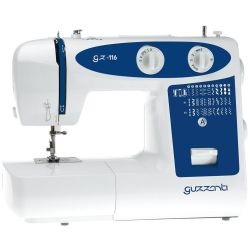 Klasický šicí stroj

Overlock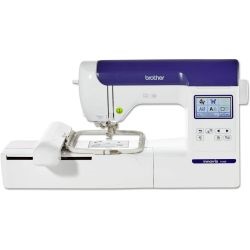 Vyšívací stroj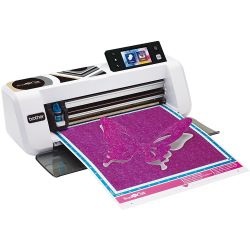 Řezací plotr
Příslušenství
Jehly, cívky a sady na šití pro šicí stroje.
Klasické i riflové nitě.
Sady na šití jeansoviny.
Univerzální sady s cívkami, jehlami, navlékači jehel.
Praktické tašky na přenášení šicích strojů a příslušenství.
Hide description
Was this information useful?
This form is for collecting Feedback Only. If you have any other inquiries, please our Customer Care team here.
Is something missing or displayed incorrectly? Let us know your suggestions so we can improve the website and customer experience.
Best Deals
1.
Sewing Machine - 32 kinds of stitches, 1-step buttonhole, double needle stitching option, adjustable stitch length and width, keep seams strong and prevent bunching on any type of fabric
2.
Sewing Machine - 12 kinds of stitches, 4-stop sewing buttonholes, double needle stitching option, variable stitch length, reverse tie-off, free arm
3.
Sewing Machine - 9 stitch options (basic, decorative), 4-step buttonhole, smooth stitch length regulation, double-stitch sewing, reverse tie-off, free arm, lighting, solid metal frame
Šicí a vyšívací stroje
Vybrat nový šicí stroj, který splní vaše očekávání, není vůbec jednoduché. Jeho skutečné kvality se...
Šicí a vyšívací stroje
In the category Šicí a vyšívací stroje on Alza.cz, we currently have a total of 82 products, which you can easily buy online and get quickly delivered. See all of your purchases and make orders on our easy-to-use app.
Enter product name
Note (link, Part number etc.):
Check out products sorted by price starting with the lowest price in the category cheap šicí a vyšívací stroje
Check out products sorted by price starting with the highest price in the category best sellers, best šicí a vyšívací stroje
You'll find products sorted by reviews starting from the highest ranked in šicí a vyšívací stroje reviews