Car luggage ties and lashing straps are used to attach various objects to the roof of a car or trailer. What is the difference between them?
Continue
Bungee cords
They are suitable for tying down lighter objects, such as chairs or other small home furniture. Bungee cords are made of flexible materials. They are equipped with metal hooks or clips, which serve as attachment points.
Design
Generally 0.5-1 m in length.
Round or flat cord.
Thickness usually ranges between 4-12 mm. The thicker the cord, the more weight it can hold.
Ratchet straps
Choose ratchet straps if you need to transport very heavy objects. These can handle, for example, a pile of metal pipes, objects several meters long, large pieces of furniture, a fully loaded pallet, motorcycles or even personal vehicles They are made of very strong materials that can securely hold cargo weighing several tons. The ratchet mechanism ensures firm hold and easy release.
Design
Capacity - 0.8 to 5 t
Width - 25, 35, 50 and 75 mm. Broad cords can carry heavier loads.
Length - up to 20 m.
One-piece or two-piece.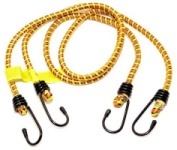 Bungee Cords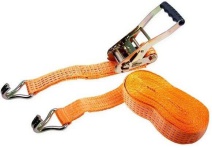 Ratchet Straps
Hide description
Was this information useful?
This form is for collecting Feedback Only. If you have any other inquiries, please our Customer Care team here.
Is something missing or displayed incorrectly? Let us know your suggestions so we can improve the website and customer experience.
Best Sellers
1.
Bungee Cord - 2 pcs, diameter 8mm, with metal hook endings, TÜV/GS homologation
2.
Tie Down Strap - with ratchet, with loose ending, lenght: 5m, width: 25mm, load capacity: 0,5t, colour: red, 1 piece(s) in package
3.
Tie Down Strap - quick release with clasp, with loose ending, lenght: 2,5m, width: 25mm, load capacity: 0,2t, colour: black, 1 piece(s) in package
Car Luggage Ties & Lashing Straps
V zimě patří vyhřívané autosedačky mezi neocenitelnou výbavu. Pokud ale žádné nemáte, vyzkoušejte...
V dnešním závěrečném díle našeho cestovatelského seriálu se podíváme do francouzských a švýcarských Alp...
Autem na lyže do Beskyd
V dnešním díle navštívíme malebné Beskydy. Vyzdvihneme nejenom ta nejlepší lyžařská střediska, ale také...
V dnešním díle si prozradíme, jak se co nejpohodlněji dopravit autem do Krušných hor a jaká místa či...
Jak se co nejlépe dostat do Jeseníků a Orlických hor? Prozradíme nejenom nejpohodlnější cestu, ale i ta...
Car Luggage Ties & Lashing Straps
In the category Car Luggage Ties & Lashing Straps on Alza.cz, we currently have a total of 79 products, which you can easily buy online and get quickly delivered. See all of your purchases and make orders on our easy-to-use app.
Enter product name
Note (link, Part number etc.):