Upínače a popruhy slouží k upevnění různých předmětů na střeše vozidla nebo na přívěsném vozíku. Jaký je mezi nimi rozdíl?
Continue
Gumové upínače
Jsou vhodné k fixaci lehčích předmětů, jako jsou například židle nebo jiný drobný domácího nábytek. Gumové upínače jsou vyrobené z pružného materiálu. K přívěsnému vozíku nebo střeše se zaháknou pomocí kovových háků nebo karabiny.
Provedení
Délka zpravidla 0,5–1 m.
Kulaté, nebo ploché lano.
Tloušťka se nejčastěji pohybuje v rozmezí 4 až 12 mm. Čím silnější lano je, tím těžší unese náklad.
Ráčnové popruhy
Rychloupínací popruhy volte, chcete-li převážet velmi těžké předměty. Popruhy si poradí například s hromadou kovových trubek, několikametrovými břemeny, velkými kusy nábytku, plně naloženou paletou, motocykly nebo dokonce osobními vozy. Vyrábějí se z velmi pevného materiálu, který bezpečně zafixuje i náklad o hmotnosti do několika tun. Ráčna zajistí pevné uchycení a následně snadné uvolnění.
Provedení
Nosnost – 0,8 až 5 tun
Šířka – 25, 35, 50 a 75 mm. Čím širší lano, tím je pevnější a unese těžší náklad.
Délka – až 20 m.
Jednodílné, nebo dvoudílné.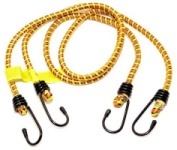 Gumolano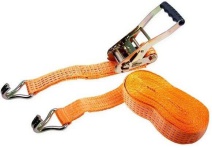 Popruh s ráčnem
Hide description
Was this information useful?
This form is for collecting Feedback Only. If you have any other inquiries, please our Customer Care team here.
Is something missing or displayed incorrectly? Let us know your suggestions so we can improve the website and customer experience.
Best Deals
1.
Bungee Cord - 2 pcs, diameter 8mm, with metal hook endings, TÜV/GS homologation
2.
Tie down straps - maximum load capacity 350kg, length 5m
3.
Straps - high-quality, with metal buckle, TÜV/GS homologation, length 2.5m, width 25mm, set of 2
Upínače a popruhy
V dnešním závěrečném díle našeho cestovatelského seriálu se podíváme do francouzských a švýcarských Alp...
V dnešním díle navštívíme malebné Beskydy. Vyzdvihneme nejenom ta nejlepší lyžařská střediska, ale také...
Jak se co nejlépe dostat do Jeseníků a Orlických hor? Prozradíme nejenom nejpohodlnější cestu, ale i ta...
Přinášíme vám exkluzivní cestovatelský seriál! Nenechte si ujít nejpodrobnější informace o cestách za...
Upínače a popruhy
In the category Upínače a popruhy on Alza.cz, we currently have a total of 42 products, which you can easily buy online and get quickly delivered. See all of your purchases and make orders on our easy-to-use app.
Upínače a popruhy – proved brands
Enter product name
Note (link, Part number etc.):