A video camera allows you to store memories on your computer or another device. Most current digital video cameras can record in HD, Full HD or 4K quality so that the resulting video image will be perfectly sharp and detailed. In addition, some video cameras can take still photos. We offer amateur and professional digital video cameras, unique durable action cameras such as GoPro cameras, 360° cameras, security IP cameras and dash cams.
Continue
Types of Video Cameras
Video Camera: Action Camera

An action camera is a type of video camera which has a miniature size and is very easy to operate. You can also share the captured footage with ease. An action camera has a protective case which protects it from harsh external influences such as rain, snow, wind and dust. These video cameras are especially suitable for recording extreme sports. Action video cameras record in Full HD resolution at a standard frame rate of 30 frames per second. GoPro action cameras, however, offer recording up to 4K quality.

Not all outdoor cameras are equipped with a display.
An action video camera can be attached to the head, chest or sports equipment with additional mounts.
Action Cameras commonly communicate via WiFi and Bluetooth wireless technologies to connect to mobile apps.
The body of the action camera is typically designed to withstand contact with water, dust and rough handling.

Video Camera: Camcorders

A camcorder is a specially designed video camera for shooting videos. Camcorders allow you to record family outings, reunions and celebrations and significant sporting events. Their main advantage over action cameras is their large display, where you can clearly see the scene during recording and playback. A typical feature of a camcorder is its ergonomic shape for holding the video camera comfortably when doing handheld shooting.

Camcorders usually capture video in Full HD, but more expensive camcorders can reach a resolution of up to 4K.
Camcorders are more straightforward to operate than professional video cameras.
Camcorders are mainly suitable for amateur use. Professional footage can also be filmed with a camcorder in the right hands.

Professional Video Camera

A professional video camera is the ideal choice for recording a wedding, a commercial, a TV show, a news report and other similar activities. A Professional video camera features advanced optical systems, high-quality sensors, and powerful image processing. They also allow the connection of professional microphones, lighting and other accessories.

Professional video cameras offer the most features and the most comprehensive range of settings of all camera types.
They allow you to change lenses, attach filters or lens hoods, etc.
They use various media to record data, but memory cards are preferred.
They are less compact and have a higher weight.

Video Camera: 360° Camera

A 360° Camera is a video camera that is equipped with two or more lenses to capture the full field of view to create virtual reality (VR) content. You can then look in all directions when viewing photos and playing videos, which is similar to Google Street View.

With some 360° cameras, you can even shoot footage underwater.
It is easy to transfer images to your phone via WiFi or Bluetooth.
Use smartphones or tablets to control the 360° video camera.

Video Camera: A Drone with a Camera

A drone with a video camera allows you to record video and take photos from above, literally from a bird's eye view. These drones are controlled either with a radio-controlled remote control or with a smartphone or tablet, which transmits the captured image live to the screen. Drones have a video camera integrated directly on their body or suspended from a mount, similar to DJI drones. More expensive drone models have a gimbal, a multi-axis mechanical stabilizer that compensates for shake and ensures smooth footage.

Cheaper drones (up to £350) allow you to shoot in Full HD resolution at most.
With more expensive drones (above £350), you can shoot in 4K resolution.
More expensive professional drones are already equipped with their own camera or digital SLR camera.

Video Camera: A Dash Cam

Dash Cams are video cameras mounted in cars which monitor what is happening in front of or behind your vehicle. In the event of an accident, dash cams provide evidence for the police or insurance companies. They are characterized by a wide-angle view and loop recording (the moment you have a full memory recorded, it starts overwriting the oldest video).

In some countries, the use of dash cams is prohibited.
Dash cams record in high resolution, so they show details such as license plates or people.
They provide evidence for the police and the insurance company.

Video Camera: IP Camera

An IP camera that is mainly used for the surveillance of property and buildings, is a video camera that does not need as high image quality as other cameras. IP Cameras send the recorded footage instantly to remote storage devices. The images can be viewed live on computers or mobile devices.

IP cameras are suitable for corporate and private use.
Acts as a deterrent to trespassers and burglars
They enable the transmission of images and other data over a computer network which means you get remote management and easy scalability.
Hide description
Was this information useful?
This form is used only for evaluating the information in the description above.
If you have any question about our products, services, transport or any other request, please contact our customer support.
What should be improved? Is anything missing here? Is anything wrong? Share it with us.
Best Sellers
1.
Outdoor Camera - with 5,3K/60fps, 4K/120fps, 2,7K/120fps 1080p/240fps, Hypersmooth 4.0 image stabilization in all modes, rear LCD touchscreen, front selfie display, TimeWarp 3.0 time-lapse mode waterproof up to 10 m, MicroSDXC slot, 23 Mpx camera, USB-C, WiFi, Bluetooth, voice control, Li-Ion battery
2.
Outdoor Camera - waterproof, 4K/60fps, Full HD up to 120fps, 2" touch screen, electronic EIS stabilisation, 16MPx photos, 8× slowmotion in HD, time-lapse mode, microUSB connector, automatic time collection, complete accessories in a box, built-in Wi-Fi and mobile application, remote control
3.
360 Camera - two lenses, 360° angle 5.7K, waterproof up to 10m, advanced image stabilisation, option to edit directly in the camera, wrist controlled selfie stick, speed up/slow down image capture option, voice control, can be operated using Apple Watch or Smart GPS controller (not included), AirPods compatible, 4 microphones, powerful battery 1630 mAh, live 360° stream, many functions and modes
Video Cameras
Rekordní ANC sluchátka od společnosti Sony? Proč ne – Sony LinkBuds S jsou přesně taková. Jsou nejmenší a...
Oblíbený dron má nástupce. Je jím DJI Mini 3 Pro, skvěle vybavený a hlavně nesmírně kompaktní dron, který...
Náhlavní sluchátka Technics EAH-A800E-K nabídnou legendární kvalitu zvuku i špičkový design, který jen tak...
Brýle, které zastanou i sluchátka a bezpečně vám při sportu do uší dopraví oblíbenou hudbu, podcast nebo...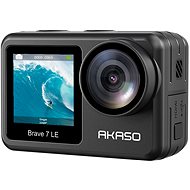 Akaso Brave 7 LE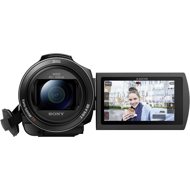 Sony FDR-AX43A black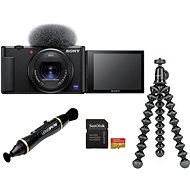 Sony ZV-1 + Starter kit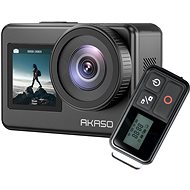 Akaso Brave 7
Video Cameras
Digital cameras record images in a format that can handle any computer. We divide them into categories DV and HDV. Older and more widespread DV cameras are intended for undemanding users. Uploading image primarily in the ratio of 4:3 (later supports 16:9) and are based on the principle of television standards PAL and NTSC. DV cameras use to store videos MiniDV tapes, 8 cm DVD, hard drives or memory cards.
HDV cameras are modern cameras that record images in high resolution HDTV format 16:9, yet they are fully compatible with the previous format. They use the same data stream and unlike DV cameras compress video and audio. Thanks to a higher level of compression can high-definition video stored on the same MiniDV tapes as models of DV. Of course, even in this category are used to record data other various media – DVD, Hard Drives and memory cards.

The basis of a good digital camera is a high resolution, multiple optical and digital zoom, ideally, image stabilization function and illumination - in case we were shooting in low-light conditions.
Was this information useful?
This form is used only for evaluating the information in the description above.
If you have any question about our products, services, transport or any other request, please contact our customer support.
What should be improved? Is anything missing here? Is anything wrong? Share it with us.
Enter product name
Note (link, Part number etc.):
Check out products sorted by price starting with the lowest price in the category cheap video Cameras
Find products sorted from the most expensive to the cheapest in the category most expensive video Cameras
Check out products sorted by price starting with the highest price in the category best sellers, best video Cameras
You'll find products sorted by reviews starting from the highest ranked in video Cameras reviews