Zde se můžete podívat na širokou nabídku klávesnic. Obsahuje nejen kancelářské modely, ale také herní, mechanické nebo kupříkladu kompaktní. Kvalitní klávesnice může mít zásadní vliv jak na vaši produktivitu, tak třeba na dovednost ve hrách. Výběr klávesnice proto raději nepodceňujte, pomůžeme vám s ním.
Continue
Typy klávesnic
Klávesnice můžeme jednoduše rozdělit podle typů. Všechny modely nemusí nutně spadat pouze do jedné kategorie. Například většinu mechanických klávesnic lze zároveň považovat za herní se všemi odpovídajícími funkcemi.
Kancelářské klávesnice jsou univerzální, hodí se však nejlépe ke psaní, pokud nemůžete připlatit za klávesnici mechanickou.
Tyto klávesnice mohou nabývat mnoha podob, disponovat podsvícením nebo například obsahovat multimediální klávesy. Často jsou také obsaženy v setech s myší.
Herní klávesnice pochopitelně cílí na počítačové hráče. Jim se snaží zavděčit několika základními funkcemi a vlastnostmi, mezi něž patří:
Atraktivní herní design
Barevně nastavitelné podsvícení
Makro tlačítka
N-Key Rollover (Anti-Ghosting)
Cílem kompaktních klávesnic jsou co nejmenší rozměry. Těch většinou dosahují skrze absenci nadbytečných ploch a plastů, nízkým profilem kláves a jejich skladným uspořádáním. Často na nich nenajdeme žádné speciální klávesy a někdy ani numerický blok. Naopak velmi obvyklé je jejich bezdrátové připojení.
Numerické klávesnice obsahují pouze numerické klávesy, tedy blok, který mají standardní klávesnice úplně vpravo. Ne všechny klávesnice jím disponují a jeho volitelnost může být v některých aplikacích žádoucí.
Při hraní her tak máte možnost si dopřát dostatek místa pro myš, na kancelářskou práci pak můžete jeho část obětovat právě numerické klávesnici.
Programovatelné klávesnice umožňují přiřazení specifických funkcí určitým klávesám. Existují klávesnice, které mají tomuto účelu dedikované makro klávesy. Jiné to pak řeší třeba formou klávesových zkratek. Klávesnice vyšší třídy mohou být plně programovatelné, což znamená, že lze obměnit funkci každé z kláves.
Při přeprogramování kláves dojde ke změně jejich jednoduché funkce nebo přiřazení maker. Makra jsou příkazy složené ze sekvence stisků různých kláves. Nejjednodušším příkladem makra je třeba náhrada zkratky CTRL + C jediným stiskem, makra však mohou být mnohem delší a složitější. To lze uplatnit především při používání některých specializovaných programů a při hraní her.
Některé klávesnice jsou podsvícené. Díky tomu lze pohodlně psát ve tmě.
Řada podsvícených klávesnic dodává své přednosti kosmetický účel a disponuje nastavitelným RGB podsvícením. Barva tedy není předurčena a je jen na vás, jaký odstín si z RGB spektra vyberete. Odlišné barvy podsvícení lze nastavit podle zón nebo někdy pro každou klávesu zvlášť.
Mechanické klávesnice se liší svými spínači. V jejich prospěch hovoří několik cenných kvalit: vysoká odolnost a životnost, krátká aktivační vzdálenost, nízká aktivační síla, vysoký zdvih a také výrazná hmatová odezva.
Mechanické klávesnice našly domov na stolech mnoha hráčů i vytížených kancelářských uživatelů, jejichž práce zahrnuje hodně psaní. Daní za prémiovou kvalitu, kterou mechanické klávesnice poskytují, je vyšší cena.
Speciálně organizované klávesnice uzpůsobené dálkovému ovládání televize či počítače. Jsou takřka vždy bezdrátové a na místě numerického bloku mají touchpad. To znamená, že pro plnohodnotné ovládání počítače či televize z pohodlí gauče vám postačí jediný kus periferie.
Rozhraní klávesnic
USB – rozhraní USB poskytuje moderní způsob připojení všech drátových klávesnic.
PS/2 – konektor PS/2 je dnes již značně zastaralý a nové klávesnice ho zpravidla nemají, jeho připojení však umožňují i moderní základní desky.
Wi-Fi – nejedná se o Wi-Fi v pravém slova smyslu. Se zmíněným standardem klávesnice sdílí pouze komunikační pásmo 2,4 GHz. K těmto klávesnicím je dodáván USB přijímač a po jeho zapojení klávesnice nevyžaduje žádnou další konfiguraci ani párování.
Bluetooth – klávesnice, které umožňují připojení pomocí Bluetooth jsou zpravidla kompatibilní s většinou systémů podporujících tuto technologii.
Typ kláves
Klasické – zcela běžný tvar. Klávesy jsou poměrně vysoké a obvykle se s nimi pojí použití spínačů s vysokým zdvihem.
Nízkoprofilové – nízkoprofilové klávesy jsou nižší než standardní, přesto ale mohou ukrývat zcela standardní spínače se vysokým zdvihem.
Chiclet – chicletové klávesy lze považovat za speciální podkategorii nízkoprofilových. Jsou to ty nejmenší a nejnižší klávesy, jaké můžeme najít u většiny notebooků. Vždy mají nízký zdvih a kolmé stěny.
Tvary klíčových kláves
V závislosti na rozložení klávesnice se mohou lišit velikosti některých kláves. Nejčastějšími obměnami prochází klávesy backspace, enter a levý shift. Při výběru je důležité si na to dávat pozor, aby odpovídala nová klávesnice všem představám.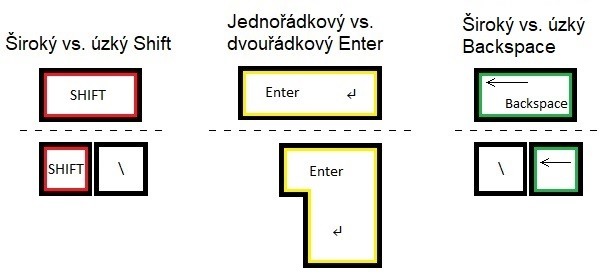 Další výbava
Podsvícené klávesy – klávesy mají podsvícení, psaní na klávesnici je tedy pohodlné i po tmě.
Mechanické spínače – mechanické spínače jsou speciální svou výdrží, odolností a hmatovou odezvou. Tvoří nejvyšší dostupný standard klávesnic, více se o nich dočtete v kategorii Mechanické klávesnice.
Makro klávesy – makro klávesy jsou plně věnovány programovatelným funkcím. Po správném nakonfigurování můžete stiskem jediné klávesy vykonat i složité klávesové sekvence.
Multimediální klávesy – multimediální klávesy slouží ke snadnému ovládání přehrávání obsahu na počítači. Mezi tyto klávesy patří například ovládání hlasitosti, přeskočení skladby nebo tlačítko play/stop.
USB Hub – takto vybavené klávesnice mají USB vstup. Znamená to, že přímo do těla klávesnice můžete například zapojit flashdisk nebo přes něj nabíjet telefon.
Hide description
Was this information useful?
This form is for collecting Feedback Only. If you have any other inquiries, please our Customer Care team here.
Is something missing or displayed incorrectly? Let us know your suggestions so we can improve the website and customer experience.
Best Deals
1.
Keyboard - USB, CZ localisation
2.
Mouse/Keyboard Set - wireless, splash-resistant keyboard and optical mouse, keyboard battery life up to 2 years, mouse battery life up to 1 year
3.
Mouse/Keyboard Set - wireless (5GHz), ultra-thin keyboard, USB nano receiver, optical mouse up to 1600dpi
Klávesnice
Každý z nás jednou za čas dumá, jak že se na klávesnici píše ten či onen znak. Některé znaky zkrátka...
Co je to lapboard? Lapboard je klávesnice do klína, díky níž si můžete užít hraní s klávesnicí a myší z...
Keypad je malá ergonomická klávesnice, která neobsahuje nic víc než ovládací prvky nutné k pohodlnému...
Jako pomoc při výběru klávesnice jsme pro vás připravili článek, který vám představí jejich typy a některé...
Klávesnice
In the category Klávesnice on Alza.cz, we currently have a total of 516 products, which you can easily buy online and get quickly delivered. See all of your purchases and make orders on our easy-to-use app.
Enter product name
Note (link, Part number etc.):
Check out products sorted by price starting with the lowest price in the category cheap klávesnice
Check out products sorted by price starting with the highest price in the category best sellers, best klávesnice
You'll find products sorted by reviews starting from the highest ranked in klávesnice reviews