Digitální zrcadlovky patří mezi fotoaparáty určené pro amatérské nadšence a fotografy profesionály. Mezi nejznámější a nejoblíbenější patří značky Canon, Nikon, Sony a Pentax. Jednou z jejich hlavních výhod jsou výměnné objektivy. Dále nabízejí pokročilé funkce a možnost manuálního nastavení pomocí ovládacích prvků na těle fotoaparátu. K dispozici máte i optický hledáček, takže získáte přehled nad fotografovanou scénou bez zkreslení.
Continue
Rozdělení digitálních zrcadlovek
Orientačně lze digitální zrcadlovky rozdělit do tří skupin, které se liší jak konstrukcí, tak cenou a množstvím funkcí.
| | | |
| --- | --- | --- |
| | | |
| Amatérské | Poloprofesionální | Profesionální |
Amatérské – plnohodnotné zrcadlovky, které výslednou kvalitou nijak výrazně nezaostávají za dražšími modely. Ovládání je přehledně přizpůsobeno začátečníkům a funkce jsou podrovně popsány. Oproti poloprofesionálním a profesionálním fotoaparátům jsou lehčí a menší, ale konstrukčně méně odolné. Výhodou je zabudovaný interní blesk. Pořizovací cena amatérské zrcadlovky se pohybuje od 9 900 do 30 000 Kč.

Poloprofesionální – zrcadlovky pro pokročilé fotografy, kterým je přizpůsobeno i složitější ovládání. Tělo zrcadlovky je robustnější, odolnější a také těžší. Oproti amatérským modelům nabízí jak manuální a pokročilé režimy, tak větší LCD displej. Ten bývá doplněn stavovým displejem pro nastavení expozičních hodnot. Cenová relace se pohybuje okolo 30 000 až 60 000 Kč.
Profesionální – zrcadlovky, které kladou důraz na spolehlivost, odolnost, rychlost a zejména na pokročilé nastavení. Tomu odpovídá i vyšší pořizovací cena, která se dále promítne i ve výběru objektivů. Oproti amatérským a poloprofesionálním zrcadlovkám často chybí interní blesk. Pořizovací cena profesionální zrcadlovky se může vyšplhat až nad 100 000 Kč.
Jak se poprat s pokročilými funkcemi zrcadlovky
S přechodem na digitální zrcadlovku se setkáte s novými funkcemi. Mezi ty pokročilé patří manuální a poloautomatické režimy, nastavení citlivosti ISO nebo vyvážení bílé barvy. Na výběr máte režimy – P, TV, AV a M, které nejčastěji volíte otočným kolečkem na těle fotoaparátu.
Režim P – Fotoaparát automaticky nastaví čas i clonu a na vás je výběr hodnoty ISO. To oceníte při běžném fotografování, např. rodiny.
Režim TV – Kromě hodnoty ISO máte možnost manuálně nastavit expoziční čas. Fotoaparát automaticky nastaví nejvhodnější clonu.
Režim AV – Možnost nastavit velikost clony, což vám umožní kreativně využít hloubku ostrosti. Expoziční čas se automaticky dopočte.
Režim M – Plně manuální režim, kdy máte možnost nastavit expoziční čas i clonu. To se hodí, pokud si chcete hrát s expozicí a hloubkou ostrosti.
Dalším důležitým parametrem je vyvážení bílé barvy (ve fotoaparátu často zkratka WB). Za nepříznivých podmínek často automatika volí chybné nastavení a snímky jsou buď nažloutlé, šedivé nebo namodralé. Toho se dá vyvarovat manuálním nastavením vhodného vyvážení v menu zrcadlovky.
Další věcí, kterou mohou automatické režimy špatně vyhodnotit je expozice. Proto existuje manuální nastavení, které je udáváno v expozičních jednotkách EV. Ty je možné nastavit v rozsahu +/- 3 a u některých modelů až +/- 5. V případě zvýšení hodnoty EV je snímek světlejší a naopak.
Digitální zrcadlovka: na co se zaměřit při výběru?
Typ a velikost snímače fotoaparátu
Zrcadlovky nejčastěji používají APS-C a Full Frame snímače. Druhý zmíněný má stejnou velikost, jako políčko kinofilmu, a najdeme ho u dražších modelů fotoaparátů. Jeho výhodou je lepší obrazová kvalita. Zrcadlovka s APS-C snímačem je levnější na pořízení. Všeobecně platí, že čím větší senzor, tím méně šumu.
APS-C snímače se obecně vyskytují u fotoaparátů pro začátečníky a mírně pokročilé, jako je Nikon D3100, Nikon D3200 a Canon EOS 1200D apod.
Full Frame fotoaparát má plochu senzoru více než 2× větší než je u APS-C zrcadlovek, což se pozitivně projevuje na kvalitě detailů a věrnosti obrazu.
Crop Faktor
Crop Faktor neboli ekvivalent ohniskové vzdálenosti vám řekne, kolikrát je čip fotoaparátu menší než políčko kinofilmu (Full Frame). Vlivem crop faktoru se mění ohnisková vzdálenost objektivu – násobí se odpovídajícím koeficientem. S ohniskovou vzdáleností pak přímo souvisí zorný úhel fotoaparátu, tedy kolik z fotografované scény se na fotografii vejde. Zde platí: "čím větší je crop factor, tím větší je hodnota ohniskové vzdálenosti, tím menší je úhel záběru objektivu a tím více je fotografovaný objekt přiblížen". Pravidlem je, že ohniskové vzdálenosti objektivů jsou udávány právě pro Full Frame fotoaparáty, kde není nutno nic přepočítávat.
| Typ senzoru | Velikost senzoru | Crop faktor |
| --- | --- | --- |
| Full Frame (35 mm film) | 36 × 24 mm | 1 |
| APS-C (Nikon, Pentax, Sony) | 23,6 × 15,6 mm | 1,5 |
| APS-C (Canon) | 22,2 × 14,8 mm | 1,6 |
Stabilizace obrazu
Digitální zrcadlovky Canon a Nikon na rozdíl od kompaktních fotoaparátů či některých bezzrcadlovek nedisponují stabilizací obrazu v těle fotoaparátu. Výjimkou jsou zrcadlovky Sony a Pentax. Stabilizace obrazu je obecně umístěna v objektivu – jedná se o optickou stabilizaci, která dokáže pohybem optických členů uvnitř objektivu minimalizovat rozmazání způsobenou roztřesením rukou. U videa potom výrazně přidá na přirozenosti a stabilitě.
Digitální zrcadlovka a rychlost ostření
Oproti kompaktu zrcadlovka dokáže snímat o poznání rychleji, a sice rychlostí až 8 sn./s. Profesionální zrcadlovka pak až klidně okolo 15 sn./s. Právě rychlé a přesné ostření oceníte zejména při focení rychlých pohybů, typicky sportu a reportáží. Ostření pohání buď motor obsažený v těle fotoaparátu, nebo v lepším případě vlastní ultrazvukový vnitřní motor objektivu, který je rychlejší.
Typ hledáčku zrcadlovky
Digitální zrcadlovka umožňuje focení skrze displej i zabudovaný hledáček. U zrcadlovky je nejrozšířenější typ hledáčku TTL. Obraz, který prochází objektivem je systémem zrcadel několikrát odražen a promítán do hledáčku. Hlavní rozdíly mezi jednotlivými hledáčky jsou především ve velikosti a v míře zvětšení.
Bajonet zrcadlovky
Slouží k uchycení objektivu k tělu fotoaparátu. Každý výrobce má většinou vlastní typ bajonetu, proto objektivy a těla různých značek nejsou navzájem kompatibilní. Pro nekompatibilní objektivy existují různé redukce a adaptéry, ty ale omezují některé funkce, jako například autofokus.
Další důležité funkce a vlastnosti zrcadlovky
Displej – umožňuje snadné procházení fotografií a natáčení videosekvencí pomocí foťáku
Video – lze pomocí zrcadlovky natáčet video
Výdrž baterie – záleží na kapacitě akumulátoru, nejčastěji vydrží okolo 350 snímků na jedno nabití
Hide description
Was this information useful?
This form is for collecting Feedback Only. If you have any other inquiries, please our Customer Care team here.
Is something missing or displayed incorrectly? Let us know your suggestions so we can improve the website and customer experience.
Best Deals
1.
Digital Camera - SLR, CMOS 24.2 Mpx, 3.0"LCD, Li-Ion EN-EL14a, SD/SDHC/SDXC, Full HD Video + 18-55mm AF-P VR lens (27-83mm f/3.5-5.6, stabilisation)
2.
Digital Camera - DSLR camera, APS-C, CMOS 24.1 Mpx, DIGIC 4+, Canon EF/EF-S bayonet, 3" display, Full HD video, SD/SDHC/SDXC, optical viewfinder, WiFi, mini HDMI, USB, NFC, burst mode 3fps + lens Canon EF-S 18-55mm IS II (29-88mm f/3.5-5.6, image stabilisation) + 16GB memory card + Canon SB130 camera bag + lens wipe
3.
DSLR Camera - CMOS 25.8Mpx APS-C, DIGIC 7.3" LCD, SD/SDHC/SDXC + 18-55mm lens
+ FREE Memory Card SanDisk worth 279,-
Digitální zrcadlovky
Chcete objektiv profesionálních kvalit, ale utrácení několika desítek tisíc korun vás neláká? Máme pro vás...
Už vlogujete, nebo máte v plánu s tím začít? Chybí vám vhodná videotechnika? Sony na vás myslí a nabízí...
Šťasten ten, kdo ještě nikdy nepřišel o svá data na paměťové kartě – ať už nechtěným smazáním, nebo vadou...
Praktická bezzrcadlovka malých rozměrů, nízké hmotnosti, a přesto profesionální výbavy. To je Sony A7...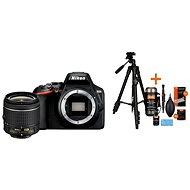 Nikon D3500 Black + 18-55mm + Rollei Photo Starter Kit 2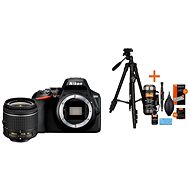 Nikon D3500 Black + 18-55mm VR + Rollei Photo Starter Kit 2
Digitální zrcadlovky
In the category Digitální zrcadlovky on Alza.cz, we currently have a total of 136 products, which you can easily buy online and get quickly delivered. See all of your purchases and make orders on our easy-to-use app.
Digitální zrcadlovky – proved brands
Enter product name
Note (link, Part number etc.):
Check out products sorted by price starting with the lowest price in the category cheap digitální zrcadlovky
Check out products sorted by price starting with the highest price in the category best sellers, best digitální zrcadlovky
You'll find products sorted by reviews starting from the highest ranked in digitální zrcadlovky reviews